H1 Unlimited Spring Training Videos
THE MOST EXCITING EXTREME SPORT ON WATER WANTS YOU!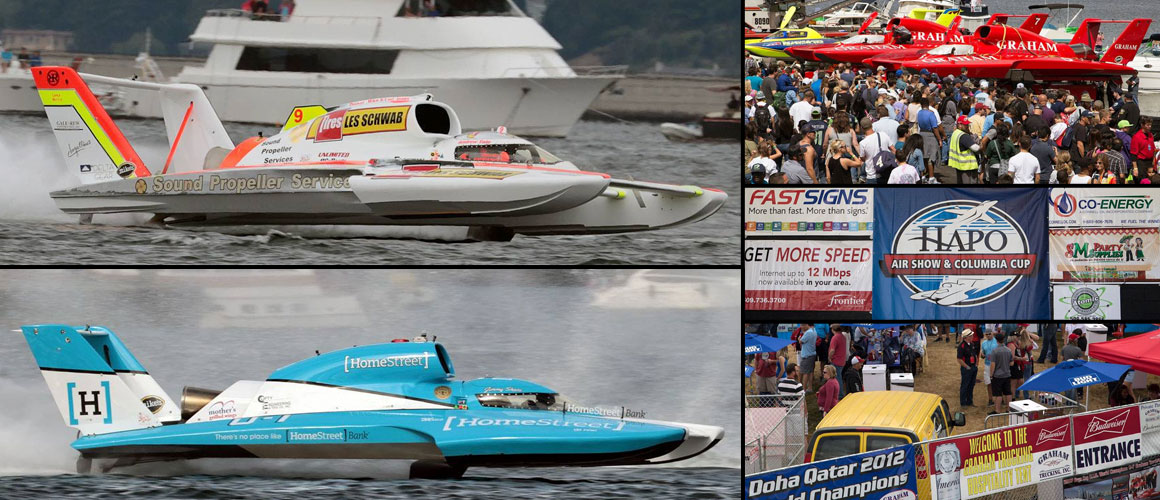 Now is the time for your company to get involved with the most spectacular sport on water — H1 Unlimited Hydroplane Racing.
One of the most important aspects of motorsport is sponsorship. It is the lifeblood of boat racing and can be a valuable tool for any organization.
We will work with you to create a customized sponsorship package that accomplishes your business goals. It will be tailored exclusively for you. No matter the size of an organization's budget openings exist for budgets of all levels.
Promote your brand, build new relationships, and create top of mind awareness that drives awareness and community support. Unlimited hydroplane racing presents the perfect opportunity to interact with your customers and your clients.
Sponsorship should be as unique as your business. Our organization will help you find the driver, a team, a race site and the series to match your needs.
Unlimited hydroplane fans are passionate and respect companies that bring them their cherished sport. Take advantage of this great opportunity and contact H1!
Visit our Contact Page and email "Sponsorship" or call Rick Corella at 206-218-8157 to find out more about the most exciting extreme sport on the water.
2017 H1 Unlimited Schedule
| | |
| --- | --- |
| June 2 | Test session-Tri-Cities, WA |
| June 17 | Test session-Guntersville, AL |
| June 30-July 2 | MainSource Bank Madison Regatta-Madison, IN |
| July 28-30 | HAPO Columbia Cup-Tri-Cities, WA |
| August 4-6 | Albert Lee Cup at Seafair-Seattle, WA |
| August 25-27 | Spirit of Detroit Hydrofest-Detroit, MI (two races) |
| September 15-17 | San Diego Bayfair-San Diego, CA |
Final 2016 National High Points Standings (Revised)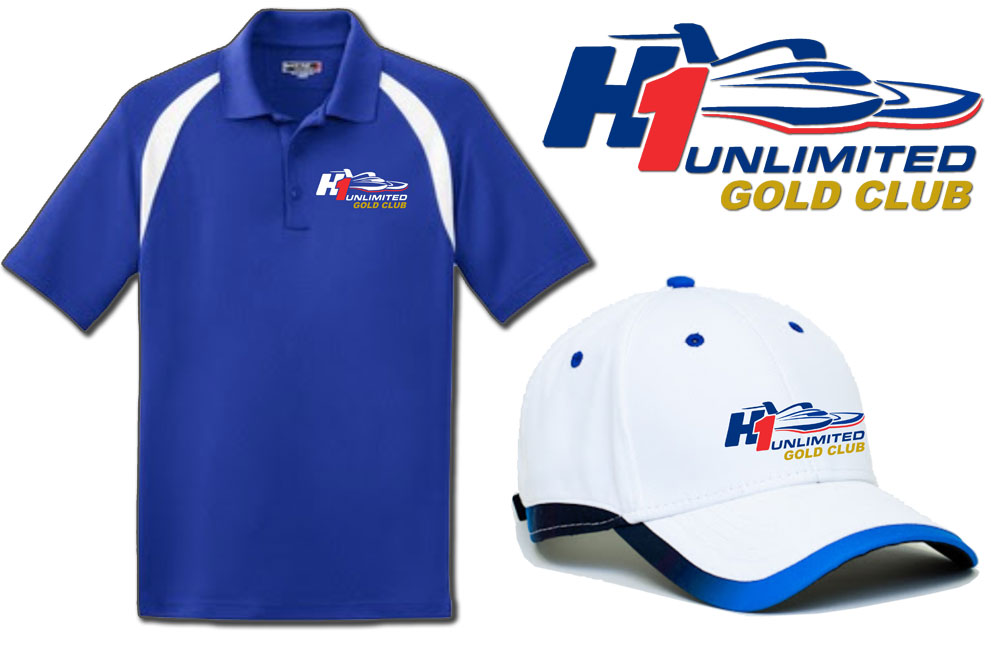 H1 GOLD CLUB
With H1 Gold Club membership, you get the following benefits:
Exclusive Gold Club polo
Gold Club embroidered hat
Collectible Gold Club Card with a lanyard.
Cold pit access to every event of the H1 Unlimited circuit *does not include event admission
Exclusive small group session with either a driver/crew chief/ official/owner at each event.
Sign up for the Gold Club for these exclusive benefits!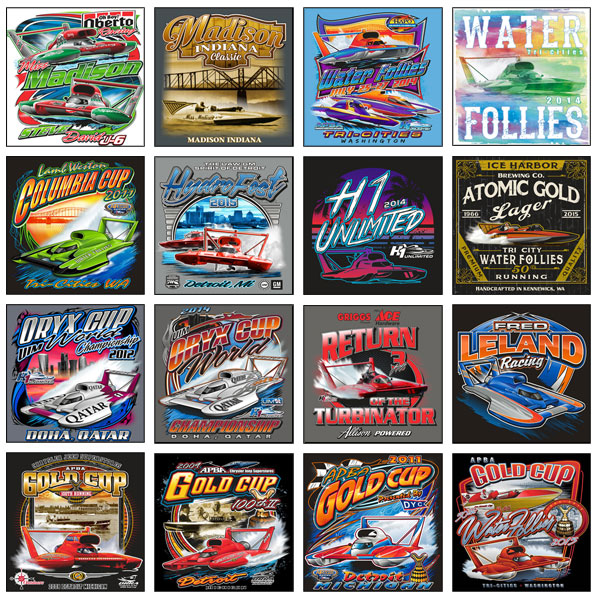 Grab Your H1 Gear!
The Atomic Shirt Factory has all the H1 Unlimited and team apparel to get you ready for the entire season.
WHAT IS H1 UNLIMITED RACING?
H1 Unlimited Hydroplanes are the fastest circuit racing boats in the world, powered by turbine engines producing 3000 horsepower, topping 200 MPH and trailing a 60 foot tall, 300 foot long wall of water called a "roostertail". The driver then turns left, hooked into the water with a 4 foot tall, 400 pound fin that throws another wall of water that hangs in the air all the way through the turn. When you add in the danger of having one of these 6,500 pound boats take off like an airplane and combine it with 12 boats and 12 drivers all wanting to win, it equals unrivaled excitement!
This year we bring even more to each event with the addition of the supercharged V-8 Grand Prix boats, fire-breathing hydros capable of blistering acceleration and 175MPH+ top speeds!
Follow the H1 Unlimited circuit beginning in Madison, Indiana, the home of the only community-owned hydroplane on the circuit for the Indiana Governor's Cup Madison Regatta on the Ohio River.
From there we head west to the Columbia River in Kennewick, Washington to the HAPO Columbia Cup for a sun-baked weekend on one of the super speedways of the series – look for speeds topping 200 MPH before the boats turn left!
Seattle, Washington hosts the Albert Lee Appliance Cup on the historic Lake Washington hydroplane course. The Seafair event always results in great racing as a majority of the teams have home bases and sponsors in the greater Seattle area and a win in their hometown is tops on everyone's list.
At the Spirit of Detroit Hydrofest in Detroit, Michigan you will see some spectacular racing on one of the most spectacular courses on the circuit – the Roostertail Turn has to be experienced at least once in your life!
The season winds up on beautiful Mission Bay in San Diego, California at Bayfair. The finale is sure to include a battle for the season high points championship, guaranteeing deck-to-deck battles until the final checkered flag!
Follow the 2017 H1 Unlimited circuit, and if you haven't experienced Unlimited racing in person, choose an event, get down to the shore and see what makes this sport the most spectacular on the water!