U-11 Legend Yacht Transport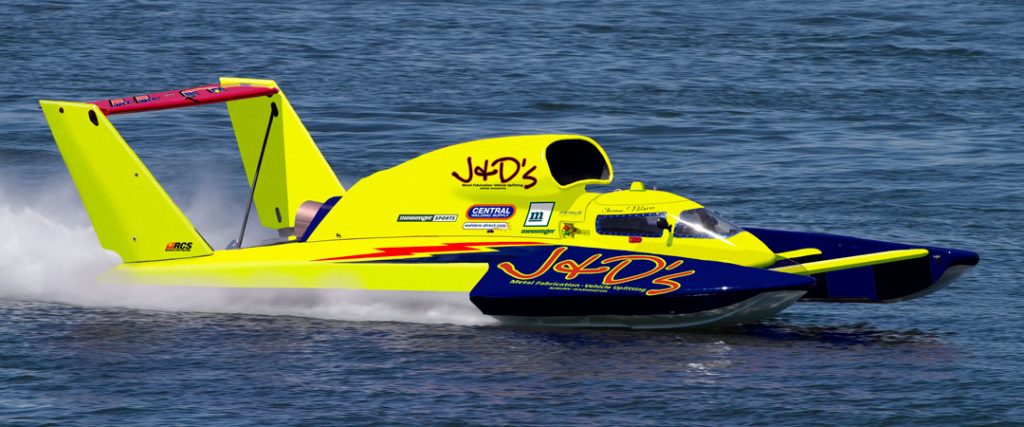 Jamie began racing at the age of 12, and while racing has always been a passionate endeavor of his, Jamie prides himself on demonstrating a strong emphasis on teamwork, sportsmanship, and family values.
In Outboard Hydroplane racing, Jamie has set 12 world speed records (currently still holds 6), won 15 national high point championships, won 3 national championship races and inducted into the APBA Hall of Champions twice.
Moving into Inboard Hydroplane racing, Jamie was the 2013 5-liter National Champion, won the 2016 San Diego Bayfair Grand Prix race, was the 2017 & 2018 Grand Prix Eastern Division Champion and the 2018 Grand Prix North American Champion.
He got his first ride in an Unlimited Hydroplane in Seattle in 2010 driving Billy Schumacher's U-37 "Miss Peters & May", with Scott Raney as Crew Chief. In 2013, he qualified as an Unlimited driver aboard the U-21 Go Fast Turn Left Racing entry and in 2014 posted his first heat victory in Madison, IN. In addition to driving the U-11 J&D's presented by Reliable Diamond Tool Unlimited Hydroplane, he also drives the GP-55 owned by Scott Pierce in the Grand Prix World Supercharged Hydroplane series.
Nilsen is also a member of the Central Washington University Hall of Fame and holds the highest career batting average in school history (.399). He batted .365 as a freshman, .372 as a sophomore, .391 as a junior, and a school-record.468 as a senior. Over his career, Nilsen posted 61 doubles, 13 triples, 29 home runs and 183 RBI.
A two-time GNAC Player of the Year and four-time All-GNAC first-team selection, Nilsen was also named a first-team NCAA Division II All-American in 2008 and earned honorable mention All-American honors in 2006. He signed professionally and played one year in the Kansas City Royals' minor league system.
Outboard Hydroplane Accomplishments:
– Set 12 world speed records (currently hold 6)
– 15-time national high point champion
– 3-time national championship winner
– 2x APBA hall of champions inductee (2001,2002)
Inboard Hydroplane Accomplishments:
-2013 5 liter national champion (co-driver)
-2014 Set current 1.25 Grand Prix world record
-2014 Qualified as unlimited hydroplane driver
-2014 Unlimited hydroplane heat win
-2016 San Diego Bayfair Grand Prix race win
-2017 & 2018 Grand Prix Eastern Div Champion
-2018 Grand Prix North American Champion
Scott & Shannon Raney:

Scott & Shannon Raney, long-time veterans of Unlimited Hydroplane Racing, formed their own H1 Unlimited Race team in 2011.
After breaking into hydroplane racing sweeping floors and doing odd jobs for Bill Wurster's U-8 team, then moving up to crew member and finally Crew Chief, Scott Raney has notched multiple victories in the Unlimited ranks.
Scott Raney ("Pyro"):
Scott has worked on Mr. Pringles, Ultra Bold & Dash, Tide, International News, Budweiser, E-Lam Plus, and two different stints with LLumar Window Film, as well as with Schumacher Racing on the U-37 Beacon Plumbing. An accomplished 1.5 Liter hydro driver in his own right, Scott's first job as crew chief was with the U-8 in 1997. He was instrumental in constructing the new boat for Ellstrom Manufacturing in 2001. In 2002, Scott was contracted by then-owner Bill Wurster to modify the former Budweiser T-4 'experimental' hull into the 'new' U-8 LLumar Window Film. Utilizing the data and experience from previous boats, Pyro skillfully crafted a 'new' boat that was successful right out of the box. He also formed his own company, Performance Composites, to build and fabricate parts for the boat racing community.
With a total of seven victories under his belt as Crew Chief, including the 2006 Gold Cup, and U.I.M. World Championship, he is now setting his sights on the ultimate goal in the sport: a National Championship. And with the U-11 team, he feels that he has the tools to make those goals a reality. Scott cites former Mr. Pringles head man Dan Heye as a major influence on how he conducts business as a crew chief. "Danny was the most thorough person I have ever worked with and taught me that preparation is the key to success." Scott was voted by his peers as crew chief of the year in 2005 and 2006.
David Cormier, Phoenix, Ariz.
Brandon Crouse, Preston, Wash.
Brenden Hall, Levin, New Zealand
Brian Hedberg, Lynnwood, Wash.
Sam Houghtaling, Easton, Wash.
Travis Johnson, Madison, Ind.
Paul "PK" Kiser, Bronson, Mich.
Ken Knudsen, Everett, Wash.
Lee Langley, Lake Stevens, Wash.
Mike Parker, Olalla, Wash.
Fynn Peterson, Seattle, Wash.
Jack Peterson, Seattle, Wash.
Ashley Raney, Edmonds, Wash.
Kellen Raney, Edmonds, Wash.
Emily Raney, Ellensburg, Wash.
Randy Roe, Taylor, Mich.
Wes Ward, Auburn, Wash.
After a hiatus of several years, a boat transport company is returning to the world of Unlimited Hydroplane racing. Legend Yacht Transport is the title sponsor for the Unlimited Racing Group's U-11 hydroplane at the upcoming San Diego Bayfair.
When asked about his company's sponsorship of the team, Legend's CEO, Dave Holley said, "having been part of the sport over the years in the past, I have been watching the development and the quality of the show. Despite a lower boat count it is clear to us that H1 is focusing on giving the fans what they want and increasing the time on the water. They certainly offer sponsors great ROI and as we transport lots of yachts from the US west coast to Florida and back, this is a great opportunity to showcase our brand in California. The U11 boat has consistently performed this year and we know from experience that the team has what it takes to represent our company in a professional and dedicated manner."
Unlimited Racing Group's Shannon Raney says, "We are thrilled to represent Legend Yacht Transport at the San Diego Bayfair race. CEO Dave Holley has been a great friend to all types of boat racing, and it excites us to be able to showcase this emerging company to all of our fans." The U-11 team heads into San Diego Bayfair currently sitting fourth in National High Points, finishing third in three of the previous races this season. Bayfair will be held September 16-18, 2022, on Mission Bay in San Diego, California.
Legend Yacht Transport Company Information
Legend was set up in November 2021 bringing together leading professionals from the yacht transport industry. Their focus is on offering turnkey solutions to clients with early nominations of ships whilst offering class leading service levels.
As an independent, trusted partner for some of the world's leading manufacturers, yacht owners & racers they provide specific transport solutions for yachts of all types and sizes. Their loadmaster team has global experience and are capable of handling even the most delicate or bulky yachts and their cradling systems are safety proven and backed by Class A yacht Transport insurance.
In addition to their on-deck charter shipments, for smaller craft they offer inhouse liner solutions with reputable carrier partners as out of gauge (OOG) & Break bulk (BB) cargo on container vessels and as Roll on Roll off (RORO) on RORO vessels.
Simply put, they have a solution that will make sure your shipment arrives on time, on budget and one that exceeds your expectations. So far in 2022, they have shipped over 300 boats on liner services and over 14000 square meters of yachts on their charter sailings.
Team Website: U-11 Racing
Founded: 2011
Home Port: CleElum, WA
Boat Colors: Chartreuse/Blue/Red
Sponsor: Legend Yacht Transport
Engine Builder: Unlimited Racing Group
Team Manager: Shannon Raney
Public Relations: Shannon Raney
Engine: Lycoming T-55/L-7 Turbine
2021 Boat Points: 2667
2021 Driver Points: 2667
2021 Season Finish: 6th