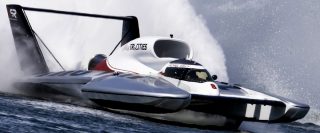 J. Michael Kelly will once again pilot the U-8 for the Strong Racing team, paired with his long-time best friend Corey Peabody, who will drive the U-9 in 2022. Kelly holds 23 World Records in various classes, has won 13 National Championships, is a 7-time APBA Hall of Champions inductee, a 14-time H1 Unlimited race winner, and APBA Gold Cup winner. He is known as one of the most consistent starters on the circuit, an advantage for the team. Many have compared his starts to the late-great driver, Bill Muncey.
Kelly scored his first H1 Unlimited hydroplane win at the 2009 inaugural U.I.M. World Championship Oryx Cup in Doha, Qatar. With two race wins in 2021  (Guntersville and San Diego), Kelly picked up his first Driver's High Points Championship. Kelly's goal this year is to repeat that feat, as well as winning the U-1 hull number, signifying the H1 Unlimited boat national championship, something he has never been able to accomplish. His 19-year career makes him one of the most seasoned drivers on the circuit.
Kelly's hydroplane for 2022 is the former Ellstrom U-16/96 hull that was new in 2014 and previously driven by Kip Brown, Jean Theoret and most recently by JW Myers in 2017. The hull was purchased by Darell and Vanessa Strong in the 2020 off-season. Paired with the U-9 Jones Racing hull, the Strong Racing team is poised to add to the three race wins notched in their inaugural season in what is certain to be a hotly contested 2022 campaign.
Darrell & Venessa Strong were  sponsors for 8 years prior to purchasing two of the fastest boats on the circuit from Ellstrom Racing (U-8) and Jones Racing (U-9) and assembling his own team in late 2020. The team won its first race in Guntersville and went on to win 3 out of 4 races in the 2021 season, giving J. Michael Kelly the Driver's High Point Championship in the process.
Professionally, Darrell has been a consulting broker specializing in employee benefits since 1985 and is among the top licensed agents in the Northwest – in the top 5% in Washington and #1 with PayneWest Insurance.
As the leader of Select Benefit Systems and a leader in the industry, he has developed trusts in two niche markets and serves on the Broker Advisory Board for Premera. Darrell consults with clients to help design and develop innovative benefit plans.
Brian has been involved in H1 Unlimited on almost every level except as a driver: Crew member, Crew Chief, Referee and even Chief Referee.
As the Crew Chief for both Strong Racing Team boats, Brian has assembled a crew that won 3 out of 4 races during the 2021 season, resulting in the H1 Driver's High Points Championship for J. Michael Kelly in the U-8 Miss Tri-Cities.
Travis Shew
Ken Warren
Jeff Kelly
Mike Noonan
Trevor Hanson
Tommy Alfano
Scott Baker
Shayne Baker
Kip Brown
Team Founded: 2020
Home Port: Auburn, WA
Driver: J. Michael Kelly
Driver Rookie Year: 2003
Boat Colors: White/Black/Orange
Builder: Ellstrom Racing
Hull Built: 2014
Engine: T-55/L-7 Turbine
2021 Boat Points: 5605
2021 Driver Points: 5605
2021 Driver Season Finish:1st
Team Victories: 2