U-9 Pinnacle Peak Consulting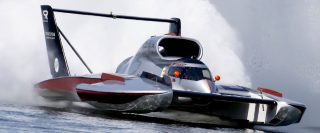 Corey Peabody is behind the wheel of the U-9 Strong Racing Unlimited. Peabody became a qualified H1 Unlimited hydroplane driver in 2016 after spending three years as a crew member for J. Michael Kelly. He spent the 2019 season driving the U-98 Graham Trucking American Dream, gathering 3628 points and finishing in a very respectable 5th place.
Peabody picked his first career Unlimited victory at the 2021 HAPO Columbia Cup, in the hometown of owners Darrell & Vanessa Strong.
An elementary school classmate of J. Michael Kelly, Peabody has been racing outboard hydroplanes alongside Kelly since 1998.
Darrell & Venessa Strong were  sponsors for 8 years prior to purchasing two of the fastest boats on the circuit from Ellstrom Racing (U-8) and Jones Racing (U-9) and assembling his own team in late 2020. The team won its first race in Guntersville and went on to win 3 out of 4 races in the 2021 season, giving J. Michael Kelly the Driver's High Point Championship in the process.
Professionally, Darrell has been a consulting broker specializing in employee benefits since 1985 and is among the top licensed agents in the Northwest – in the top 5% in Washington and #1 with PayneWest Insurance.
As the leader of Select Benefit Systems and a leader in the industry, he has developed trusts in two niche markets and serves on the Broker Advisory Board for Premera. Darrell consults with clients to help design and develop innovative benefit plans.
Brian has been involved in H1 Unlimited on almost every level except as a driver: Crew member, Crew Chief, Referee and even Chief Referee.
As the Crew Chief for both Strong Racing Team boats, Brian has assembled a crew that won 3 out of 4 races during the 2021 season, resulting in the H1 Driver's High Points Championship for J. Michael Kelly in the U-8 Miss Tri-Cities.
Jeff Campbell
Pat Berryman
Paul Price
Mike Sattler
Sandy Pearl
Jason Elhard
Chris Sparks
Scott Baker
Shayne Baker
Kip Brown
Team Founded: 2020
Home Port: Auburn, WA
Driver: Corey Peabody
Driver Rookie Year: 2016
Boat Colors: Silver/Black/Orange
Builder: Ron Jones, Jr.
Hull Built: 1992
Length: 29'2″
Width: 14′ 4″
Weight: 6900 lbs
Engine: T-55/L-7 Turbine
2021 Boat Points: 4273
2021 Driver Points: 4273
2021 Season Finish: 3rd
Team Victories [prior to the start of the season]: 1