J. MICHAEL KELLY
J. Michael Kelly will once again pilot the U-8 for the Strong Racing team in 2023, paired with his long-time best friend Corey Peabody, who will drive the U-9. Kelly holds 23 World Records in various classes, has won 13 National Championships, is an 8-time APBA Hall of Champions inductee, a 15-time H1 Unlimited race winner, and APBA Gold Cup winner.
He is known as one of the most consistent starters on the circuit, an advantage for the team. Many have compared his starts to the late-great driver, Bill Muncey.
Kelly scored his first H1 Unlimited hydroplane win at the 2009 inaugural U.I.M. World Championship Oryx Cup in Doha, Qatar. With two race wins in 2021  (Guntersville and San Diego), Kelly picked up his first Driver's High Points Championship. Kelly's goal is to repeat that feat, as well as winning the U-1 hull number, something he has not yet been able to accomplish.
His 20-year career makes him one of the most seasoned drivers on the circuit.
Kelly's hydroplane for 2023 is the former Ellstrom U-16/96 hull that was new in 2014. The hull was purchased by Darell and Vanessa Strong in the 2020 off-season. Paired with the U-9 Jones Racing hull, the Strong Racing team is poised to add to the win total in what will be a very hotly contested 2023 season.
When not racing, or watching his children race, Kelly is a lead carpenter in the Pacific Northwest.  A graduate of Kent Meridian High School in Kent, WA, Kelly lives in Bonney Lake, WA, with his wife Angela and sons Brennen, Carson, and Asher.
Began racing outboard hydroplanes at 9 years of age
Grade school classmate of teammate Corey Peabody, driver of the U-9
2004 H1 Unlimited Rookie of the Year
First win was 2009 at the UIM World Championship in Doha, Qatar
Won his first H1 National High Points Driver Championship in 2021
Has 15 career wins, including the 2016 Gold Cup.  Kelly's 15 wins put him 14th on the all-time win list, 1 behind legendary Chuck Thompson
Inducted into the APBA Hall of Champions in 2021 for the 8th time in his career.  It was his first such induction for the Unlimited Class
HULLS DRIVEN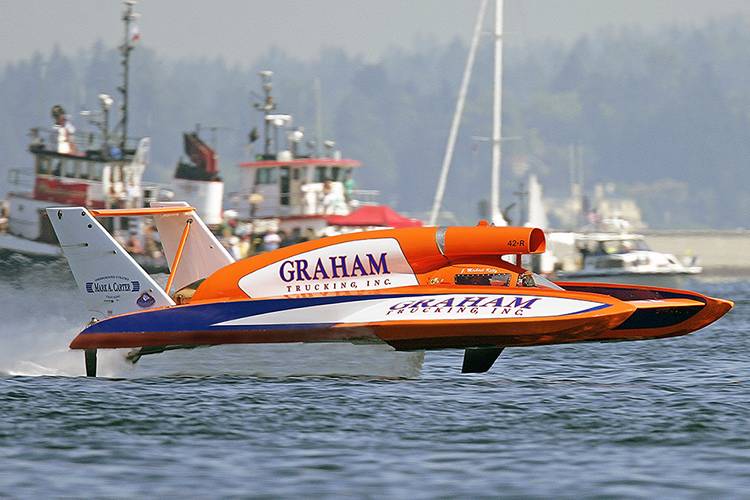 2003-02
HULL# 2003-02 | 2004-2005
2005 Thunderboat Regatta 5th U-2 Graham Trucking (3)
2005 Llumar Window Film Music City Hydrofest 8th U-2 Graham Trucking (3)
2005 Chevrolet Cup 9th U-2 Graham Trucking (3)
2005 Budweiser Columbia Cup 8th U-2 Graham Trucking (3)
2005 Chrysler Jeep Superstores APBA Gold Cup 6th U-2 Miss D.Y.C. (3)
2005 Budweiser Madison Regatta 4th U-2 Miss Bello's Pizza (2)
2005 Chevrolet Freedom Festival 7th U-2 Graham Trucking (3)
2004 Washington Mutual Bill Muncey Cup 5th U-2 Graham Trucking (3)
2004 Bluewater International Hydrofest 2nd U-2 Sinbad's Roostertail
2004 General Motors Cup 5th U-2 Graham Trucking (3)
2004 Budweiser Columbia Cup 3rd U-2 Miss A.P.B.A. (2)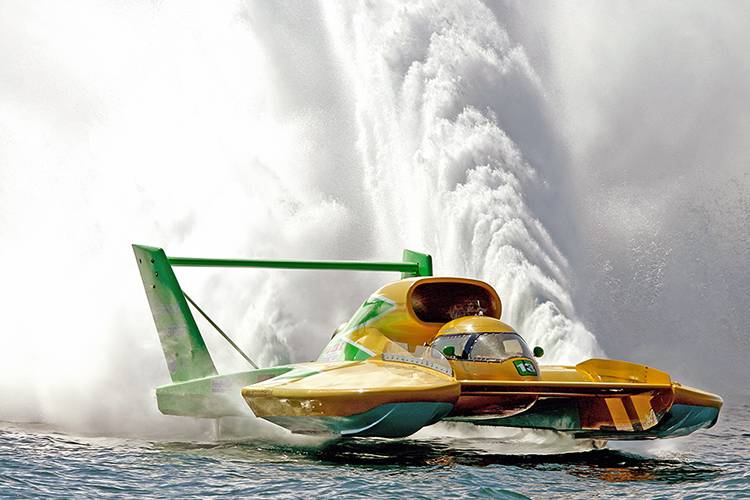 1987-00
HULL# 1987-00 | 2006-2008
2008 Thunderboat Regatta 5th U-13 Graham Trucking (4)
2008 Chevrolet Cup 7th U-13 Graham Trucking (4)
2008 Lamb Weston Columbia Cup 10th U-13 Graham Trucking (4)
2008 Chrysler Jeep Superstores APBA Gold Cup NO RACE U-13 Miss D.Y.C. (1)
2008 Thunder On The Ohio 7th U-13 Graham Trucking (4)
2007 Thunderboat Regatta 5th U-13 Spirit Of Detroit
2007 Chevrolet Cup At Seafair 3rd U-13 Miss Car Pros (2)
2007 Lamb Weston Columbia Cup 4th U-13 Spirit Of Detroit
2007 Chrysler Jeep Superstores APBA Gold Cup 3rd U-13 Spirit Of Detroit
2007 Indiana Governor's Cup 3rd U-13 Spirit Of Detroit
2007 Thunder On The Ohio 6th U-13 Spirit Of Detroit
2006 Chevrolet Cup 12th U-13 Acura Of Bellevue
2006 Atomic Cup 12th U-13 Acura Of Bellevue
2006 Chrysler Jeep Superstores APBA Gold Cup DNQ U-13 Acura Of Bellevue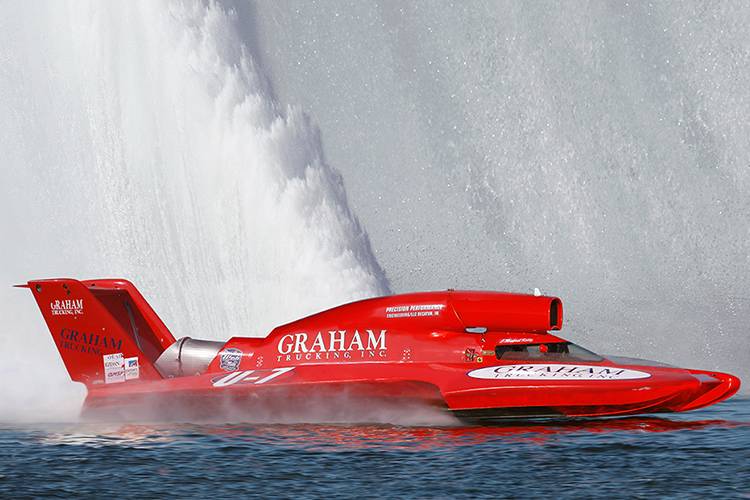 1997-12
2016 MainSource Bank Madison Regatta 2nd U-5 Graham Trucking (5)
2016 Pre-Season Testing TEST U-5 Graham Trucking (5)
2010 Oryx Cup UIM World Championship 2nd U-7 Graham Trucking (5)
2010 Air National Guard Championship 3rd U-7 Graham Trucking (5)
2010 Albert Lee Cup 5th U-7 Graham Trucking (5)
2010 Lamb Weston Columbia Cup 2nd U-7 Graham Trucking (5)
2010 Jarvis Restoration APBA Gold Cup 3rd U-7 Graham Trucking (5)
2010 Lucas Oil Indiana Governor's Cup 2nd U-7 Graham Trucking (5)
2009 Oryx Cup UIM World Championship 1st U-7 Graham Trucking (5)
2009 Thunder On The Ohio 2nd U-7 Graham Trucking (5)
2009 Chevrolet Cup 7th U-7 Graham Trucking (5)
2009 Lamb Weston Columbia Cup 8th U-7 Graham Trucking (5)
2009 Chrysler Jeep Superstores APBA Gold Cup 4th U-7 Graham Trucking (5)
2009 Indiana Governor's Cup 2nd U-7 Graham Trucking (5)
HULL# 1997-12 | 2009-2010, 2016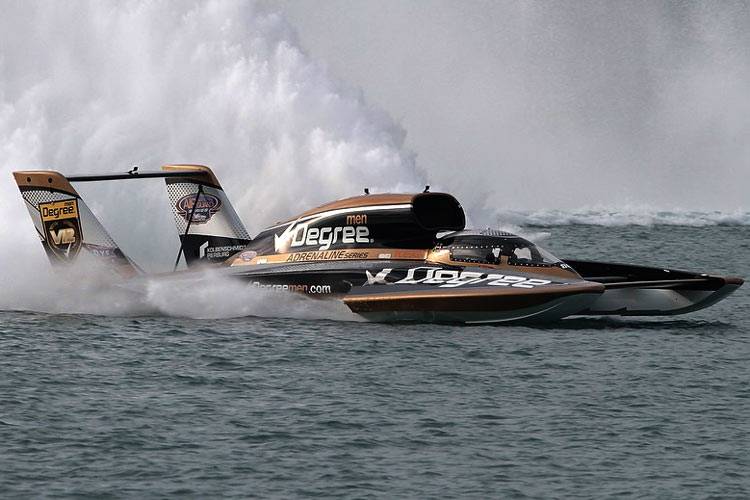 2011-88
HULL# 2011-88 | 2011-2013
2013 San Diego Bayfair 7th U-37 Miss Beacon Plumbing (6)
2013 Diamond Cup 5th U-37 Miss Beacon Plumbing (6)
2013 Albert Lee Cup 4th U-37 Miss Beacon Plumbing (6)
2013 Lamb Weston Columbia Cup 10th U-37 Miss Beacon Plumbing (6)
2013 APBA Gold Cup 7th U-37 Miss Beacon Plumbing (6)
2013 Indiana Governor's Cup NO RACE U-37 Miss Beacon Plumbing (6)
2013 Big Wake Weekend 3rd U-37 Performance Chevrolet
2013 UIM World Championship Oryx Cup 5th U-37 Miss Beacon Plumbing (6)
2012 UIM World Championship Oryx Cup 6th U-37 Miss Beacon Plumbing (6)
2012 San Diego Bayfair 11th U-37 Miss Beacon Plumbing (6)
2012 Albert Lee Cup 7th U-37 Miss Beacon Plumbing (6)
2012 Lamb Weston Columbia Cup 2nd U-37 Miss Beacon Plumbing (6)
2012 DYC Presents APBA Gold Cup 3rd U-37 Miss Beacon Plumbing (6)
2012 Lucas Oil Indiana Governor's Cup 11th U-37 Miss Beacon Plumbing (6)
2011 UIM World Championship Oryx Cup 7th U-88 Degree Men (2)
2011 Air National Guard Championship 5th U-88 Degree Men (2)
2011 Albert Lee Cup 4th U-88 Degree Men (2)
2011 Lamb Weston Columbia Cup 5th U-88 Degree Men (2)
2011 APBA Gold Cup 4th U-88 Degree Men (2)
2011 Indiana Governor's Cup DNS U-88 Degree Men (2)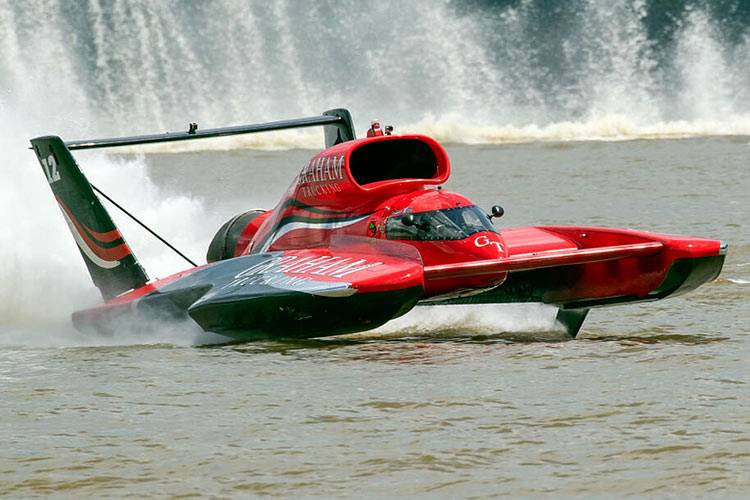 2000-01
HULL# 2000-01 | 2014-2019
2019 HomeStreet Bank Bayfair 1st U-12 Graham Trucking
2019 HomeStreet Bank Cup 1st U-12 Graham Trucking
2019 HAPO Columbia Cup 1st U-12 Graham Trucking
2019 Madison Regatta APBA Gold Cup 3rd U-12 Graham Trucking
2019 Guntersville Lake Hydrofest 2nd U-12 Graham Trucking
2019 Pre-Season Testing TEST U-12 Graham Trucking (5)
2018 Albert Lee Appliance Cup 2nd U-12 Graham Trucking (5)
2018 HAPO Columbia Cup 3rd U-12 Graham Trucking (5)
2017 HomeStreet Bank Bayfair 2nd U-12 Graham Trucking (5)
2017 APBA Gold Cup 4th U-12 Graham Trucking (5)
2017 President's Cup 2nd U-12 Graham Trucking (5)
2017 Albert Lee Appliance Seafair Cup 2nd U-12 Graham Trucking (5)
2017 HAPO Columbia Cup 1st U-12 Graham Trucking (5)
2016 HomeStreet Bank San Diego Bayfair 3rd U-5 Graham Trucking (5)
2016 UAW/GM Hydrofest APBA Gold Cup 1st U-5 Graham Trucking (5)
2016 Albert Lee Appliance Seafair Cup 5th U-5 Graham Trucking (5)
2016 HAPO Columbia Cup 2nd U-5 Graham Trucking (5)
2016 Pre-Season Testing TEST U-5 Graham Trucking (5)
2015 San Diego Bayfair 4th U-5 Graham Trucking (6)
2015 Spirit of Detroit Hydrofest 2nd U-5 Graham Trucking (6)
2015 Albert Lee Appliance Cup 1st U-5 Graham Trucking
2015 HAPO APBA Gold Cup 2nd U-5 Graham Trucking (6)
2015 Indiana Governor's Cup EXHIBITION U-5 Graham Trucking (6)
2014 UIM World Championship Oryx Cup 1st U-1 Graham Trucking (6)
2014 San Diego Bayfair 1st U-1 Graham Trucking (6)
2014 Albert Lee Cup 1st U-1 Graham Trucking (6)
2014 HAPO Columbia Cup 7th U-1 Graham Trucking (6)
2014 APBA Gold Cup Gala 4th U-1 Graham Trucking (6)
2014 Indiana Governor's Cup 1st U-1 Graham Trucking (6)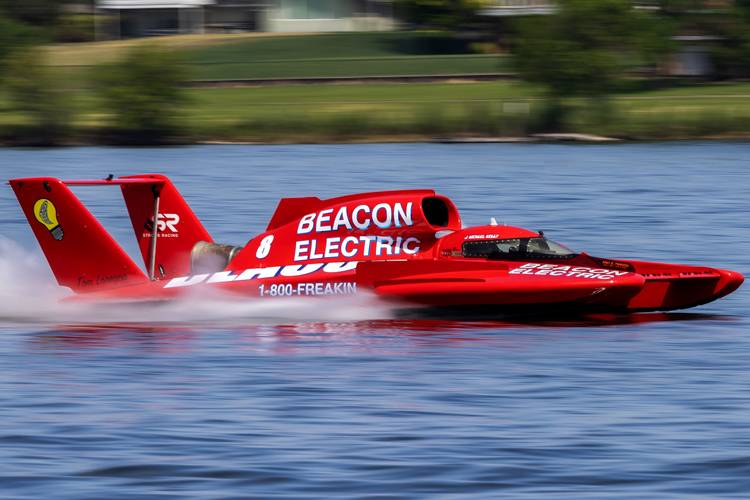 2014-96
HULL# 2014-96 | 2021-2023
2023 Columbia Cup 3rd U-8 Beacon Electric
2023 Madison Regatta 1st U-8 Beacon Electric
2023 Guntersville Hydrofest 4th U-8 Beacon Electric
2023 Preseason Testing TEST U-8 Beacon Electric
2022 HomeStreet Bank Bayfair 2nd U-9 Miss Tri-Cities
2022 HomeStreet Bank Bayfair Showdown 3rd U-9 Miss Tri-Cities
2022 HomeStreet Bank Cup 1st U-9 Boitano Homes
2022 HomeStreet Bank Cup Showdown 3rd U-9 Boitano Homes
2022 HAPO Columbia Cup 2nd U-9 LYNX Healthcare Presents Miss Tri-Cities
2022 Madison Regatta 4th U-8 Miss Tri-Cities
2022 Madison Regatta Showdown 3rd U-8 Miss Tri-Cities
2022 APBA Gold Cup 4th U-8 Miss Tri-Cities
2022 Pre-Season Test (TC) TEST U-8 Miss Tri-Cities
2022 Pre-Season Test (VAN) TEST U-8 Miss Tri-Cities
2021 HomeStreet Bank Bayfair 1st U-8 Miss Tri-Cities
2021 HAPO Columbia Cup 2nd U-8 Payne West Insurance presents Miss Tri-Cities
2021 Madison Regatta APBA Gold Cup 6th U-8 Miss Tri-Cities
2021 Guntersville Lake Hydrofest 1st U-8 Miss Tri-Cities
2021 Pre-Season Testing TEST U-8 Miss Tri-Cities