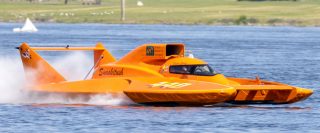 Dustin Echols of Monroe, Washington is the Driver of The 440 for the 2021 H1 Unlimited season. Dustin has raced supercharged hydroplanes since 2006, and in 2010 set a competition world record.
Since Echols started racing inboard hydroplanes in 2004, he has won three APBA Western Divisionals, four National Championships, two World Championships, and set a straightaway record in the 2.5 Liter Modified Class. Echols started racing in 1990 at the age of ten and, with the support of his mom and dad, raced many different outboard classes and had much success.
Dustin joined Bucket List Racing to attain his H1 Unlimited driver's license, something that was on HIS bucket list. He accomplished that goal in 2017. Dustin was instrumental in the attainment of a qualifying speed of 150 mph during the 2019 season and continues working with the team to increase that speed. He is an integral part of Bucket List Racing.
Kelly and Sharon Stocklin teamed together to promote a more economical alternative to current forms of unlimited racing that is more suited to entry level and start-up teams.  Together with Snuskitush Enterprises, they are helping promote the idea that new owners in unlimited racing can be successful competitors.   In 2012, the Stocklins acquired one of the boats built for the G Class automotive series and is approved by H1 to run the boat as an unlimited using a Lycoming T-53 turbine power plant.
Kelly Stocklin is a local legend when it comes to boat racing.  Stocklin's racing resume dates back to 1974 and includes decades of competition in the major flat bottom classes,  super stock, pro stock and pro comp.  He was a long-time record holder in the pro stock category, part of the team that has set multiple runabout records in all classes.  Kelly has been instrumental in the evolution and implementation of driver safety capsules in these classes.
In 1980, Kelly joined Squire Shop's U2 unlimited team as crew member for four years.  Shortly thereafter, he joined Ron Brown as an outside vendor on Budweiser's first turbine attempt (T-1) while working in the nuclear energy field.
In 1997, Dave Villwock took over the Budweiser team and asked Kelly to join in starting a long-term, in-house propeller manufacturing project which ultimately produced the world's fastest and most durable propellers.  Today, Kelly and Dave continue to make the world's fastest propellers.
In the early 1990's, Stocklin's first experience in the cockpit of a hydroplane came in the 7 liter class.  He was an early participant in the Unlimited Light Class and long-time driver of Thunder Valley Racing's supercharged UL.
At age 61, when most have retired, Kelly Stocklin started his driving career in the Unlimited class and was named the 2012 H1 Unlimited Rookie of the Year.  Having accomplished that bucket list item, he is happy to have handed over driving responsibilities to Dustin Echols.  Kelly manufactures the team's gear boxes and drive shafts, and continues to supply propellers for Bucket List Racing and other H1 race teams.
In addition, the Stocklins purchased a Lycoming T55 powered hydroplane from Go Fast Turn Left Racing in 2020 and are looking forward to racing the U 40 this summer.  Kelly has taken over Crew Chief responsibilities for Bucket List Racing's 440 program during the 2021 H1 Unlimited season to allow Taylor Evans to focus on the U 40 program.
Dave Villwock of Monroe, Washington, is Team Manager of the U 99.9 program for the 2021 H1 Unlimited season.   Dave, with 67 victories, is the all-time winningest driver in the history of Unlimited Hydroplane racing.  Dave has been a Driver, Crew Chief and Team Manager for some of the dynasties of hydroplane racing, including Budweiser, Ellstrom Racing, Pico American Dream and Circus Circus Racing.  Dave and his wife, Holly, have been avid supporters of Bucket List Racing since its inception in 2012.  Holly was the real estate agent who helped Kelly and Sharon Stocklin purchase the shop property where Bucket List Racing currently houses its two unlimited hydroplanes:  The U-440, and the U-99.9.
Kelly Stocklin and Dave Villwock teamed up to design and build propellers for the famed Miss Budweiser team, ultimately producing the world's fastest and most durable propellers.  They continue to build propellers in-house for Bucket List Racing's race boats and many other currently active Unlimited racing teams.
It is no surprise that when Kelly decided to campaign a full-sized T-55 powered Unlimited, Dave was one of the first to "sign on" in support of the program.
Kelly Stocklin, owner of Bucket List Racing, has taken over Crew Chief responsibilities for the 440 program during the 2021 H1 Unlimited season to allow Taylor Evans to focus on the U-40 program.
Kelly Stocklin
Sharon Stocklin
Mike Lemler
Mark Kauth
Andy Gerde
Paul Notch
Rachel Alcala
Dustin Echols
Bob Burks
Clay Stocklin
Mike Stocklin
Snuskitush Enterprises is an investment group dedicated to benevolent endeavors with the goal of making lifetime dreams and wishes come true.
Martin Nelson & Company is dedicated to helping our customers achieve their financial goals. Headquartered in Seattle, Washington, we have the advantage of understanding the dynamic business environment of the Pacific Northwest as well as the new technologies that affect our region. At Martin Nelson & Company, our knowledge and expertise will provide you with  the best possible service.
Founded: 2012
Home Port: Snohomish, Washington
Year Built: 2005, modified for Turbine power in 2012, & rebuilt in 2015
Driver Rookie Year: 2017
Boat Colors: Orange/Yellow
Builder: Dale Van Wieringen
Designer: Dale Van Wieringen
Crew Chief: Kelly Stocklin
Public Relations: Sharon Stocklin
Length: 28'
Width: 13'4"
Weight: 4,400 Pounds
Engine: Lycoming T53 Turbine
Team Victories (prior to the start of the season): 0
2019 Boat Points: 2,189
2019 Driver Points: 2,189
2019 Season Finish: 8th