Friday afternoon, Jimmy Shane, driving his two-race-old, U-1 Miss HomeStreet H1 Unlimited hydroplane, qualified on top of the leader board on the six boat field during the Metro Detroit Chevy Dealers Gold Cup on Friday. Shane's speed was a 162.256 […]
The Detroit region has a place and experience for everyone. It is home to several world-class museums, one of the world's finest symphonies, is home to five professional sports, is filled with state parks, and thousands of inland lakes.
Long […]
The Detroit Machinery Center (DMC) is a proud sponsor of this year's Detroit Hydrofest 2018 to be held on August 24-26th on the Detroit River. DMC's passion for supporting Hydrofest Racing started long ago with DMC's founder, Paul Gordon and […]
For the 2018 season, we're going to have some fun and try to stump our drivers, owners and crew chiefs with a "Prop Quiz", designed to find out who has the most hydroplane trivia dancing around in their brain!
We will […]
Andrew Tate picked up his third win in four races this season with a victory in the Albert Lee Cup on Lake Washington in Seattle on Sunday.
Tate, driving the Lori and Mike Jones-owned U-9 Les Schwab Tires, physically finished second […]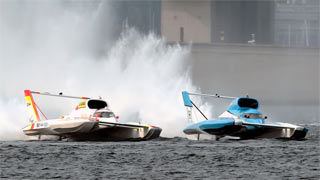 Andrew Tate & Jimmy Shane battle in the 2017 Albert Lee Cup at Seafair
The Albert Lee Appliance Cup and Boeing Air Show will air live on TV Sunday August 5th from […]
Andrew Tate (Walled Lake, Mich.), driving the U-9 Les Schwab Tires, was never threatened in the winner-take-all final of the HAPO Columbia Cup, held in 100+ degree heat in Kennewick, WA.  His victory was his first on the […]
For the 27th time, Jimmy Shane, (Maple Valley, Wash. driving the U-1 Miss HomeStreet, and Andrew Tate (Walled Lake, Mich.), driver of the U-9 Les Schwab Tires, raced against each other.  And on Saturday, during the HAPO Columbia preliminary […]
Load More Posts