37
Miss Beacon Plumbing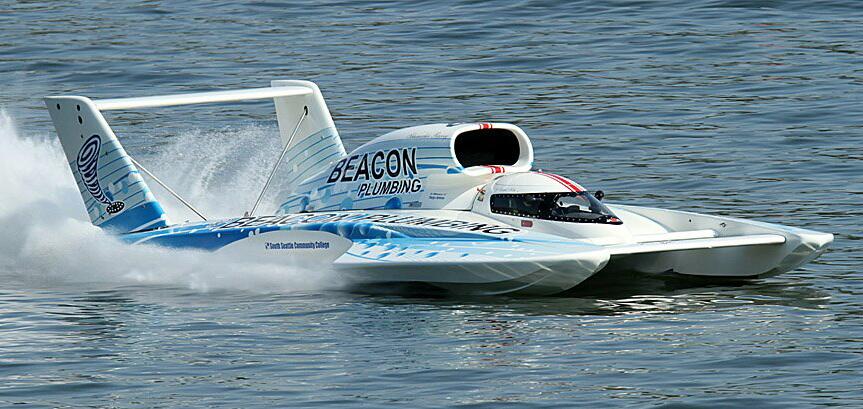 Driver Profile:

J. Michael Kelly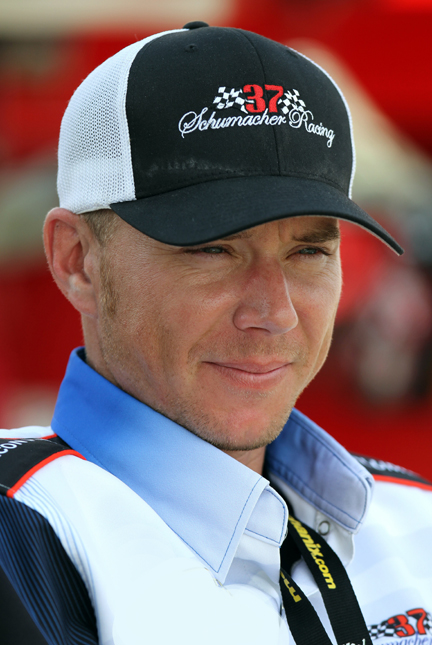 34 year old J. Michael Kelly began racing at age 7 in a small kneel-down type hydroplane with an outboard motor attached to the transom. He filled the trophy case during his outboard driving career and still holds six world speed records in various outboard classes.
In 2010 Kelly won four outboard national championships – the only driver to accomplish that feat in one season. He is a four-time inductee into the prestigious APBA Hall of Champions.
With only a few laps of experience in the inboard classes, driving a 5 Liter, JMK made the big step from outboards to the Unlimited ranks in 2004 when Jim Harvey asked him to drive for Harvey Motorsports.  After an impressive rookie season, Kelly was named H1 Unlimited Rookie of the Year in 2004.
Prior to joining Schumacher Racing in 2011, Kelly had started 45 races driving for Harvey in 2004 and 2005, Dave Bartush's U-13 Spirit of Detroit  in 2006 and 2008 and Ted Porter's U-7 Graham Trucking in 2009 and 2010.
J. Michael Kelly's first unlimited win was a big one.  He drove Porter's U-7 Graham Trucking to victory in the inaugural Oryx Cup UIM World Championship in Doha, Qatar in November of 2009.
Mike, as he is known to family and friends, is still active in outboard and inboard racing as well.  He has made several trips to New Zealand to compete in the GT Class and owns a 5 Liter with his Dad Jeff Kelly and Jim Harvey.
J. Michael Kelly and his wife Angela live in Bonney Lake, Washington with sons Brennen and Carson.
Team Profile:

Schumacher Racing

Schumacher Racing was formed in 2006 by two-time Gold Cup trophy winner and three-time National Champion former driver, Billy Schumacher and his wife Jane after they purchased the race team assets of Bill Wurster's U-8 Racing. Based in the Seattle neighborhood of Magnolia, the team has four victories. Three in 2006 with Jean Theoret driving, including the Gold Cup Trophy and World Championship Trophy. The teams forth victory came back in 2008, again with Theoret driving. Schumacher Racing's past drivers include: Jean Theoret (2006-2009), J.W. Myers (2009-2010), Jon Zimmerman (2010), and J. Michael Kelly (2011-).
Owner:

Jane & Billy Schumacher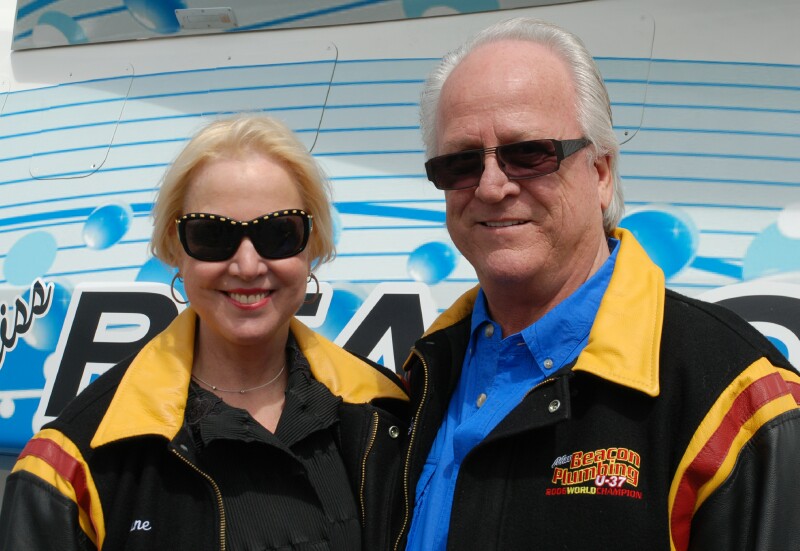 A boat racer since the age of 9, William F. Schumacher III–better known as Billy–is rightly regarded as one of racing's most respected champions, having achieved success in everything from JU Outboards to Unlimited hydroplanes.
 
As a driver, Billy is perhaps best remembered for his back-to-back season championships with Ole Bardahl's MISS BARDAHL in 1967 and 1968. 
Billy also won  the High Point Driver Championship in 1967 and 1968 with MISS BARDAHL and in 1975 with WEISFIELD'S.
Schumacher retired from competition in 1976. At the time of his retirement, Billy was second only to Bill Muncey in total wins in the Unlimited Class with seventeen.  
 Over the next thirty years, Schumacher concentrated on business interests. But he never strayed far from the Thunderboats. In association with the Hydroplane And Raceboat Museum of Seattle, Billy several times took the wheel of the restored 1958 MISS BARDAHL in vintage hydroplane exhibitions.
 After an absence of three decades, Schumacher returned to Unlimited hydroplane competition in 2006 as the new owner (with wife Jane) of Bill Wurster's racing team.
Behind
The Roostertail
Boat Name:

Miss Beacon Plumbing

Team Website:

http://www.schumacher88hydroplane.com

Owner:

Jane & Billy Schumacher

Founded:

2005

Home Port:

Seattle, WA

Driver:

J. Michael Kelly

Driver Rookie Year:

2004

Boat Colors:

Orange

Primary Sponsor:

Beacon Plumbing

Builder:

Ron Jones, Jr./Schumacher Racing

Designer:

Ron Jones, Jr.

Engine Builder:

Whispering Turbines

Crew Chief:

Jeff Weiding

Crew:

Jeff Kelly
Jerry Bowers
Bill Moore
Bob Catipovic
Randy Weiding

Hull Built:

2011

Length:

29'

Width:

14'

Weight:

6575

Engine:

Lycoming T-55/L-7 Turbine

2012 Boat Points:

4954

2012 Driver Points:

4954

2012 Season Finish:

6th

Victories:

(1) 2006 – Detroit, MI (APBA Gold Cup Cup); driver-Jean Theoret
(2) 2006 – Seattle, WA (Chevrolet Cup); driver-Jean Theoret
(3) 2006 – San Diego, CA (Bill Muncey Cup/UIM World Championship); driver-Jean Theoret
(4) 2008 – Evansville, In (Freedom Festival) driver – Jean Theoret