Steve David Appointed Interim H1 Chairman
The executive committee of the H1 Unlimited Hydroplane Series announced Saturday the return of one of the winningest drivers of all time – Steve David – naming him the interim chairman. David, 60, retired at the conclusion of the 2013 season after a 25-year racing career. He was a past American Power Boat Association (APBA) President from 1996-98, and vice president from 1992-96.
"We are bringing back a true champion who has a passion for hydroplane racing, understands the importance of a strong governing body and is also a standout businessman," said Charlie Grooms, vice chairman of H1 Unlimited, speaking on behalf of the H1 team owners and race sites. "Steve's place in racing history didn't end last year when he retired. His commitment to bettering H1 has grown into a well-crafted plan to keep fans, race teams, sponsors, race sites and the media actively engaged in this sport. He is tasked with continuing to grow the sport and ensure its financial success."
As a driver, David amassed 18 wins, six Drivers' Championships, and four National High Points Championships while racing for the Oberto/Miss Madison team (2001-2013), T-Plus Engine Treatment (1992-99) and ARC Construction (1988-91). He is a six-time inductee into the APBA's Hall of Champions and is an inductee into the APBA Honor Squadron.
"We have a 100-plus year legacy in Unlimited Hydroplane Racing," David said. "This is both something to respect but also a harness of sorts, which requires that we adjust and adapt to ensure we're not just part of motorsport history, but also relevant and exciting for future generations."
David has several thriving real estate business based in Fort Lauderdale, Fla. He is also a sought-after public speaker who has helped some of the world's largest real estate brands through his "Life Lessons at 200 MPH" program. His is also a past board member of both the Florida Association of Realtors and the National Association of Realtors.
"I'm honored to join a team of dedicated business professionals who are not only committed to the sport but also have a depth of business knowledge to change what must be changed, and enhance what is already great about our sport," added David.
Outgoing H1 Unlimited Chairman Sam Cole informed the H1 Executive Committee he was stepping down from his position earlier this week. Cole said he will remain active in the sport.
"I appreciate the opportunity of serving H1 these past 10 years and wish nothing but success as they chart the future," Cole said. "I would like to thank the officials and volunteers for their countless hours, dedication and support over the last decade."
Adds Grooms, "The H1 Committee, on behalf of the owners, sponsors, drivers and crews will be forever thankful for Sam's dedication, hard work and sacrifice on behalf of the H1 family for the past 10 years. He will be hard to replace. Sam was responsible for expanding our international footprint with the addition of the Oryx Cup in Doha, Qatar and securing national network TV coverage of races."
Mike Denslow, H1 Committee race site representative: "We wish Sam well as he steps down and welcome Steve David back into the H1 family. The energy and expertise Steve brings will help cement our relationships with current race sites and we're hopeful we can add more sites in the future."
The H1 tour is currently racing in San Diego, Calif. at Bayfair. Racing concludes Sunday on Mission Bay.
Shane & Brown Win Bayfair Prelims
The first attempt to run Heat 1A at San Diego's Bayfair on Saturday afternoon lasted only a quarter of a lap.
Jon Zimmerman secured lane one in the battle for the inside and led the field into turn one.  But at the apex of the turn, the rudder bracket on Zimmerman's 9 RedDOT/Les Schwab Tires failed, causing the boat to spin violently and forcing stoppage of the heat. Damage to the boat put Zimmerman on the beach for the rest of the weekend.
When the heat was rerun, Kip Brown took the inside and took control in the 96 Spirit of Qatar. The second fastest qualifier had Cal Phipps on his hip for the first lap in the 7 Graham Trucking but pulled away to take the win with Phipps second.  Third place went to Scott Liddycoat in his first heat as driver of Schumacher Racing's 21 Miss Beacon Plumbing. Dave Warren was fourth in the 100 Tony Roma's.
Brown's said, "We made a fairly easy start, didn't want to get over the line too soon.  But by the time we left turn one we were clear of the field and just went for a boat ride.
Brown added, "We continue to get better and it's a great boat.  We still have room for improvement but its coming along and we'll get there.  I ove driving this boat!"
Heat 1B gave an early indication of the importance of the inside lane on the 2.5 mile Bill Muncey race course.  Jimmy Shane won the fight for the inside in the 6 Oberto, forcing J. Michael Kelly in the 1 Graham Trucking out to lane two.
With the fastest qualifier on the inside, the outcome appeared to be a foregone conclusion but Kelly Kelly stayed within striking distance for the first two laps of the three lap prelim.
Shane took the win and increased his lead in Series High Points over Kelly who finished second.  Tom Thompson was third in the gbr11 Peters and May with Mike Webster running third in the 22 Big 5 Sporting Goods.
Shane commented, "He (Kelly) always runs hard and he knows we will too.  It seems to be a great race every time we hook up.  We gained points in qualifying and won our Saturday heat which is as good as you can start the weekend.  We'll come back tomorrow and pick up where we left off….and try to keep increasing the high point lead."
Racing will resume on Sunday with Heat 2a set to go at 12:20 pm PDT and the Championship Final Heat scheduled for 3:30 pm.

Celebrating our 50th anniversary, San Diego Bayfair will offer a variety of activities on and off the water. To help plan your weekend in beautiful Mission Bay Park, here's a look at the events on Crown Point, Fiesta Island and East Vacation Island.
Crown Point
The smaller boat classes are making Crown Point their new home this year. As many as 60 boats are expected to compete under the RPM Racing banner in a quest for prestigious APBA championships. Classes participating include K boats, Grand National boats, Comp Jets, Limited Stock Hydros, SST 45s, Stock Outboards, Runabouts, AX Hydros and Super Stocks.
The classes will run off Crown Point but some teams will test in front of East Vacation Island early Saturday and Sunday.
Added this year is a major car show featuring classic trucks, cars, hot rods, modern rollers and vintage exotics to return with the "Thunder Rod Nationals Car Show" benefitting the Wounded Warriors Homes in San Diego. The show will also include Mobile Event Radio and the Big Yellow Truck to supply the golden tunes. Saturday, Sept. 13, is prep and tune-up day for the car show with the main event taking place on Sunday, Sept. 14, from 9 a.m. to 3 p.m.
General parking is available on Crown Point. A free shuttle bus is available from all of the islands, running every 15 to 30 minutes.
East Vacation Island
The boat pits for H1 Unlimited and Grand Prix West hydroplanes will be on East Vacation Island. As of late August, 10 H1 Unlimited boats and six or seven Grand Prix West teams are expected to compete on Mission Bay. An additional boat-racing class is expected to be announced soon.
EVI features an entertainment stage with live music all three days. More than 10 bands are scheduled to play the stage and will go well into the evening on Friday and Saturday night of Bayfair. Within the vendor village will be a kids' zone plus lots of delicious food and companies displaying the latest in smartphones and boating products.
To celebrate our 50th anniversary, Bayfair will hold a re-dedication ceremony of the Muncey Memorial on Saturday plus other activities to recognize Hall of Fame racer Bill Muncey, who founded Bayfair.
The island hosts our hospitality chalet, which features a VIP area, and a large beer garden.
Fiesta Island
Situated on the start/finish line, Fiesta Island offers some of the up-close views of the H1 Unlimited and Grand Prix West hydroplanes racing on Mission Bay.
Fiesta Island offer RV spots and camping, and serves as general parking for boat-racing fans. A free shuttle bus is available to and from all the islands.
Tickets for the 50th San Diego Bayfair can be purchased here.
Seafair 65th Anniversary Golf Tournament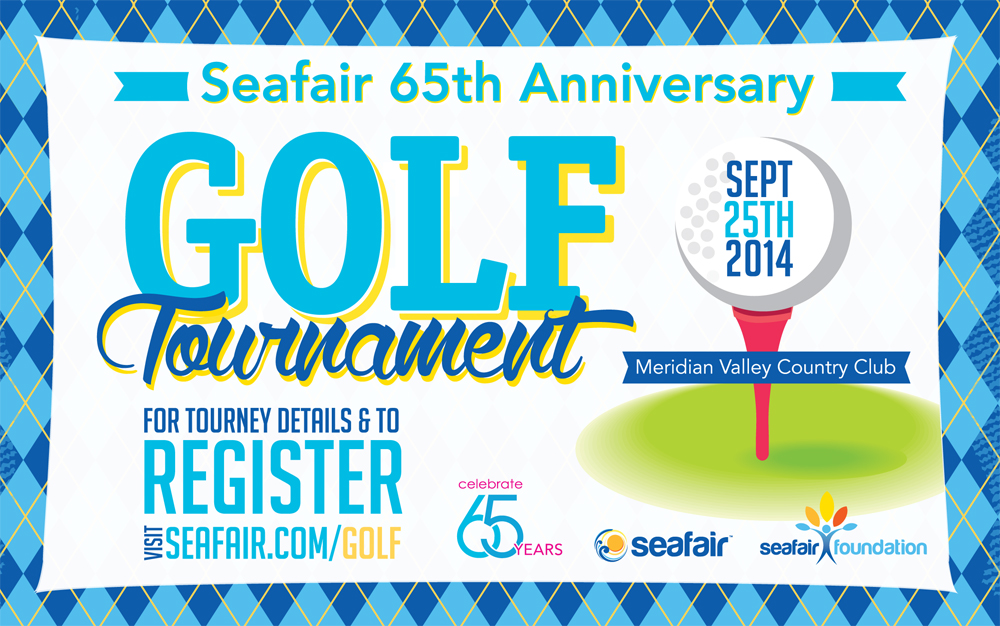 Oberto driver Jimmy Shane will tee it up at the Meridian Valley Country Club in the Seafair Golf Tournament on September 25th and you can join the fun!
Its a rare opportunity to Enjoy one of Washington's finest golf courses s well as:
Complimentary Driving Range
Lunch provided by Ezell's Chicken
Roving Beverage Cart
Hole-in-One Competition
Putting Contest
Innovative Competitions!
Closest to the Pin
Men's and Women's Long Drive Holes
Complimentary Drink Tickets
Buffet Awards Dinner
Appearances by Seafair personalities! 
Albert Lee Appliance Unlimited Hydro Onsite
Lots of great auction items to benefit the Seafair Foundation — Established to create and build opportunities for Seafair's Scholarship Program for Women, Ambassador Program, Holiday Cruise, Youth Education Program and the Seafair Sanctioned Community Events
Schedule of Events
10:30 a.m. – Registration Begins (silent auction items open for bidding)
11:00 a.m. – Driving Range Open & Putting Contest
12:00 p.m. – Ezell's Chicken Available
1:00 p.m. – Shotgun Start
5:30 p.m. – Awards Dinner & Live Auction (time approximate depending on play)
For more inf9rmation – CLICK HERE.
The city fathers of San Diego first planned to host an Unlimited hydroplane race on Mission Bay shortly after the end of World War II. As the area changed over to a peacetime economy, Mission Bay was developed with that purpose in mind, although the city didn't get around to actually conducting its first race until 1964.
An outfit called Mission Bay Associates hosted the San Diego race from 1964 to 1970. After a three-year hiatus, the race returned under new management in 1974, largely through the efforts of boat racing legend Bill Muncey, who lived in nearby LaMesa.
Year/Boat/Owner/Driver
1964 – MARINER TOO/Jim Herrington/Warner Gardner
1965 – MISS BARDAHL/Ole Bardahl/Ron Musson
1966 – MISS BUDWEISER/Bernie Little/Bill Brow
1967 – MISS BARDAHL/Ole Bardahl/Billy Schumacher
1968 – MY GYPSY/Jim Ranger/Tommy Fults
1969 – MISS BUDWEISER/Bernie Little & Tom Friedkin/Bill Sterett
1970 – MISS BUDWEISER/Bernie Little & Tom Friedkin/Dean Chenoweth
1971 – no race
1972 – no race
1973 – no race
1974 – PAY 'n PAK/Dave Heerensperger/George Henley
1975 – PAY 'n PAK/Dave Heerensperger/George Henley
1976 – OLYMPIA BEER/Leslie Rosenberg & Jerry Zuvich/Billy Schumacher
1977 – MISS BUDWEISER/Bernie Little/Mickey Remund
1978 – ATLAS VAN LINES/Bill Muncey/Bill Muncey
1979 – MISS CIRCUS CIRCUS/Bill Bennett & Bill Pennington/Steve Reynolds
1980 – ATLAS VAN LINES/Bill Muncey/Bill Muncey
1981 – MISS BUDWEISER/Bernie Little/Dean Chenoweth
1982 – ATLAS VAN LINES/Fran Muncey/Chip Hanauer
1983 – ATLAS VAN LINES/Fran Muncey & Jim Lucero/Chip Hanauer
1984 – MISS BUDWEISER/Bernie Little/Jim Kropfeld
1985 – MISS BUDWEISER/Bernie Little/Jim Kropfeld
1986 – MISS BAHIA/Bob Patterson/Ron Armstrong
1987 – MILLER AMERICAN/Fran Muncey/Chip Hanauer
1988 – OH BOY! OBERTO/Jim Harvey/George Woods
1989 – MISS BUDWEISER/Bernie Little/Tom D'Eath
1990 – MISS CIRCUS CIRCUS/Bill Bennett/Chip Hanauer
1991 – MISS BUDWEISER/Bernie Little/Scott Pierce
1992 – COORS DRY/Ron Jones, Jr./Dave Villwock
1993 – KELLOGG'S FROSTED FLAKES-MISS MADISON/City of Madison, IN/Mike Hanson
1994 – PICO AMERICAN DREAM/Fred Leland/Dave Villwock
1995 – SMOKIN' JOE'S/Steve Woomer/Mark Tate
1996 – MISS BUDWEISER/Bernie Little/Mark Evans
1997 – PICO AMERICAN DREAM/Fred Leland/Mark Evans
1998 – MISS BUDWEISER/Bernie Little/Dave Villwock
1999 – MISS BUDWEISER/Bernie Little/Dave Villwock
2000 – MISS BUDWEISER/Bernie Little/Dave Villwock
2001 – MISS E-LAM PLUS/Erick Ellstrom/Nate Brown
2002 – SUN HARBOR MORTGAGE/Mike Jones/Mike Hanson
2003 – LLUMAR WINDOW FILM/Ed Cooper, Sr. & Ed Cooper, Jr./Mitch Evans
2004 – MISS BUDWEISER/Joe Little/Dave Villwock
2005 – MISS E-LAM PLUS/Erick Ellstrom/Dave Villwock
2006 – MISS BEACON PLUMBING/Billy Schumacher/Jean Theoret
2007 – OH BOY! OBERTO-MISS MADISON/City of Madison, IN/Steve David
2008 – FORMULABOATS.COM/Ted Porter/Jeff Bernard
2009 – no race
2010 – SPIRIT OF QATAR/Erick Ellstrom/Dave Villwock
2011 – SPIRIT OF QATAR/Erick Ellstrom/Dave Villwock
2012 – OH BOY! OBERTO-MISS MADISON/City of Madison, IN/Steve David
2013 – GRAHAM TRUCKING/Ted Porter/Jimmy Shane
*****
The surprise winner of San Diego's first Unlimited race was Jim Herrington's MARINER TOO from Detroit. The boat rode like like a bucking bronco and never won another race. Described as "that crazy MARINER" by driver Warner Gardner, MARINER TOO had a rather brief racing career and was soon shunted to the background in favor its smooth-riding sister ship, the MISS LAPEER.
Nevertheless, on October 4, 1964, the Rolls-Royce Merlin-powered MARINER TOO came through when the chips were down on Mission Bay. She outran the likes of Ron Musson in MISS BARDAHL, Bill Brow in MISS EXIDE, and Buddy Byers in MISS MADISON in the Final Heat.
Following retirement from competition, the hull of MARINER TOO was used as a test bed for a turbine engine program by owner Herrington. Turbines, as a hydroplane power source, were considered in the realm of science fiction at the time.
***
MISS BARDAHL, the 1965 San Diego champion, set long-standing world speed records on the 3-mile Mission Bay course in 1965 with Ron Musson driving. Nicknamed the "Green Dragon," the craft became the first to do a competition lap of 117 miles per hour, a 15-mile heat of 116 MPH, and a 45-mile race of 115 MPH.
The 1965 MISS BARDAHL has, in recent years, been restored to its former glory by crew member Dixon Smith and makes occasional exhibition appearances at Unlimited events.
***
All of the San Diego winners between 1964 and 1977 were of the old-style rear-cockpit/forward-engine hull design.
The first "cabover" or forward-cockpit winner in San Diego was Bill Muncey's ATLAS VAN LINES "Blue Blaster" in 1978.
Since 1978, all of the San Diego winners have steered from the front.
***
The late sixties were troubled times for Unlimited racing. A rash of fatalities shook the sport to its foundation. But the level of competition remained commendably high.
THE MISS BUDWEISER team rebounded from the loss of relief driver Don Wilson at the 1966 President's Cup in Washington, D.C. Regular pilot Bill Brow guided the Bernie Little-owned "Beer Wagon" to victory in all three heats of the 1966 San Diego Cup.
And in 1967, MISS BARDAHL driver Billy Schumacher proved himself an able replacement for Ron Musson who likewise had been lost at the previous year's President's Cup. Schumacher finished first in six out of eight races, which included a victory in the 1967 San Diego Cup, and was National High Point Champion.
***
Tommy "Tucker" Fults was a spectator at San Diego in 1967. His motor sports background consisted of straightaway runs with drag boats and drag cars–not with closed-course Unlimited hydroplanes.
In 1968, he won the San Diego race and was Unlimited Rookie of the Year as driver of Jim Ranger's MY GYPSY.
"Tucker," one of the gutsiest and most personable men ever to jockey an Unlimited hydro, appeared on the threshold of a long and successful Unlimited career but was fatally injured in a testing accident on Mission Bay in 1970, while driving PAY 'n PAK'S 'LIL BUZZARD.
***
The 1969 San Diego race, which featured the APBA Gold Cup, had a curious postscript. When the ABC-TV WIDE WORLD OF SPORTS broadcast of the race aired a few weeks later, the winner MISS BUDWEISER and driver Bill Sterett, Sr., were clearly photographed inside the buoy line and missing at least one buoy. This had happened during Heat 1-A and gone undetected at the time by the judges.
After the broadcast, APBA President Les Brown was inundated with telephone calls from irate viewers demanding that MISS BUDWEISER be disqualified and second-place Dean Chenoweth in MYR'S SPECIAL be awarded the Gold Cup. But by then the results had already been declared official and couldn't be changed.
***
MISS BUDWEISER co-owners Bernie Little and Tom Friedkin made it two Gold Cups in a row in 1970 at San Diego, this time with Dean Chenoweth in the cockpit of the Ed Karelsen-designed craft.
THE "Beer Wagon" faced a stiff challenge from NOTRE DAME, also designed by Karelsen and driven by Leif Borgersen. MISS BUDWEISER and NOTRE DAME ran head-to-head for two laps in the Final Heat before NOTRE DAME spun out and dropped from contention.
Despite the competitive success of the 1970 San Diego race, the sponsoring organization experienced financial difficulties and dissolved. San Diego was dropped from the Unlimited schedule for several years.
***
The San Diego Unlimited hydroplane series returned in 1974 under new management.
Hydro historians look upon the middle-seventies as the Ron Jones Era. The Jones hulls indeed displaced the previously dominant Karelsen hulls as the state of the art in Unlimited racing. Lap speeds at over 120 miles per hour were now commonplace.
The boats designed by Ron Jones, Sr., of Costa Mesa, California, were not significantly faster on the straightaways than the traditional post-1950 Unlimited hulls. But they were wider and flatter and could corner better and faster than their predecessors.
All of the San Diego race winners between 1974 and 1977 were Jones hulls. These included the "Winged Wonder" PAY 'n PAK with driver George Henley in 1974 and 1975, OLYMPIA BEER with Billy Schumacher in 1976, and MISS BUDWEISER with Mickey Remund in 1977.
***
Bill Muncey, one of racing's all-time greats, won 62 Unlimited races between 1956 and 1981. At many venues, Muncey would triumph again and again. Surprisingly, only two of Bill's victories occurred in San Diego. And these were late in his career–in 1978 and 1980.
Muncey purchased the equipment inventory of Dave Heerensperger's PAY 'n PAK organization in 1976 and set up a racing team of his own under the aegis of ATLAS VAN LINES. He would have won at San Diego in 1976 if he hadn't jumped the gun.
Bill finally achieved the top of the podium at Mission Bay with the famed ATLAS VAN LINES "Blue Blaster," which dominated Unlimited racing in the late-seventies. Co-designed by Jim Lucero and Dixon Smith, the "Blaster" represented the next generation of hull design, although Lucero insisted that the boat was "more evolutionary than revolutionary." It took several years for the rest of the field to catch up.
***
A bright new star appeared on the Unlimited horizon in late-season 1978. He was Steve Reynolds, driver of the casino-sponsored MISS CIRCUS CIRCUS. In his very first Unlimited appearance, Steve finished third in the 1978 San Diego race.
Reynolds went on to achieve Rookie-of-the-Year honors and finished first at San Diego in 1979. Going into the Final Heat at San Diego, Steve and crew chief Jim Harvey gambled on an untried propeller. Coming out of the first turn, THE SQUIRE SHOP with Chip Hanauer and MISS CIRCUS CIRCUS were side by side. Hanauer wanted to slide wide, but Reynolds wouldn't let him. The CIRCUS pulled away from the SQUIRE and was never headed. Steve took the checkered flag and won by a wide margin.
***
The Rolls-Royce Griffon-powered MISS BUDWEISER, designed by Ron Jones, Sr., dominated Unlimited racing in the early eighties and won the 1981 San Diego event with Dean Chenoweth driving.
The Griffon engine, which is much more powerful than the Merlin or the Allison, had rarely been used in the Unlimited Class. The Griffon had last been used in 1971 in BUDWEISER MALT LIQUOR.
Jones incorporated numerous design innovations into the Griffon BUDWEISER. According to Ron, "I determined that one of the major advances could be in sponson shapes, afterplane shapes, non-trip shapes, things that contribute to the hydrodynamic cornering of the boat. Another thing we did was move the mass weight of the engine considerably to the left, which we had done to a lesser extent on LINCOLN THRIFT.
"With respect to a propeller, I insisted on a three-blade., which is easier on equipment than a two-blade and doesn't vibrate nearly as much. I also feel that it accelerates better and hold the boat in attitude."
Chenoweth and MISS BUDWEISER won all three of their heats at San Diego in 1981. Bill Muncey and ATLAS VAN LINES won two preliminary heats but failed to finish the finale.
Sadly, the 1981 San Diego race would be the last appearance on Mission Bay by both Muncey and Chenoweth. Bill was fatally injured at Acapulco in 1981, while Dean perished at the Tri-Cities, Washington, in 1982. Both died in "blow-over" accidents. This was before the introduction (in 1986) of the F-16 safety canopy that is now mandatory in Unlimited racing.
***
Following the 1981 fatality of Bill Muncey, the ATLAS VAN LINES team continued in Unlimited racing for several more years. Fran Muncey (Bill's widow) took over leadership of the team. Chip Hanauer was now the driver. And Jim Harvey replaced the retiring Dave Seefeldt as crew chief.
In 1982, the re-organized ATLAS team unveiled a new Rolls-Royce Merlin-powered hull, designed and built by Jim Lucero. They went on to claim the National High Point Championship and won five races at Detroit, Evansville, Seattle, San Diego, and Houston.
Who would have thought that a team leaderless at the end of 1981 and its boat destroyed at Acapulco could have fired back every bit as strong the following year with a new boat, a new driver, and a new crew chief. Bill would have been proud.
Newly appointed MISS BUDWEISER pilot Jim Kropfeld provided plenty of competition for ATLAS VAN LINES in the early eighties. Hanauer won at San Diego in 1982 and 1983, while Kropfeld triumphed in 1984 and 1985. Chip and Jim proved themselves able replacements for their predecessors Bill Muncey and Dean Chenoweth.
***
The 1986 San Diego champion MISS BAHIA, owned by Bob Patterson and driven by Ron Armstrong, was the oldest boat ever to win an Unlimited race.
Designed by Chuck Hickling and built by Patterson, the craft first entered competition in 1967 as PARCO'S O-RING MISS, originally owned by Laird Pierce. It finished second at San Diego in 1967 with Fred Alter in the cockpit.
MISS BAHIA is the only Unlimited hydroplane to win a race 19 years after its competition debut.
***
The first turbine-powered San Diego winner was Fran Muncey's MILLER AMERICAN, driven by Chip Hanauer, in 1987. The Lycoming engine was originally intended for use in Vietnam era helicopters.
Since 1987, only two San Diego winners have been powered by a reciprocating engine. These are OH BOY! OBERTO, which used a Rolls-Royce Merlin, in 1988 and LLUMAR WINDOW FILM, which used a turbocharged Allison, in 2003.
***
By 1988, the Unlimited fleet was virtually half turbine and half piston, with the turbines clearly dominating. But it took a few years for the turbine teams to fully adapt to salt water, which did all sorts of nasty things to sophisticated turbine engine parts.
One of the last of the truly formidable piston teams was Jim Harvey's Rolls-Royce Merlin-powered OH BOY! OBERTO. This was the former ATLAS VAN LINES hull on which Harvey had served as crew chief, starting in 1982.
OH BOY! OBERTO took first-place at both of the salt water Unlimited races of 1988. With George Woods driving, the Harvey team won at San Diego and also triumphed at Miami, Florida.
***
The most exciting finish of a San Diego Unlimited hydroplane race is arguably the 1989 classic, which offered as its top prize the sport's Crown Jewel, the APBA Gold Cup.
With five down and one lap remaining in the winner-take-all Final Heat, MISS BUDWEISER driver Tom D'Eath had a clear lead over second-place George Woods and OH BOY! OBERTO. But Woods was making a bid. BUDWEISER's speed for lap-five was only 115 miles per hour, compared to 118 for OBERTO.
Both drivers realized that they were dangerously low on fuel. In the first turn of lap-six, Woods went by the faltering D'Eath.
MISS BUDWEISER picked up the pace and charged down the backstretch, narrowing the gap. Both boats entered the second turn virtually dead-even.
It was a drag race, with the Gold Cup at stake, to the finish line with BUDWEISER taking it by 2.14 seconds over OBERTO, 124.953 miles per hour to 123.983.
The 1989 race certainly reaffirmed that old saying, "It isn't over 'til it's over."
***
The 1990 Unlimited campaign witnessed a season-long battle between two evenly matched teams for National honors: the MISS CIRCUS CIRCUS with Chip Hanauer and the MISS BUDWEISER with Tom D'Eath. Indeed, the High Point Championship wasn't decided until the last day of the season.
Hanauer won at Miami, Madison, Seattle, Milwaukee, San Diego, and Las Vegas, while D'Eath triumphed at Detroit, Evansville, Syracuse, Tri-Cities, and Kansas City.
It was an uphill struggle all the way for Hanauer's team. With six down and five races remaining, MISS CIRCUS CIRCUS trailed MISS BUDWEISER by almost a thousand National Points. Then, in the last month and a half of the season, Hanauer and crew chief Dave Villwock won four of the next five races and finished five-hundred points ahead of rival MISS BUDWEISER.
At San Diego, MISS CIRCUS CIRCUS set a world lap speed record for a 2.5-mile course with a reading of 168.128 miles per hour in qualification. An anticipated Final Heat confrontation between Hanauer and D'Eath did not materialize when MISS BUDWEISER failed to start due to mechanical difficulties and never left the dock. This left the field open for MISS CIRCUS CIRCUS to win the race with a distant-running WINSTON EAGLE and Jim Kropfeld finishing second.
***
Scott Pierce wasn't planning on racing in 1991. Rather, he was the contracted back-up driver for MISS BUDWEISER pilot Tom D'Eath. For a year, Scott waited in the wings, ready to step into MISS BUD's cockpit at a moment's notice should the need arise. The moment arrived a few days prior to the the start of the 1991 season.
D'Eath ill-advisedly participated in a NASCAR race at Charlotte, North Carolina. Tom was involved in an accident and suffered a brolen neck, which effectively ended his driving career. Pierce was called upon to replace him.
Scott had occasionally test-driven MISS BUDWEISER but lacked the sharpening of a recent race competition as the 1991 Unlimited season got underway. Pierce nevertheless proved his mettle by scoring victories at Evansville, Seattle, and San Diego.
On Mission Bay, Scott guided MISS BUDWEISER to first-place in the Final Heat ahead of Mark Tate in WINSTON EAGLE, Steve David in MISS T-PLUS, and Mike Hanson in VALVOLINE MISS MADISON.
***
Driver Dave Villwock scored his first-ever victory as an Unlimited driver at San Diego in 1992 at the wheel of COORS DRY, owned by Ron Jones, Jr. This was also the first Unlimited race that Villwock ever drove.
In the Final Heat, Dave finished far ahead of second-place place Steve David in MISS T-PLUS and third-place Nate Brown in MISS HANALEI HOTEL.
Very few drivers have ever won their very first Unlimited race. Prior to Villwock, the most recent rookie to accomplish this feat was Howie Benns, who won at Miami, Florida, in 1974 with Bernie Little's MISS BUDWEISER. Gene Whipp did likewise in 1973 at Washington, D.C., with Bob Fendler's LINCOLN THRIFT'S 7-1/4% SPECIAL. So did Jack Regas in 1954 at Tahoe City, California, with Henry Kaiser's SCOOTER.
Dave Villwock is now the winningest driver in Unlimited history with 67 victories. This compares to the late Bill Muncey (who has 62 wins) and the retired Chip Hanauer (who has 61).
Villwock participated in one previous San Diego victory in 1990 as crew chief of Hanauer's MISS CIRCUS CIRCUS.
***
Mike Hanson's victory at San Diego in 1993 with KELLOGG'S FROSTED FLAKES (alias MISS MADISON) was indeed an unusual one. Mike had to start from the "trailer-boat" position, outside and well behind the other boats in the Final Heat.
The trailer-boat spot is the worst position on the race course and is reserved for the boat accumulating the fewest points in the preliminary heats. Never in the history of Unlimited racing had any boat ever won from the trailer-boat position, but that's exactly what happened at San Diego in 1993.
Hanson worked his way up through the field, through the battering wakes of the other boats. Mike passed one entry and then another…and another…and another. After five laps, KELLOGG'S FROSTED FLAKES was in the lead, taking the checkered flag.
"I felt we had no chance to win," proclaimed a jubilant Hanson, "but I proved myself wrong."
***
Dave Villwock claimed his second San Diego victory in 1994, this time with Fred Leland's PICO AMERICAN DREAM. The opposition included the likes of Mark Tate in SMOKIN' JOE'S and Chip Hanauer in MISS BUDWEISER.
All boats were closely bunched at the start of the Final Heat. PICO AMERICAN DREAM emerged first from the first turn with MISS BUDWEISER just a few boat lengths back on the inside of PICO. Villwock and Hanauer ran one-two until lap-two when AMERICAN DREAM started to pull away from BUDWEISER. At the end of lap-three, MISS BUDWEISER was fading and had stabilizer damage. SMOKIN' JOE'S started to reel in the BUD and passed MISS BUDWEISER on lap-five.
At the checkered flag, it was Villwock first, Tate second, and Hanauer third, with Nate Brown checking in fourth with THE TIDE.
***
The race apeared to be Chip Hanauer's to win in 1995 with MISS BUDWEISER. Chip had set a world lap speed record of 172.166 miles per hour in qualifying and had dominated all three of his preliminary heats. But then the BUDWEISER violently crashed upon entering the second turn of lap-one. The 6,000-pound Unlimited hydroplane hooked a wave and lost its right sponson, causing the BUD to cartwheel and land upside down. Hanauer was able to free himself from the safety cockpit and swim to the surface.
In the re-run of the Final Heat, Mark Tate emerged triumphant with SMOKIN' JOE'S by outrunning Mark Evans in MISS VONS, 149.160 miles per hour to 144.735. Steve David finished third with MISS T-PLUS.
A lot of the credit for the SMOKIN' JOE'S victory went to crew chief Jim Lucero who worked a miracle putting the boat back together in less than an hour following Heat 3-B. SMOKIN' JOE'S had blown a propeller, destroyed a motor, torn up a drive shaft, and had a gaping hole in the bottom of the hull.
***
It was "Mark Evans Day" on Mission Bay in both 1996 and 1997 with two different teams. Mark won the 1996 race with MISS BUDWEISER and claimed the 1997 title with PICO AMERICAN DREAM.
The MISS BUDWEISER team had a very difficult year in 1996. Driver Chip Hanauer split with owner Bernie Little in mid-season after a crash in Detroit. Evans replaced Chip in the cockpit of the MISS BUD but the team's troubles persisted.
Heading into San Diego, MISS BUDWEISER had not won a single race in 1996. It was up to Mark Evans to turn things around. In winning the Final Heat, Evans established a course record of 151.425 for the 12.5-mile distance. This compared to second-place Mark Tate's clocking of 148.099 with SMOKIN' JOE'S.
Despite his late-season brilliance in 1996, Mark Evans found himself replaced as MISS BUDWEISER driver in 1997 by Dave Villwock. Evans was then offered the seat in PICO AMERICAN DREAM recently vacated by Villwock.
Evans successfully defended his title at San Diego in 1997 with the PICO team. But he had to work for it. In preliminary Heats One and Three, Mark had to hold off Mike Hanson and DeWALT TOOLS/MISS MADISON. And in Heat Two, he had to keep Nate Brown and DEJA VU in check.
In the Final Heat, Mark Evans in PICO AMERICAN DREAM reeled off three 150 mile an hour laps to start the finale, but Mark Tate and CLOSE CALL were less than two seconds behind. At the checkered flag, only 1.5 seconds separated Evans and Tate. Third-place went to MISS BUDWEISER and Mark Weber who had replaced the injured Dave Villwock at mid-season.
***
The 1998 season was a MISS BUDWEISER year. After a couple of difficult campaigns in the recent past, Bernie Little's "Beer Wagon" had its act together big-time and dominated the racing action. Driver Dave Villwock, on the rebound from a serious accident suffered the year before at the Tri-Cities, would not be denied.
By season's end, Villwock and MISS BUDWEISER had eight victories in ten races. No team in history had ever won more than seven Unlimited races in a single year.
MISS BUD's victory at San Diego was a heart-stopper. Villwock and the Evans brothers–Mitch in APPIAN JERONIMO and Mark in PICO AMERICAN DREAM–occupied the three inside lanes. Mark jumped the gun but all three drivers exited the first turn side-by-side. MISS BUDWEISER, PICO, and APPIAN JERONIMO stayed together down the first backstretch. Both Mitch and Mark were going all out on the ragged edge.
In the second turn of lap-one, Villwock used his inside lane advantage and outcornered the PICO and the APPIAN. At the end of lap-one, MISS BUDWEISER led Mitch Evans by two seconds and Mark Evans by four seconds. MISS BUDWEISER extended her lead to five seconds after lap-two and was on her way to the bank. Villwock reeled off laps of 153, 153, 145, 145, and 143 en route to the checkered flag. APPIAN JERONIMO did 148, 146, 144, 139, and 140. PICO AMERICAN DREAM recorded laps of 146 and 145 before conking out on lap-three.
***
Dave Villwock and MISS BUDWEISER made it two San Diego victories in a row in 1999.
The Final Heat was shortened from five laps to three on account of a crash involving Greg Hopp and the MISS PONTIAC. Hopp sustained cuts and bruises but was otherwise unscathed.
Villwock made a perfectly timed start in the finale. According to Dave, "The other guys got up early and I got a run on them. That was the M.O. of this weekend."
MISS BUDWEISER also set a world lap speed record for unrestricted turbine boats at 173.384 miles per hour during qualification on a 2.5-mile course.
Chip Hanauer, in his final San Diego appearance, took second-place in 1999 with MISS PICO. Chip accused Villwock of encroaching on his lane several times during the score-up period for the Final Heat. But the officials didn't see it that way and no penalties were assessed.
***
The 2000 San Diego event was marred by the ultimate downer. APPIAN JERONIMO driver George Stratton was tragically lost in a "blow-over" accident during a test run.
Stratton appeared to be on the threshold of a long and successful career in the Unlimited ranks. He had already clinched the Rookie-of-the-Year title for 2000 when a gust of wind caused George's bow to pitch skyward. The boat landed upside-down. Stratton is believed to have died instantly.
This was the first loss of life on Mission Bay since the Tommy Fults fatality with PAY 'n PAK'S 'LIL BUZZARD in 1970 and the first in the Unlimited Class since Dean Chenoweth at the Tri-Cities with MISS BUDWISER in 1982. This was also the first death to occur since the introduction in 1986 of the F-16 safety canopy, which has been credited with saving numerous lives in Unlimited racing.
Following the announcement of Stratton's passing, teammate Mark Weber took the YORK HEATING & AIR CONDITIONING entry out onto the course for a one-lap tribute to his fallen comrade. Mark then returned to the pits and withdrew from the race.
Dave Villwock and MISS BUDWEISER went on to win the 2000 San Diego race. Villwock scored a clear-cut victory in the Final Heat over Mark Evans in MISS E-LAM PLUS and Nate Brown in OH BOY! OBERTO/MISS MADISON. But no one felt like celebrating.
***
The 2001 Mission Bay Unlimited gathering shaped up as another great showcase of boat racing at its best. And so it was. But it was not a happy time. Coming as it did only a few days after the September 11 terrorist attacks in the East, the annual San Diego Bayfair went ahead as scheduled–but under a cloud.
Due to the restrictions on air travel, no helicopters were available to race officials at San Diego. The Directors of Competition had to do without their usual "eye in the sky."
The Final Heat of the Bill Muncey Cup saw Nate Brown and MISS E-LAM PLUS snap the three-race win streak on Mission Bay of Dave Villwock and the MISS BUDWEISER. Villwock had to settle for the runner-up spot with Mike Hanson taking third with SUN HARBOR MORTGAGE.
The most suspenseful finish of the day occurred in preliminary Heat 3-A. BUDWEISER beat SUN HARBOR over the finish line by barely a boat length, 146.989 miles per hour to 146.874. It was that close.
MISS E-LAM PLUS averaged 147.965 in the Final Heat, compared to 144.146 for the "Beer Wagon." In scoring back-to-back wins at San Diego and previously at Seattle, Brown became the only driver to win more than one race in 2001. The new MISS E-LAM PLUS, after only three races, established itself as a formidable contender for the future.
***
The 2002 Bill Muncey Cup at San Diego was destined to go down in history as something out of the ordinary.
After years of "also-ran" status, the Allison-powered U-3 team from Evansville, Indiana, shaped up as a major factor in a racing category dominated by Lycoming jet turbine power. Driven by Mitch Evans and sponsored by VACATIONVILLE.COM, the Ed Cooper-owned U-3 became the first boat with an internal combustion engine to qualify at a speed of better than 160 miles per hour with a reading of 160.370.
VACATIONVILLE.COM led out of the first turn in the Final Heat with Mike Hanson in SUN HARBOR MORTGAGE in close pursuit. Evans stayed ahead for two laps before Hanson finally overtook him. Nate Brown in MISS E-LAM PLUS, running third, worked past the U-3 on lap-four. And that's how they finished: Hanson, Brown, and Evans in that order.
This was Hanson's second San Diego win since 1993 as a driver. He would go on to win another in 2007 as a crew chief.
***
A rash of equipment damage at San Diego reduced the starting field for the 2003 Bill Muncey Cup to six. The U-6, the U-8, and the U-25 all had to stay on their trailers. And the U-16, damaged at Detroit, never made the trip. The race nevertheless produced some exciting competition for the fans. The six starters finished 27 out of 30 heats entered for a 90-percent reliability.
During the warm-up for the Final Heat, an amazing thing happened. Five of the six boats were early and slowed way down off-plane to avoid jumping the gun. And all were assessed a one-lap penalty–all except J.W. Myers in VON'S AMERICAN PRIDE!
From this point on, all Myers had to do was finish the heat and stay on the same lap with the other boats and the Bill Muncey Cup would have been his! Unfortunately for J.W., VON'S AMERICAN PRIDE ran a slow first lap and conked out before the end of lap-one.
Terry Troxell in MISS TRENDWEST and Mitch Evans in the Allison-powered U-3–racing this time as LLUMAR WINDOW FILM–battled down the first backstretch and were less than one second apart at the end of lap-one. LLUMAR passed TRENDWEST on lap-two and never looked back.
Owned by Ed Cooper, Sr., and Ed Cooper, Jr., of Evansville, Indiana, LLUMAR WNDOW FILM thus became the first non-turbine winner of a San Diego race since OH BOY! OBERTO in 1988.
***
The 2004 San Diego Bayfair is remembered as the final curtain call after 42 seasons of the storied MISS BUDWEISER team. Originally owned by team founder Bernie Little (who passed away in 2003), MISS BUDWEISER won its first San Diego race in 1966.
On the last day of her career, the "Beer Wagon" went out a winner. Pilot Dave Villwock steered the BUD to victory one last time in all four heats of the Bill Muncey Cup.
The thousands of spectators lining Mission Bay had the rare privilege of witnessing a competitive powerhouse in perfect running attitude. Even members of rival teams applauded this final performance of an American sports legend.
In the Final Heat, J.W. Myers in LLUMAR WINDOW FILM crossed the starting line first and led through the first turn but was passed by MISS BUDWEISER at the exit buoy. By the end of lap-one, the BUD had a two-roostertail length lead. At the finish line, it was MISS BUDWEISER the winner at 145.839, followed by Mitch Evans in VACATIONVILLE.COM at 141.150.
***
Heading into 2005 and following the retirement from racing of the MISS BUDWEISER team, driver Dave Villwock found himself without a "ride" for the upcoming campaign. Not to worry. No one of Villwock's talents was likely to languish on the sidelines for very long. And he didn't. In mid-season 2005 came the phone call from Erick Ellstrom that put Dave back on the last of active Unlimited drivers and back in the cockpit of another top-notch hydroplane–MISS E-LAM PLUS.
Villwock picked up right where he had left off with three race wins in 2005, which included the Bill Muncey Cup on Mission Bay. MISS E-LAM PLUS fought off an early challenge in the Final Heat from Jean Theoret in LLUMAR WINDOW FILM and Steve David in OH BOY! OBERTO/MISS MADISON but eventually pulled away to a commanding lead.
Villwock now had seven San Diego victories–one with COORS DRY, one with PICO AMERICAN DREAM, four with MISS BUDWEISER, and now one with MISS E-LAM PLUS.
***
With six down and one race remaining on the 2006 calendar at San Diego, both the Team Championship and the Driver Championship were still undecided. A half-dozen teams were all in the hunt.
In addition to the traditional Bill Muncey Cup at San Diego, there was the added incentive of a World Championship Race label, sanctioned by the Union of International Motorboating.
The competition was simply fantastic. Heat 2-B saw three boats–MISS E-LAM PLUS, FORMULABOATS.COM II, and MISS BEACON PLUMBING–in a photo finish with Dave Villwock in E-LAM outrunning Mike Allen in FORMULA II over the finish line by two feet. No, that's not a misprint. Two feet!
Three different Unlimited hydroplane teams celebrated victories following the Final Heat.
MISS BEACON PLUMBING and Jean Theoret won their third race of the year, winning the final heat and taking home the coveted Bill Muncey Cup. Theoret used a 154.257 mile an hour first lap to lead the field and posted an average speed of 148.066.
Rookie Mike Allen and first-year owner Ted Porter became the first rookie driver team to capture the National High Point Team Championship in the history of the sport. Allen guided the FORMULABOATS.COM II to the title.
And Steve David's OH BOY! OBERTO team also celebrated their second consecutive National High Point Driver Championship.
Back to the race, the piston-powered COOPER MOTORSPORTS and Jimmy King finished second to Theoret in the Final Heat at 146.650 with OH BOY! OBERTO taking third and FORMULABOATS.COM II finishing fourth.
***
The 2007 racing season started out as a rather one-sided affair. Dave Villwock and MISS E-LAM PLUS won the first four races at Evansville, Madison, Detroit and the Tri-Cities. People were beginning to wonder, "Is E-LAM going to sweep the season? Can anybody stop Villwock?"
It fell to OH BOY! OBERTO/MISS MADISON and Steve David to snap the E-LAM's win streak. After finishing second to Villwock in three straight races, David won the Chevrolet Cup at Seattle and the Bill Muncey Cup at San Diego. In both races, the OBERTO made a perfect start in the winner-take-all Final Heat.
The finale at San Diego was a classic. OBERTO grabbed the inside lane before the start and forced the rest of the field to run a wider–and longer–track. Second-place Jeff Bernard, driver of FORMULABOATS.COM I went all out after Steve David but couldn't catch the front-running OH BOY! OBERTO.
David and Bernard ran side by side for three of the five laps as the crowd roared its approval. This was what Unlimited racing was all about. On Lap-four, FORMULA I hit a roller and bounced. This allowed OBERTO to sprint to a half-roostertail length lead. And that's how they finished.
This was the second victory at San Diego for the MISS MADISON team. They had triumphed in 1993 with Mike Hanson–now their crew chief–as driver.
***
The 2008 San Diego event was controversial as well as competitive.
Steve David and OH BOY! OBERTO/MISS MADISON physically led from the first turn onward in the Final Heat but were officially one lap down for having jumped the gun.
Jeff Bernard and FORMULABOATS.COM I trailed OBERTO by approximately six seconds at the end of lap-five but were officially the winners, ahead of second-place Jean Theoret and MISS BEACON PLUMBING.
The BEACON team protested vehemently that FORMULA I should have been penalized for encroaching on the OBERTO prior to the start. But the official result was allowed to stand.
Mike Allen in FORMULABOATS.COM II placed third. OBERTO was officially fourth in the San Diego finale but had already clinched the 2008 National High Point Championship in an earlier heat.
***
Major league boat racing made a welcome return to southern California in 2010 after a one-year hiatus. Thanks to a couple of new sponsors–the Air National Guard and Degree Men–and the efforts of H1 Chairman Sam Cole.
This time, it was Dave Villwock's turn to garner the glory after a five-year absence from victory lane in San Diego.
Villwock's SPIRIT OF QATAR (formerly MISS E-LAM PLUS) qualified faster than Steve David's OH BOY! OBERTO/MISS MADISON, 162.604 miles per hour to 161.696, and thus secured a better lane choice in heat confrontations between the two powerhouses.
SPIRIT OF QATAR led out of the first turn in the Final Heat and throughout. OH BOY! OBERTO stayed within SPIRIT OF QATAR's roostertail length for two and a half laps before QATAR pulled away from OBERTO on lap-four. The rest of the field trailed far behind the two front-runners. Villwock averaged 153.551 for the 12.5 miles, compared to David's 150.491.
***
Dave Villwock and SPRIT OF QATAR returned once again to the winner's circle at San Diego in 2011. This was Villwock's ninth victory on Mission Bay, which is more than twice as many as Chip Hanauer who has four. Dave clinched the 2011 National Driver Points Championship at San Diego, his first since 2007 and his tenth since 1996.
The competing boats were given lane assignments on the basis of random draw, rather than by total points, in 2011. For the Final Heat, MISS RED DOT and Kip Brown had lane-one, while Villwock and SPIRIT OF QATAR started in lane-two.
SPIRIT OF QATAR led out of the first turn and throughout. MISS RED DOT stayed within QATAR's roostertail length all five laps. OH BOY! OBERTO/MISS MADISON started in lane-five but worked up to third-place. SPIRIT OF QATAR averaged 154.109 for the 12.5-mile distance, compared to 148.149 for MISS RED DOT, 146.951 for OH BOY! OBERTO, and 146.393 for fourth-place VALKEN.COM with Scott Liddycoat.
***
Steve David in OH BOY! OBERTO/MISS MADISON and Jimmy Shane in GRAHAM TRUCKING crossed swords in the 2012 Bill Muncey Cup Final Heat, together with Dave Villwock in SPIRIT OF QATAR 96.
Coming up for the start, it was Shane in lane-one, David in lane-two, and Villwock in lane-three. OBERTO led all the way with GRAHAM staying within OBERTO's roostertail length for four of the five laps. David averaged 150.086, Shane 148.376, and Villwock 147.798
***
With the National High Point Championship on the line, it all came down to the Final Heat of the final race of the 2013 season.
Steve David might have gone out a winner in the last race of his storied career if not for jumping the gun. At the exact moment of clock zero, the OH BOY! OBERTO's bow was 3-1/2 feet over the starting line. A minute was thus added to his time.
Jimmy Shane nearly "jumped" but was safely 1-1/2 feet behind the line at the beginning of the race.
OH BOY! OBERTO stayed out in front for the five laps but was officially fourth behind GRAHAM TRUCKING, Tom Thompson in PETERS & MAY, and Greg Hopp in MISS DIJULIO.
Kip Brown was physically third with SPIRIT OF QATAR 95 but was disqualified for a fuel flow violation.
This was Jimmy Shane's first National Championship–and first Bill Muncey Cup–since qualifying as an Unlimited driver in 2007.
GRAHAM TRUCKING owner Ted Porter had one previous Muncey Cup win in 2008 with Jeff Bernard as driver.
***
In 2014, the Unlimiteds will make their 47th competitive appearance since 1964 on San Diego's Mission Bay. There have been many many highlights, too numerous to be retold here.
Here's to the next 47 years of Unlimited hydroplane racing, San Diego style!
Big Field Set For San Diego Bayfair
With two stops remaining on the 2014 H1 Unlimited Hydroplane Tour,  Jimmy Shane, driver of the 6 Oberto, will start the weekend at Bayfair on San Diego's Mission Bay with a 923 point lead over second place J. Michael Kelly in the 1 Graham Trucking.
Kelly used his uncanny ability to secure an inside lane to score an impressive victory in the Albert Lee Appliance Seafair Cup and narrow Shane's lead by 220 points, but the young veteran from Bonney Lake, Washington will need two more strong races to have any chance of catching Shane, the 2013 series champion from nearby Covington, Washington.
Shane says the Oberto team is not comfortable with that lead and won't be letting up.  Adding the game plan is to, "Race like we always do, run hard every heat and score as many points as possible.  We would like to increase the lead before we go to Doha."
Kelly is in the boat Shane drove to the 2013 Series Championship and Shane says, "The Graham Trucking is obviously very fast and Mike is a great driver.  I know that boat very well and I know what it took to beat the Oberto boat last year, so I know where they have to be."
Shane added, "We love the San Diego race course.  It's one of our super speedways.  Our goal will be to continue to improve and qualify faster than the boat did there last year, as we have at every race this year."
Kelly's team mate Cal Phipps in the 7 Graham Trucking II has used strong, consistent finishes throughout the season to put his team in third place.  Jon Zimmerman in the 9 RedDOT-Les Schwab Tires is fourth.
Greg O'Farrell, owner of GoFastTurnLeft Racing and Billy Schumacher, owner of Schumacher Racing, have announced that Schumacher Racing's 37 hull will take the place of GFTL's 21 for the event and wear the number 21, the number currently in fifth place in series points.
GFTL's 21 was badly damaged in a blow-over accident at the HAPO Columbia Cup in the Tri-Cities in July and is undergoing extensive repairs in the team's shop in Maple Valley, Washington.
O'Farrell called it a "win-win" for both teams explaining, "It's great for us and the Schumachers since it will benefit them at both of the remaining races and it keeps the 21 number active for us. We plan to be back using the number next season."
Teams will arrive in the pit area on Vacation Island in Mission Bay and set up on Thursday.  Testing and qualifying are set for Friday with two preliminary heats scheduled for Saturday afternoon.  More prelims and the championship final heat will run on Sunday and the 2014 Bayfair Championship will be decided with the final heat at 4:45 pm Sunday.
Eleven teams are expected to compete.  Preliminary roster -
| | | | |
| --- | --- | --- | --- |
| # |        Boat Name |     Driver |     Hometown |
| 1 | Graham Trucking | J. Michael Kelly | Bonney Lake, WA |
| 6 | Oberto | Jimmy Shane | Covington, WA |
| 7 | Graham Trucking II | Cal Phipps | Sterling Heights, MI |
| 9 | Team RedDOT - | Jon Zimmerman | Maple Valley, WA |
|   | Les Schwab Tires |   | |
| 11 | Peters & May | Tom Thompson | Cambridge, MD |
| 12 | Miss DiJulio | Greg Hopp | Lake Stevens, WA |
| 18 | Bucket List Racing | Kelly Stocklin | Edmonds, WA |
| 21 | Schumacher Racing | Scott Liddycoat |  Suffolk, VA |
| 22 | Big 5 Sporting Goods | Mike Webster | Reading, PA |
| 96 | Spirit of Qatar | Kip Brown | Black Diamond, WA |
| 100 | Tony Roma's | Dave Warren | Lake Stevens, WA |

 Coverage of qualifying, heat draws, results and news will be provided on the H1 Facebook page and Twitter.  You do not need a Facebook account to follow.
Just click HERE.
 Live Streaming available at www.unlimitedhydroplaneracing.tv
 Click here for Qualifying, Heat Draws, Results & Scoring
Updated Schedule -

Friday

 

 

 

 

 

0800

H1/GP Driver/Crew Chief meeting – H1 Office

8:00-9:30

BREAK

 

 

 

 

9:30-11:00

H1/GP Testing 

 

 

 

11:00-12:00

BREAK

 

 

 

 

12:00-13:00

H1/GP Testing 

 

 

 

13:00-13:30

BREAK

 

 

 

 

13:30-15:30

H1 qualifying

 

 

 

15:30-16:00

GP qualifying

 

 

 

 

 

 

 

 

 

Saturday

 

 

 

 

 

7:30-9:00

Antique water car

 

 

 

7:30-9:00

BREAK

 

 

 

 

0800

H1/GP PHYSICALS

 

 

 

9:30-11:30

H1/GP testing

 

 

 

11:30-12:30 

BREAK

 

 

 

 

11:30

H1 Driver/Crew Chief meeting – H1 Office

 

12:00-12:30 

Muncey Memorial

 

 

 

12:30-13:00

H1 Testing

 

 

 

12:30

GP Driver/Crew Chief meeting – H1 office

 

15:00-15:45

H1 autograph session @ entertainment stage

13:00-13:20

GP Heat 1A – 2mi course

 

 

13:20-13:40

BREAK

 

 

 

 

13:40-14:00

H1 Heat 1A -2.5mi course

 

 

14:00-14:20

H1 Heat 1B -2.5mi course

 

 

14:20-14:35

BREAK

 

 

 

 

14:35-14:55

GP Heat 2A – 2mi course

 

 

 
 

 

 

 

 

Sunday

 

 

 

 

 

0900

H1/GP PHYSICALS

 

 

 

10:00-11:00

H1 Testing

 

 

 

11:00-11:30

GP Testing

 

 

 

12:00-12:20

Opening Ceremonies 

 

 

11:30-12:20

BREAK

 

 

 

 

12:20-12:40

H1 Heat 2A

 

 

 

12:40-13:00

H1 Heat 2B

 

 

 

13:00-13:30

BREAK

 

 

 

 

13:30-13:50

GP heat 3A

 

 

 

14:05-14:25

H1 Heat 3A

 

 

 

14:25-14:45

H1 Heat 3B

 

 

 

15:00-15:20

GP Final

 

 

 

 

15:20-15:30

BREAK

 

 

 

 

15:30-15:50

H1 Final

 

 

 

 

 

 

 

 

 

 
Speed Record For Sheikh Hassan
His Excellency Sheikh Hassan bin Jabor Al-Thani and British throttleman Steve Curtis obliterated the existing speed record of 224mph with a stunning speed of 244mph in their second run at the 26th Annual Lake of the Ozarks Shootout in central Missouri on Saturday.
The president of the Qatar Marine Sports Federation (QMSF) and Curtis decided to make their first attempt at the speed record as soon as the course opened in hot, humid conditions on Saturday.
They left the gate as the fourth boat with a legal start, only for the safety parachutes to deploy midway through the run. This failed to stop them posting an impressive first speed of 210mph through the flying finish.
Later in the session the pair took to the water again and a clean run was rewarded with the stunning terminal speed of 244mph recorded through the flying finish.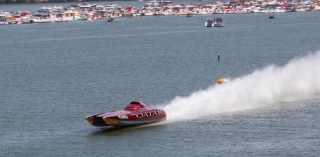 "I was confident that we could do it on our second run," said a delighted Sheikh Hassan. "It was so nice to get it spot on. We had the boat under control all the time. Steve did an awesome job throttling it to the gate. He was on and off the throttles all through the mile run and I actually believe that the boat is capable of even more mph!
"We considered postponing the second run until Sunday, but I know the team wanted to get the runs out of the way. We were approaching the finish about 230mph and it felt like Steve backed off a little bit because that's what we wanted to do. Then we started back on and I saw 240 and I'm pretty sure we reached 250 after the gate. That's one milestone we have achieved with this boat. Now it's time to go out and relax and look ahead to see what's next."
The Spirit of Qatar Team runs under the auspices of the Qatar Marine Sports Federation (QMSF) and Sheikh Hassan entered his turbine-engined, 50 foot Mystic 'Al Adaa'am 96' boat in one of the world's biggest non-sanctioned powerboat events on the planet in the successful bid to overhaul the 224mph top speed recorded by Bill Tomlinson and Ken Kehoe at the helm of 'My Way' in 2013.