Peters & May Renews 11 Sponsorship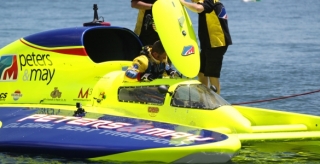 Dave Holley CEO of Peters & May announced on Monday the continued sponsorship of the U-11 Unlimited Racing Group (URG) team based in Edmonds, Washington, USA.
Holley says "it is only natural that we want to continue our support for such a professional outfit. The team has shown us their commitment over the past few years, working through difficult times and always over achieving. We see the sport as a great platform for our brand and we are pleased to confirm our renewed commitment to the U11 team."
Scott and Shannon Raney owners of the U-11 are very happy to have the continued support of Peters & May. "We are thrilled to renew this partnership for the fourth year. Peters & May have been with us since our inaugural season in 2011. While we continue to work to get this program to the front of the pack it is also thrilling for us to represent Peters & May in front of a worldwide audience!"
The 2013 season was an intense but successful year for the URG team. The team started the season with a disastrous wreck in Doha, Qatar in February. Peters & May shipped the boat back to the USA, but there was not enough time to rebuild the boat before the second race of the season in Sacramento. But the U-11 team did not accept defeat. Scott and Shannon Raney gathered the team together to measure their commitment to work nonstop on another hull. They decided to take a chance and purchase the T-4 hull which had been wrecked in Detroit in 2010. The team was confident in the hulls design – it had previously won the Gold Cup and was a former World Championship hull. Miraculously, the team rebuilt it to race ready condition in just 3 months. "The team worked around the clock to get the hull ready for racing" said Scott Raney. The U-11 Peters & May went on to have its highest national finish with driver Tom Thompson from Cambridge, MD. Two podium finishes including a 3rd place finish at the Gold Cup in Detroit and a 2nd place finish in San Diego demonstrated the perseverance of the team.
Tom Thompson "I am very excited that Peters & May has renewed its sponsorship of the U-11 for the 2014 season. They provide us with the resources to get better every year and I look forward to driving the U-11 Peters & May again next season."
The season will kick off in June of 2014 in the USA and will finish with the World Championship in Doha, Qatar in November. Peters & May will once again ship the entire H1 Fleet to the Middle East for the season ending race.
Graham Trucking Renews Sponsorship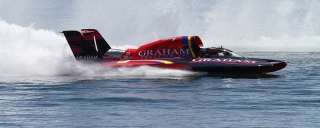 Graham Trucking has renewed its title sponsorship of Ted Porter's U-1 hydroplane for the 2014 H1 Unlimited season, Porter announced today.
 "In 26 years of sponsorship I have never been more confident in an ownership and crew," said Graham Trucking President Rob Graham. "I would like to thank Ted Porter and his family for giving us the opportunity to be a small part of this amazing organization."
 Porter is grateful of the continued relationship with Graham and his company, too.
 "I am deeply thankful to Rob for his level of confidence in us, and for the commitment he has made to our team," Porter said. "It is crystal clear that Rob's commitment is very serious, and that he really, really wants to win and remain as the U-1 National Champion."
 During the 2013 season, Graham Trucking won its third UIM World Championship, claimed its first national high points championship, and picked up four of its six total race wins as a sponsor in the unlimited ranks. Graham Trucking has been sponsoring unlimited hydroplanes since 1987, and has sponsored one of Porter's boats every year since 2009.
 "Graham Trucking is fully committed to ensuring that the U-1 designation remains with this team," Graham said. "I truly think the world of this group and I'm really looking forward to the 2014 season."
The team has already begun significant offseason work to the primary hull ("T-6"), which will wear the U-1 Graham Trucking colors in 2014. All of the team's equipment will be given serious attention over the winter, in preparation for the team's title defense.
Scott Liddycoat Signs With Schumacher Racing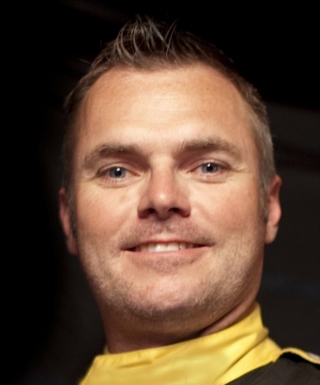 Billy and Jane Schumacher have announced that Scott Liddycoat will be driving Schumacher Racing's 37 Miss Beacon Plumbing in the H1 Unlimited Series in 2014.
Liddycoat was H1 Unlimited Rookie of the Year in 2011, and UIM World Champion.  In 2012 he drove the 88 Degree Men for USA Racing Partners.
 Prior to moving up to the unlimited ranks, Scott was one of the country's top inboard racers. 
In 2010, he won both the Alton Pierson Memorial Trophy and the Eddie Cannon Memorial Trophy for Best Overall 5-Litre class performance, as well as the National High Points Championship in the 2.5-Litre class.
He also won series championships in 2007 (both 5-Litre and 2.5-Modified), 2006 (5-Litre), 2004 (National Modified), and 2002 (2.5-Litre Stock).
He is also an accomplished boat builder and used his experience from time with Jon Staudacher, Carter Parrish and Henry Lauterbach to design and build record-setting hydroplanes for himself and other drivers.
Billy and Jane both expressed excitement over their new hire saying, "We are thrilled to have Scott joining our team.  Our crew chief, Bob Catipovic, has worked with Scott before and encouraged us to make this choice.  Our team manager, Dave Villwock, agreed that Scott was a great fit for our team. We are in it to win it and we are going to give our new driver the  boat he needs to be a contender.  We will start the season with the best inventory of motors and propellers we have ever had and we are very excited about the upcoming season."
J. Michael Kelly Named To Drive 1 Graham Trucking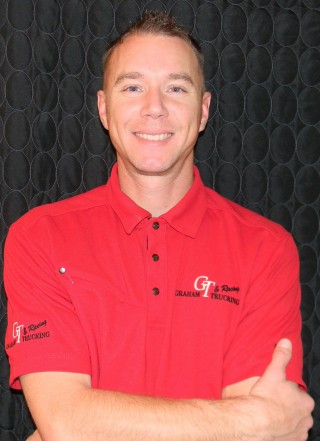 A UIM World Champion will return to the U-5 Racing Team's cockpit in 2014, as Team Owner Ted Porter announced today that J. Michael Kelly has been hired as the team's new driver.
Kelly won the first of Team Porter's four Oryx Cup World Championships in November 2009, claiming the inaugural Doha, Qatar race with the 7 Graham Trucking.
"We are really excited to have J. Michael returning to our team," Porter said. "With J. Michael becoming available, he was the obvious choice for the recently vacated U-1 seat. He is a significant part of this racing team's history."
Kelly drove for Team Porter as the pilot of the 7 Graham Trucking in 2009-10, when he finished on the podium eight times in 12 races – one first, five seconds, and two thirds. His first career win in the unlimiteds was the 2009 Oryx Cup UIM World Championship victory, starting Porter's dominance at the Oryx Cup. Kelly has been a fixture among the top drivers in the sport since breaking in to the unlimited ranks.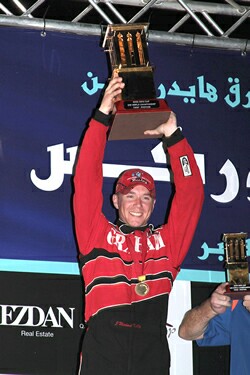 "Coming back to this team really means a lot to me," Kelly said. "The Porter family, and the entire team are absolutely committed to excellence and to winning. My family and I are really looking forward to racing with this team again. And it's very exciting that our challenge will be to defend the U-1."
For the last three seasons, Kelly has been at the helm of Schumacher Racing's entry.
"I appreciate my time with Schumacher Racing Team, and I learned a lot and was able to improve many of my skills," Kelly said. "I'm sure they will be one of our top competitors going forward."
The 2014 season will be Kelly's 27th season of boat racing. During his career, he has set 23 world records in various classes, six of which are still current, and is a three-time American Power Boat Association Hall of Champions inductee (2003, 2004, and 2010). Kelly also has a total of eight national championships, 15 high points championships, and 25 APBA divisional titles. In 2009, Kelly won the New Zealand Des Geddes Memorial Grand Prix Hydro event. He also became the first person in APBA history to win four championships in a single Nationals, at the 2010 event.
The 2004 unlimited class Rookie of the Year, Kelly was also winner of the Babcock Award in 2003 and 2004. Kelly and his wife Angela have two sons, Brennan and Carson and live in Bonney Lake, Wash.
DANNY FOSTER REMEMBERED
By Fred Farley  -  H1 Unlimited Historian
Unlimited hydroplane racing has lost another of its all-time greats. "The Old Pro" Danny Foster of Grosse Pointe Woods, Michigan, passed away on November 2, 2013. He was 95.
 
A two-time Gold Cup winner, Foster was to the 1940s and '50s what Bill Muncey was to the 1960s and '70s and what Chip Hanauer was to the 1980s and '90s. Foster was Unlimited racing's first superstar in the years following World War II.
Danny's first boat racing contact was with the California Gold Cup class of the 1930s. The Gold Cup Class was a forerunner of the post-war Unlimited Class and prohibited engines larger than 732 cubic inches in piston displacement.
In 1938, Foster served as riding mechanic with driver Dan Arena of the Hispano-powered MISS GOLDEN GATE. Foster and Arena finished second in the 1938 APBA Gold Cup race at Detroit. The winner was the Italian Count Theo Rossi in ALAGI, powered by an Isotta-Fraschini engine.
Foster's Unlimited driving career began in 1946. His first appearance behind the wheel of a Thunderboat was at the President's Cup in Washington, D.C., with Albin Fallon's MISS GREAT LAKES. Danny won all three heats and decisively outperformed the favored Guy Lombardo in TEMPO VI. The President's Cup was personally presented to Foster by President Harry Truman at the White House in the Oval Office. 
This was the first victory by an Allison-powered boat and the first of many competitive triumphs by Danny, who quickly established himself as the top driver of his day.
He was National High Point Champion in 1947 with MISS PEPS V, owned by the Dossin brothers of Detroit. With this craft, a rebuilt pre-war campaigner, overpowered with an Allison engine, Foster won his first Gold Cup on the extremely rough water of Jamaica Bay, New York.
Although sponsored by Pepsi Cola, MISS PEPS V didn't carry her product's full name into competition because commercial sponsorships were frowned upon. But this situation would soon change.
In 1948, Danny made it back-to-back Gold Cups — this time with MISS GREAT LAKES at Detroit in a race that is recalled as one of the most destructive in history. Boats crashed, burned, and sank on a day when all that could possibly go wrong seemingly did. Foster was the only entrant out of 22 that could go the full 90-mile distance.
Even at that, MISS GREAT LAKES barely made it back to the pits following the last heat — before itself sinking at dockside while Foster was receiving the trophy!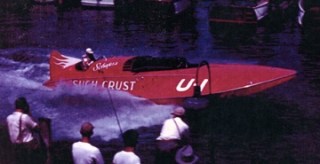 In the ensuing years, Danny continued to make his presence felt with the likes of SUCH CRUST, DELPHINE X, HORNET, GALE II, WHA HOPPEN TOO, and MISS GREAT LAKES II. To his credit, Foster managed to finish first or second at one time or another with almost every boat that he drove between 1946 and 1955.
Foster replaced his friend Lee Schoenith in the cockpit of GALE II during the 1952 campaign. With Schoenith away, serving in Korea, Danny won the Silver Cup on the Detroit River.
The following year, Lee was having a difficult day with GALE II at the Silver Cup. After a disappointing third-place in Heat One, Schoenith asked Foster to step in as a relief driver. Danny scored a decisive victory in the next heat, beating Bill Cantrell in SUCH CRUST V and Joe Taggart in SLO-MO-SHUN V, and put GALE II back into contention. Schoenith then reclaimed the cockpit and went on to win the race.
Foster had the kind of season in 1955 that most drivers only dream about. That was the year that he teamed with bandleader Lombardo as pilot of TEMPO VII, an Allison-powered craft built by Les Staudacher that the press labeled as "The Sweetest Boat This Side of Heaven." Foster and Lombardo had raced against each other for years; together, with crew chief Roy Duby and under the sponsorship of Decca Records, they were an inspired combination.
After being forced out of the 1955 Gold Cup at Seattle due to an on-board fire in the first heat, TEMPO VII could hardly do wrong. Danny won the Copper Cup at Polson, Montana, the Silver Cup at Detroit, the President's Cup in Washington, D.C., the International Cup at Elizabeth City, North Carolina, and the Governor's Cup at Madison, Indiana.
The victories did not come easy. Indeed, Foster had to defeat one of the most competitive fleets in Unlimited history that season. Included were Bill Muncey in MISS THRIFTWAY, Chuck Thompson in MISS PEPSI, Jack Bartlow in MISS U.S., Don Wilson in DORA MY SWEETIE, Cantrell in GALE IV, and Schoenith in GALE V.
It is interesting to compare Foster's driving with that of the budding superstar Muncey, who had only just landed his first competitive ride in the Unlimiteds. At Detroit and Washington, the veteran Foster clearly outperformed the rookie Muncey. In the Final Heat of the latter event, Bill appeared en route to an easy win after Danny had spun out in the first turn.
But Foster rebounded quickly and took off after the rest of the field. He passed one boat, then another, and caught up with the frontrunning MISS THRIFTWAY. Foster and TEMPO VII roared past Muncey as if he were tied to the dock and sprinted on to the checkered flag and victory.
After 1955, Foster had few worlds left to conquer. From then on, he was mainly a relief driver or a shore mechanic. Over the next decade, he saw occasional action with MISS U.S. I, MISS SUPERTEST II, GALE VII, and MISS SMIRNOFF.
His last victory was in a secondary race for the Ponderosa Trophy at the 1965 Lake Tahoe World Championship Regatta with MISS SMIRNOFF. Danny was substituting for his friend Cantrell who had been injured at a race in Madison, Indiana.
Although long-retired from the competitive arena, Foster always attended his hometown Detroit Gold Cup race and helped in the restoration of the world record-setting MISS U.S. I.
One of his more recent honors was his 2005 election to the Motorsports Hall of Fame of America in Novi, Michigan.
 Danny Foster — "The Old Pro" – will always be remembered as being one of the better of the best in the water sport of kings.
FEDCO Out At Evans Brothers Racing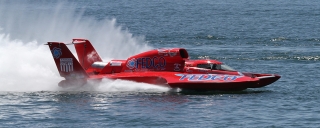 In a stunning development – Evans Brothers Racing has received word the FEDCO sponsorship will not be continuing.
The team released a statement saying -
Throughout the 2013 season N. Mark Evans and the 57 FEDCO demonstrated what Evans Brothers Racing is all about: teamwork. 
With a title sponsor whose passion for fluid energy brought the new technical expertise to the sport, the 57 FEDCO grew consistently faster as the season progressed. 
While the 57 team did not win a race this season, they were victorious on every other level.  With unparalleled camaraderie and positivity the 57 team propelled their storied hull and driver to new heights. 
Unfortunately, a season ending propeller failure brought their momentum to an instant halt as catastrophic damage was sustained to the 57 hull, turbine and gearbox. 
In turn, the 57 program has been thrust into a rebuilding stage which has an uncertain future, as FEDCO, in the midst of a major capital expansion and international joint venture, will be unable to continue with their sponsorship. 
FEDCO President, Eli Oklejas said that "the entire 57 team was exciting to work with and showed class from start to end, " but that his company's future endeavors will be more market based. 
As another page turns in N. Mark Evans' career fans and friends might ask what comes next? For anyone who knows N. Mark, you can bet he will be "Mashin' the Gas" sometime soon!
J. Michael Kelly Leaving Schumacher Racing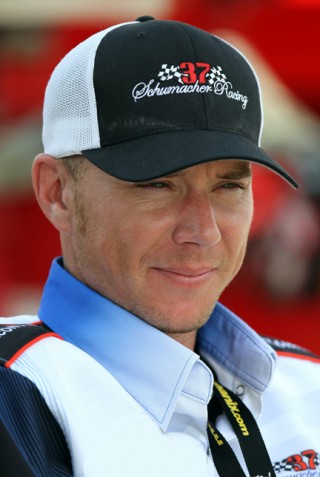 J. Michael Kelly has announced that he is leaving Schumacher Racing.  Kelly has been with the team since 2011 and drove the team's 37 Miss Beacon Plumbing to fifth place in the 2013 H1 Unlimited Season High Points.
Kelly released a statement saying, "This has been a very difficult decision for myself and family, but I feel that it's in my best interest to give up my seat behind the wheel of the 37.
"I would like to thank all of my crew who have become very good friends, my sponsors Beacon Plumbing, Degree Men and all of my fans that cheered myself and the 37 team on.
"I know that this team will continue to improve, as the boat showed some very good speeds at times last year. However for me as a driver my family comes first and I feel that this is just not the right fit for us at this time.
"I am truly grateful for the opportunity I have had. I feel extremely fortunate to have been one of the lucky ones to drive an unlimited. I love this sport and always will."
The 34 year old Kelly began racing at age 7 in a small kneel-down type hydroplane with an outboard motor attached to the transom. He filled the trophy case during his outboard driving career and still holds six world speed records in various outboard classes.
In 2010 Kelly won four outboard national championships – the only driver to accomplish that feat in one season. He is a four-time inductee into the prestigious APBA Hall of Champions.
After an impressive rookie season driving for Jim Harvey Motorsports, Kelly was named H1 Unlimited Rookie of the Year in 2004.
Prior to joining Schumacher Racing in 2011, Kelly had started 45 races driving for Harvey in 2004 and 2005, Dave Bartush's U-13 Spirit of Detroit  in 2006 and 2008 and Ted Porter's U-7 Graham Trucking in 2009 and 2010.
Kelly drove Ted Porter's U-7 Graham Trucking to victory in the inaugural Oryx Cup UIM World Championship in Doha, Qatar in November of 2009.
Kelly added, "If another ride becomes available and I feel that it's a good fit, you may see me doing what I love again.
"Again thank you to everyone who has supported me and who have cheered me on these last 10 years."
New 96 Spirit of Qatar Taking Shape

Somewhere in South Seattle – in a top secret location – Ellstrom Racing's new Spirit of Qatar is taking shape.
Owner  Erick Ellstrom says,  "The major elements of the hull – center section, cockpit, canoes, etc. are constructed and going together.  The boat itself will be completed in December and we'll start putting the systems in.  The new Spirit of Qatar will be completed in April."
Ellstrom says he is working closely with the team's sponsor, Sheikh Hassan bin Jabor Al-Thani of the Qatar Marine Sports Federation, who gave his support to the project during the Oryx Cup UIM World Championship in February in Doha and has stayed in contact throughout construction.
To the obvious question – why all the secrecy?  Ellstrom replied, "We are building a boat that will be lighter, stronger, faster and more high tech than anything the sport has seen before.  We just don't want to share everything we are doing before we have a chance to get it finished."
Ellstrom says the differences in the hull will be fairly subtle, but it will be more adjustable to changing conditions and starting procedures than previous boats.
Speaking of systems, Ellstrom explained that he has teamed with Cosworth Racing in the development of advanced computer systems and electronics that will give the team more monitoring capability and information than any systems that have been used previously.
The team's hardware is also getting an upgrade.  Ellstrom says he will start the 2014 season with more engines, props and gearboxes than they have ever had before.
The big question remaining is….who will be chosen to drive the world's most state-of- the- art race boat?
Ellstrom says a number of familiar names are still being considered and a decision on the team's new driver will be made before the boat is completed in April.
Ellstrom concluded, "We will choose a driver who is a good fit for the team and then make sure the cockpit is a good fit for the driver.  We are also gettting input from Sheikh Hassan, a world-class boat racer himself, who has a very good knowledge of the top drivers in the H1 Unlimited Series."
By Steve Montgomery – H1 Unlimited
Photos courtesy of Ellstrom Racing