By Fred Farley  -  H1 Unlimited Historian
Former MISS MADISON driver Jon Peddie passed away on November 25, 2014 at the University of Louisville Hospital. He was 71.
Jon was a larger than life figure who owned and oprerated Peddie's Body Shop in his hometown of Madison, Indiana, for many years.
He raced Unlimited hydroplanes from 1977 to 1983. He drove two different MISS MADSISON hulls during 1977-78 and started chauffeuring Bill Cantrell and Graham Heath's MY GYPSY in 1979.
All three of the boats that Peddie drove in competition had pretty much seen their better days by the time Jon got to drive them. (Both of the MISS MADISON hulls were five years old and MY GYPSY was thirteen years old.) He nevertheless posted some pretty high finishes during his career, which is a testament to Peddie's skill as a driver.
During the late 1970s and early '80s, most of the major teams were changing over to cabover or forward-cockpit hulls. Jon's boats featured the old-style rear-cockpit/forward engine arrangement. The bigger budget camps used Rolls-Royce Merlin or Lycoming turbine power. Peddie used an Allison.
When signed to pilot MISS MADISON, the veteran auto racer had never piloted a hydroplane in his life. So before the first race of the 1977 season, Jon test drove Denny Jackson's RIDE-ON, a 280 Cubic Inch Class hydro, on the Ohio River. By all accounts, Peddie took to driving a boat the way a duck takes to water.
Jon, the first Madisonian ever to pilot the community-owned MISS M, went on to win Rookie-of-the-Year honors in the Unlimited Class. Peddie piloted "The Hurryin' Hoosier" to fourth-place in a field of twenty boats in 1977 National High Points. He finished third overall at San Diego, CA, and fourth in six different races: Miami, FL; Detroit, MI; Madison, IN; Owensboro, KY; Dayton, OH; and the Tri-Cities, WA.
His best finish of 1978–and the best finish of his career–was a second-place in the APBA Gold Cup at Owensboro with a victory in Heat Three.
For Jon's first few races with Cantrell and Heath, the venerable MY GYPSY was officially renamed the MISS BUDWEISER. That's because BUD owner Bernie Little's new Rolls-Royce Griffon-powered "Beer Wagon" wasn't ready to start the 1979 season. In order to satisfy his contractual obligation to Anheuser-Busch, Little leased the MY GYPSY as a stand-in.
Peddie piloted the substitute MISS BUDWEISER to fifth-place at Miami and fifth at Evansville, IN.
Over the next few years, Jon drove the MY GYPSY under various names, including MISS KENTUCKIANA PAVING (sponsored by Madisonian Jim Sedam), LOUIE'S ON THE LAKE, and DOBSON THE MOVER. He finished third at Detroit in 1979 and '80, at El Dorado, KS, in 1980, and at Madison in 1982. Peddie took fourth at Madison in 1980, at Detroit in 1982, and at Houston, TX, in 1982.
The MY GYPSY years were special years for Jon because of his close personal friendship with his two mentors, Cantrell and Heath.
Jon Peddie's last race was the 1983 Detroit Thunderfest. Sponsored by DOBSON THE MOVER, MY GYPSY crashed in splinters during a test run. The boat was totaled but Peddie fortunately was not seriously injured.
Long retired from the hydroplane sport, Jon still had a soft spot in his heart for Unlimited racing and the people in it. When Bill Cantrell died in 1996, Peddie did not forget his old friend. Jon helped to erect a memorial plaque in the Madison pit area in Cantrell's honor.
Changes In Store For Detroit

After returning from an exciting UIM World Championship in Doha, Qatar, the energy here at H1 continues unabated. We're pleased to tell you that we're going to be ramping up things on the US series for 2015. That begins with a change in the organization of the Detroit race.
The DRRA has announced that they will not be hosting the Detroit APBA Gold Cup for Unlimited Hydroplanes in 2015.  As a result H1, along with a dynamic group of Detroit area business people will be conducting an Unlimited race on the Detroit River on or about our previous race dates.
We look forward to joining forces with all of the volunteers who have helped to make the Detroit race a legacy of 100 plus years
We wish DRRA well, as we've had a long and successful relationship.
Stay tuned as we update you in the coming weeks. For now, we're racing in Detroit and look forward to all of our friends and fans joining  in the new energy of H1. 
Steve David
H1 Chairman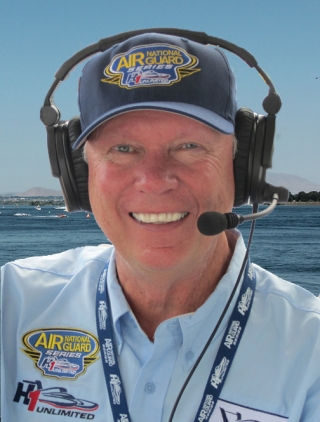 In a Tuesday, November 25 email to H1 owners, drivers and officials, H1 Director of PR and Communications Steve Montgomery said:
Before the season, I told a gathering at the Hydroplane Museum in Seattle that 2014 would be my farewell tour as far as my day to day role with H1.  Now its time to keep that promise and turn the website, press releases, social media, etc. over to younger, nimbler fingers.
I am proud of the progress we made in all of these areas since I came on board in 2009 and most of that could not have happened without Walt Ottenad's help as my IT guy – helping with the back end of the website and all things internet and video. Thank you Walt.  Hopefully the sport will come to realize your true value.
I did my first Seafair broadcast in 1974.  40 years of commissioners and chairmen from Don Jones to Steve David.  Won't begin to list the boyhood heroes and fascinating people I got to know along the way.  Just about every name in the modern history of he sport is on the list.
When we gather for a banquet or any event related to the sport, I realize most of my best friends in the world are in the room.  So Debbie and I will still be around.  We will be doing some projects for race teams and race sites and Steve David promised us life time pit passes.  We will hold him to that and see you at your races.
Our time table is to have a new person or persons up to speed by the end of January.  Until then, I will continue to help with anything you need.
 My goal as announcer and PR guy was always to make the sport look and sound as good and professional as possible.  I hope you feel I accomplished some of that.
 Thanks for everything and letting me be part of your incredible sport for so long.
H1 Chairman Steve David responded saying:
H-1 has been so fortunate for decades to have Steve Montgomery as our announcer, media manager, PR person, radio personality, sponsor hunter, and virtually every other task ever asked of him. After four decades of service, Steve has decided it's time to slow down a bit. You'll likely still that hear convincing voice, backed by incredible knowledge at the race sites Steve chooses.
From all of us at H-1, words cannot express our thanks for the level of dedication and service Steve has provided not only to H-1, but to our fans and stakeholders.
At our annual meeting we will be acknowledging Steve Montgomery for his outstanding service and hope that many of you will be present to witness this landmark of service and show him the appreciation that each of us feels.
Steve David
J. Michael Kelly Wins Tough Oryx Cup Battle
DOHA, QATAR—After  1 Graham Trucking J. Michael Kelly surged across the finish line to capture the 2014 Oryx Cup UIM World Championship Saturday afternoon to win the final championship heat of the H1 Unlimited 2014 season, he found himself the lead man on the podium for the fourth time this season.  This time, he shared the honor of the day with 6 Oberto Beef Jerky driver Jimmy Shane, who placed second to Kelly but reclaimed the National High Point Championship for the Oberto team.
Though he shared the podium, it was who Kelly pulled off the move of the day.  With a low setting Arabian sun blinding the drivers in turn one, Kelly cut that corner prior to the one-minute mark taking the inside lane away from Shane in the championship final.
"The move worked out," said Kelly, "The Oberto had a little bit more speed than we had and that move allowed us to come away with a huge win."
After a great start by all the drivers, Shane was the first driver into the first turn. He powered his way to the front of the pack down the backstretch.
"I thought I had him. We went into the first turn, and I was about four lengths ahead," said Shane. "I was able to hold him off for about two laps. Once he got next to me on the inside; the water got so rough I couldn't hold him off and I just settled back."
"We were running pretty close," said Kelly.  "There were times when we were only a few feet apart down the straight away, but that is boat racing, and you can never give the other too much room. That's how you have to race."
Even with a second place finish, Shane had a big smile on his face.
"Our main goals coming in here was to keep the equipment together and win the national high point championship," added Shane. "If  we would have won the world championship it would have been icing on the cake, but we are bringing the boat home in one piece and we have the national high point championship."
Shane had won the last two races in Doha for Ted Porter's Graham Trucking team and made the jump this season to the Oberto after veteran driver Steve David retired from racing. This time it was Kelly who gave who gave owner Porter's race team its fifth title in six races here since the unlimited boats first raced in Qatar in 2009.
And for Kelly, it was second win in Qatar.  He won the inaugural race in 2009.  It was also his first unlimited title of his career.
Shane and the Oberto boat seemed to be the boat to beat.  The team led all qualifiers, but it was Kelly and Graham Trucking that captured all five heats in two days of racing.
Kelly knew the Oryx Cup UIM World Championship was the lone goal when Shane's wire-to-wire win in heat 4A guaranteed the Oberto team the 2014 National High Point Championship.  In that heat,  9 Team RedDOT presented by Les Schwab with Jon Zimmerman had lane one at the start.  Shane, in lane two, cruised by Zimmerman coming out of turn one, keeping his lane and winning the heat easily.
Zimmerman also made the finals and placed third. The 7 Graham Trucking II with Cal Phipps, the 11 Peters & May with Tom Thompson and the 22 Performance Tools driven by Mike Webster rounded out the field.
96 Qatar driver Jean Theoret returned to racing unlimited hydroplanes for the first time since 2009 and instantly made an impact on the fleet.  He won his first elimination on Friday and seemed to be ready for another win in 3B.  He was dominating the heat when his steering shaft broke giving him a DNF.
The day did not get any better for Theoret.  He did place second in heat 4B to make the finals, but his turbine engine ingested salt water before the start of the final heat keeping him on the sideline.
Kelly averaged 130.39 mph to win the five-lap final while Shane averaged 126.006 to place second.
FINAL HEAT
1 Graham Trucking J. Michael Kelly 130.039
6 Oberto Jimmy Shane  126.006
9 Team RedDOT Jon Zimmerman  120.241
7 Graham Trucking II Cal Phipps 116.179
11 Peters & May Tom Thompson 113.672
22 Performance Too, l Mike Webster   109.654
96 Spirit of Qatar,  Jean Theoret  DNS
Shane, Kelly and Theoret Win Oryx Cup Prelims
When Friday's first day of racing was completed at the 2014 Oryx Cup UIM World Championship, J Michael Kelly and Jean Theoret along with the hometown fans of Doha had big smiles on their faces. Kelly in the 1 Graham Trucking won both of his elimination heats while Theoret driving the 96 Spirit of Qatar sponsored by Qatar Marine Sports Federation returned to H1 Unlimited competition for the first time since 2009 winning elimination heat 1B.
Jimmy Shane, the current point leader in the battle for the national high point championship driving the 6 Oberto Beef Jerky, had his share of problems but came away from the first day of competition on Doha Bay still in contention for the race title. He was penalized one lap in his first elimination heat for jumping the starting time and placed fourth scoring only 169 points. He did win elimination heat 2B that gave him 400 points placing the team back into Oryx Championship-UIM World Championship contention. Theoret, who had to start in the outside lane today since he had not run an unlimited race since an accident in 2009, received a gift in heat 1B when both Shane and 9 Team RedDOT – Les Schwab Tires Jon Zimmerman jumped the starting line and received one lap penalties.
Theoret came back in heat 2B and placed second giving him a 700-point day. Dave Villwock, driving the 21 Miss Seattle, also had a good day going until his second elimination heat. After placing second behind Kelly in heat 1B, Villwock found himself with salt water in his turbine engine battling with Shane and Theoret for the lead in the first turn of the first lap of heat 2B. The boat went dead in the water after completing just one lap. Shane, Theoret and Villwock all went hard into turn one off the start, but the excitement started a little earlier when Villwock found a hole between Shane and Theoret going for the start and took lane 2. As the boats hit turn one, all three boats were flying and close together. Villwock seemed to get water in the engine and eventually lost power after crossing the finish line after the first lap. After that, everyone settled down and kept their spots.
Tom Thompson in the 11 Peters and Mays also had a tough day on the water. After placing 4th in heat 1A and having salt water damage his engine, he could not restart the boat for heat 2A. Concern about a small fire in the engine compartment then forced rescue boats to race towards the disabled boat and red flag the heat. When 2A restarted only Kelly and Zimmerman answered the bell and easily won. Competition for the Oryx Cup UIM World Championship concludes Saturday with four more elimination heats, and a winner take all championship final.
Jimmy Shane Tops Oryx Cup Qualifying
Jimmy Shane in the 6 Oberto Beef Jerky set the qualifying pace for the H1 Unlimited Hydroplane Oryx Cup UIM World Championship Thursday afternoon with an average lap speed of 143.024. Shane might have a received a break during his first qualifying attempt even though he missed an out of place drifting buoy.
"I didn't consider it a lucky break, I did exactly what the rule book says and I thought the first speed (138.001) should have counted," said Shane. "But when we did go out a second time the water conditions were significantly better even though there were still some rollers in the second turn."
J. Michael Kelly in the 1 Graham Trucking had the second fastest average speed hitting 142.803 during his first lap on the second qualifying run.  Even though he had two more qualifying laps to try and pass Shane, Kelly brought the boat back to the pits.
"We ran a good lap, and we felt it was best to bring the boat back in and save the equipment," Kelly said. "This boat has taken a beating all season long and this is still going to be a long weekend."
Jon Zimmerman in the 9 Team RedDOT/Les Schwab boat made the qualifying podium with the third fast speed of 137.158.
The high salinity of the salt water and heavy rollers slowed qualifying speeds throughout the day so much that H1 Chairman Steve David dropped the minimum qualifying speed from 130 to 120.
Nine of the 10 boats qualified for the Oryx Cup while the Miss DiJulio team sat in the pits without its Lycoming Turbine engine. The engine was still in Qatar customs, and it is expected to be given to the team Friday morning.
The unlimited hydroplane fleet will be back on the water for testing tomorrow morning with the first set of elimination heats taking place at 1:00 pm GMT +3.  The championship final heats will be run Saturday.