Big Crowd For HARM H1 Season Preview
A big crowd of fans, drivers and media turned for for the Hydroplane and Raceboat Museum's H1 Season Preview event on Saturday.
Fans attending the event at the HARM facility in Kent, Washington heard the drivers describe their teams plans and preparations for the 2013 season. 
They also had an opportunity to ask questions of the drivers and get the first autographs of the season.
Boats on display included the newly logoed 48 Snoqualmie Casino which will run in the Albert Lee Cup at Seafair on Lake Washington in August, driven by rookie Jamie Nilsen.
Nilsen joined drivers Ryan Mallow, Jeff Bernard, Kip Brown, Jon Zimmerman, J. Michael Kelly, and Brian Perkins at the front table.
GFTL Adds Second Seafair Entry
GoFastTurnLeft Racing owners Greg and Brian O'Farrell have announced plans to campaign a second boat at the 2013 Albert Lee Cup at Seafair on Seattle's Lake Washington the first weekend in August.
In addition to the 21 Albert Lee Appliance, driven by Brian Perkins, the team will enter the 48 Snoqualmie Casino driven by rookie Jamie Nilsen.
GFTL's 48 hull sports a bright new blue and green livery and sponsorship from the Snoqualmie Casino East of Seattle.  It was the first boat owned by the team, purchased from Leland Unlimited and campaigned as the U-48 Lakeridge Paving in 2007.
Nilsen, a 27 year old native of Federal Way, Washington, is a crew member on the GFTL team and has been racing boats for over 15 years.  Primarily an outboard driver, Nilsen has won two outboard national championships and set eight competition world records. He was inducted into the APBA Hall of Champions in 2000 and again in 2002.
An outstanding college baseball player, Jamie gave up pursuit of a professional career in baseball to devote his energy to boat racing.  As a member of the Schumacher racing team in 2010, he successfully completed 11 laps testing in Tri-Cities and Seattle with a best lap over 148 mph.
Nilsen also has inboard experience in the 1 Liter and 5 Liter classes in the Pacific Northwest over the past two seasons.  He is expected to go through the H1 Unlimited driver's qualification process in one of the team's boats at the 2013 Lamb-Weston Columbia Cup in the Tri-Cities the week before the Seattle race. That process requires 15 laps on the course with 10 of the laps over 130 mph.
Albert Lee Renews Seafair Sponsorship
Seafair and Albert Lee Appliance announced today the signing of a new three-year partnership, spanning through 2015.
"Albert Lee has been instrumental in maintaining the hydroplane race tradition in our city," said Beth Knox, President & CEO of Seafair. "Albert Lee has a strong commitment to this community and a passion for our local celebrations. Seafair is proud to have outstanding Seattle-based corporate partners involved with our festival events."
The company is the title sponsor of the H1 Unlimited Hydroplane Race at Seafair Weekend, the "Albert Lee Appliance Cup". The event will take place Fri., Aug. 2 – Sun., Aug. 4 at Genesee Park on Lake Washington. Tickets for the event are on-sale now at Seafair.com/SeafairWeekend.
Festivals play a big role in Seattle's quality of life, and Albert Lee is pleased to continue our partnership in supporting the sport of hydroplane racing in this region," said Albert Lee III, President of Albert Lee Appliance. "We want fans in our community to be part of this iconic event for years to come."
A preview of what's to come this year in H1 Unlimited hydroplane racing will take place this Sat., May 11 at and sponsored by the Hydroplane and Raceboat Museum from 4 p.m. to 7 p.m. Learn more at http://thunderboats.ning.com/events/2013-h1-season-preview.
ABOUT ALBERT LEE APPLIANCE
Albert Lee opened the first Albert Lee Furniture, a quality custom furniture store, in 1939. 74 years later, Albert Lee Appliance is a three-generation, family-owned business and continues to grow and serve the Pacific Northwest communities with top quality sales, customer service and installation for all home appliance needs. Specializing in complete kitchen packages, Albert Lee Appliance offers a full line of over 50 major brands to fit any budget. Albert Lee Appliance has five showrooms consisting of over 87,000 sq. ft. of a variety of first-rate appliances.
Madison Regatta Re-Signs Lucas Oil

Madison Regatta Incorporated is announcing today the re-signing of the Lucas Oil Corporation as Title Sponsor for the 2013 Madison Regatta to be held on the Ohio River in Historic Madison.
Madison Regatta president Kim Washer stated, "We are pleased and excited by the generous sponsorship opportunity Lucas Oil has provided to us again this year. On behalf of the entire Madison Regatta organization and the city of Madison I want to thank Mr. Forrest Lucas, Kevin McWilliams, and the entire Lucas Oil organization. Having such a great company with close ties to Indiana join forces to stage this unique and historic racing event is especially gratifying".
Lucas Oil Company, founded in 1989, is a producer of high quality automotive oils, additives, and lubricants. Company Founder, President, and CEO Forrest Lucas began his career as a trucker in Indiana, expanding his operation over the next twenty years. Seeing the need for a better lubricant for his trucking operation, Mr. Lucas began his search eventually leading to the creation of his own special formula for the trucking industry.
Lucas Oil gained significant status and name recognition when in February 2006 the company secured the naming rights for the new stadium in Indianapolis, current home to the Indianapolis Colts. The company has a major manufacturing facility and headquarters in Corydon, Indiana and corporate headquarters in Corona, California.
Graham Trucking Renews 5 Jimmy Shane

Graham Trucking has renewed its title sponsorship of Ted Porter's No. 5 unlimited hydroplane for the 2013 H1 Unlimited season, Porter announced today.
"We couldn't be happier with Graham Trucking's continued support of our team," Porter said. "Rob has been very supportive of us, and he is really proud to be the title sponsor of the two-time defending world champion."

 With the team's primary race hull back from Doha, U-5 Racing is getting started on preparations for the first race of the season on domestic turf. The 2013 season officially opened in mid-February with the Oryx Cup UIM World Championship in Doha, Qatar.

Jimmy Shane also continues the cockpit as the team's driver.   
"For a guy who was driving his first full season as a driver in H1, he had a pretty good season," Porter said. "We're very happy with Jimmy, and are proud of the accomplishments he and the team achieved. Winning three races, including two world championships, and finishing second in the national points chase in his first year is remarkable.   
"Everyone who's a part of our team is very excited about the last seven races of the 2013 season," Porter added.
The domestic portion of the 2013 H1 season begins with Big Wake Weekend in on Folsom Lake east of Sacramento, Calif., May 31-June 2. The Graham Trucking hydro will arrive in Sacramento just 130 points behind the series points leader after one race.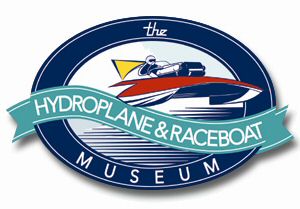 There may still be snow in the mountain passes, but it's not too soon to start talking about Hydro Racing. The H-1 Unlimited series gets off to an early start with its first race in Sacramento CA on June 1st. Before they head out of town, all of the big boat teams and drivers will be stopping at the Hydroplane Museum on Saturday May 11th at 4 pm for the first annual H-1 Season Kick Off Party. 
This will be your opportunity to get the inside story on what promises to be the most exciting unlimited season in years. Find out what is going on with all-time winingest drive Dave Villwock. Will he or won't he be driving in 2013?  Who is most likely to dethrone him? Meet new rookie drivers for 2013. See brand new paint jobs. Hear about at least two new race sites and maybe another overseas race.   
Activities: 
Celebrity autograph session 
First ever unlimited hydro "CackleFest" where we fire up vintage hydroplane engines made by Allison and Rolls Royce, come hear & feel the Thunder! 
Food and drinks available for purchase to the public 
Panel discussion and season predictions with all of the top drivers.
Silent auction of hydro memorabilia to raise money for the Museum
Event is free to Museum Members and $5.00 to Non-Members 
Interviews Opportunities: 
Kip Brown
Driver of the U-95 Spirit of Qatar 
Mark Evans
Owner Driver of the U-57 FEDCO 
J. Michael Kelly
Driver of the U-37 Miss Beacon Plumbing 
Ryan Mallow
Driver of the U-100 Fox Plumbing 
Steve Montgomery
Broadcaster and PR for H1 Unlimited 
Brian Perkins
Driver of the U-21 Miss Albert Lee
Jon Zimmerman
Driver of the U-9 Jones Racing 
Jeff Bernard
Driver 
Billy Schumacher
Owner of the U-37 and three time Gold Cup winner 
David Williams,
Author, Vintage Budweiser Driver  and  Director Hydroplane and Raceboat Museum 
Photo / Film Opportunities: 
New paint and sponsor for U-48 Snoqualmie Casino boat. 
Test firing of the huge fire breathing V-12 engines in the vintage boats that will be performing at several H-1 Unlimited Races 
Side by side display of the 1982 Atlas Van lines and 1980 Miss Budweiser, featured  performers at 2013  Seafair Vintage Exhibition  
See the finishing touches being put on the newly restored 1977 Atlas Van Lines (The Blue Blaster), that legendary driver Bill Muncey lost his life in while leading the World Championship Race in Acapulco Mexico in 1981 
Fans getting autographs from the 2013 drivers.
For more information check out our web site www.hydromuseum.org
New Sponsor and Home for 57
Since joining forces with Fluid Equipment Development Co. (FEDCO) (www.fedco-usa.com) just prior to the 2012 Oryx Cup, N. Mark Evans and the U-57 Crew have demonstrated the drive and determination that their new sponsor had been hoping for.
Though mechanically challenged as their partnership debuted at the first Doha race, achieving a 9th place overall finish, the 2013 Oryx Cup in January showed signs of a reemerging U-57 program. Leaving Doha, Qatar with a 5th place finish despite overcoming multiple obstacles, the storied "57" hull will now return to a new home where she will be welcomed by the ultimate engineering partner and the community behind them.
FEDCO, an internationally renowned manufacturer of high pressure pumps and energy recovery devices for reverse osmosis desalination, will now house the U-57 at their world headquarters in Monroe, MI as they have signed on to be the programs Title Sponsor for the entire 2013 H1 Unlimited season and beyond.
For U-57 owner/driver N. Mark Evans, the sponsorship represents a "dream come true", to once again "mix it up on the inside and push the boat to its true potential." For FEDCO President, Eli Oklejas, it allows his growing company to showcase our "unlimited engineering potential while educating people about our products."
When the boat returns to FEDCO it will be housed in the company's state of the art manufacturing facility where it will undergo rapid preparations for its debut as the U-57 FEDCO at Sacramento's Big Wake Weekend May 31 through June 2nd. More importantly, as the season progresses FEDCO employees will become actively engaged in all aspects of the boat's race preparation from engineering to implementation.
FEDCO Marketing Coordinator, Alisha Cooley says "Our opportunity to sponsor the U-57 Hydroplane team is an opportunity to showcase the FEDCO team. Everyone here at FEDCO is on board to help the team be a success for the 2013 H1 Unlimited racing season and beyond. We are proud to provide our innovative engineering and manufacturing knowledge to aid the team and the legendary Mark Evans. Our sponsorship activities will bring excitement and enthusiasm for the sport to FEDCO, our customers around the world, and the Monroe community."
Finally, as the boat shifts from being home-ported in Lake Chelan to the shores of Lake Erie, the U-57 team will transition team leadership to Monroe, MI Port Director, Paul C. LaMarre III who will serve as Team Manager and Crew Chief while veteran team leaders John Walcker and Mitch Evans will stay actively engaged as the team's "honorary" manager and crew chief. The team will also expand its ever increasing support network to include some new Michigan based crew members and will continue to receive engine support from Screamin' Turbines LLC of White Lake, MI.
In 2013 It's 95 Spirit of Qatar
Tiffany Troxell Brown thought her husband Kip looked good in maroon and white at the 2013 Oryx Cup UIM World Championship in Doha, Qatar in February.
Kip Brown, driver of the 17 Miss Red Dot on the 2012 H1 Unlimited Hydroplane circuit, found himself wearing the colors of the host country of Qatar  in the 2013 season opener on Doha Bay.
Brown drove the 95 Spirit of Qatar at the February event in a replacement boat for the 96 Spirit of Qatar which was badly damaged in a crash and fire during the running of the 2012 Oryx Cup in Doha in January.
Spirit of Qatar owner Erick Ellstrom and His Excellency Sheikh Hassan bin Jabor Al-Thani, president of the Qatar Marine Sports Federation, have announced that Brown will continue to wear maroon and white and drive the 95 Spirit of Qatar in 2013.
"It's going to take some time to get the 96 repaired and back on the water," explained Ellstrom. "In the mean-time, we feel it's important that our sponsor be represented by a quality driver in the H1 series. Our experience with Kip Brown in Doha in February was very positive and we feel very good about working with him for the 2013 season."
Ellstrom also indicated that his team's damaged boat may appear at selected races in 2013 once repairs are completed and the hull is considered safe and competitive.  This opens the way for the possibility of seeing the Spirit of Qatar 96 alongside the 95 in the pit area and both boats competing before the end of the season.
Looking forward to the season, Brown said, "I am very honored and happy to be asked to continue to represent Qatar for the rest of the season.  The excitement we felt from the fans in Doha mirrored my excitement about the sport and made for a very special experience."
Brown added, "Representing a company is a big responsibility and I always take that very seriously, but representing an entire country takes that to another level.  I look forward to representing Ellstrom Racing, Sheikh Hassan and the people of Qatar to the best of my ability."
From Our Gang Racing & Red Dot Corporation -
17 Miss Red Dot will be 95 Spirit of Qatar for the 2013 Season
Our Gang Racing and Ellstrom Racing have announced that Our Gang's 17 Miss Red Dot Unlimited Hydroplane will be renamed "95 The Spirit of Qatar" for the 2013 H1 Unlimited racing season. 
Ellstrom's 96 Spirit of Qatar sustained major damage from a fire on board the boat during the Oryx Cup in Doha, Qatar in January.  With the boat unable to compete in the 2013 Oryx Cup in February, Ellstrom approached Nate Brown, managing member of Our Gang Racing, asking to re-brand the 17 Miss Red Dot as the Spirit of Qatar for that event.
Within 5 days of the temporary agreement, the traditional red, white, blue and yellow color scheme of the Miss Red Dot was transformed with a vinyl overlay depicting the maroon and white colors of the 96 Spirit of Qatar.  The boat, with Kip Brown at the helm, won two preliminary heats during the February competition but was unable to compete in the final due to salt-water ingested into the turbine engine.
With the hydroplanes not due to arrive from Qatar until mid-April, it became apparent to the Elstrom team that they would be unable to repair the damaged 96 before the commencement of the domestic portion of the H1 Unlimited Hydroplane season.  At Ellstrom's request, The Red Dot Corporation has agreed to suspend its sponsorship of the 17 to allow the Spirit of Qatar sponsorship to continue for the duration of the 2013 season. 
Gary Hansen, vice president of Red Dot Corporation, said, "We appreciate the contribution Sheikh Hassan bin Jabor Al-Thani and the Qatar Marine Sports Federation have made to the expansion of the international presence of Unlimited Hydroplane Racing and agree that they deserve to be represented by a quality race team on the H1 circuit in 2013."
"With that in mind, we are pleased to release our title sponsorship of the 17 to Qatar for the  2013 season," concluded Hansen.  "We know that Kip Brown and the team will represent Qatar very well, as they have the Red Dot Corporation, and we wish them all the best for a great season."
Red Dot is a 100% employee owned business which designs and builds premium climate control components, integrated systems, replacement parts, and aftermarket units for vehicles in demanding work environments all over the world. Based in Seattle, Red Dot has approximately 500 employees in the United States, Europe, Mexico, and China, and more than 175 aftermarket distributor locations in North America.