Race #2: Madison, Indiana
The 2020 H1 Unlimited E-League continues with the second race of the season, contesting the Gold Cup from Madison, Indiana. The race is scheduled for 12:00PM noon on Saturday, June 6th and will be streamed to the H1 Unlimited Facebook, YouTube and Twitch channels.
Twelve HydroSim drivers have been selected by H1 Unlimited teams to represent their virtual racing teams. Drivers race virtual replicas of H1 Unlimited Hydroplanes on digital replicas of H1 Unlimited's greatest courses. Each E-League race will follow the traditional H1 Unlimited racing format and drivers will accumulate points throughout the season in pursuit of the H1 Unlimited E-League Championship. Each season will be conducted during the H1 Unlimited offseason with dates to be announced.
The E-League races will be conducted on the HydroSim racing software developed by Scott Przybylski from San Diego, California.
To learn more about HydroSim software, click here.
To learn more about the Unlimited Hydroplane League, click here.
Race #1: Guntersville, Alabama
Congratulations to Quinton Miller on his victory in the inaugural H1 Unlimited E-League race in Guntersville!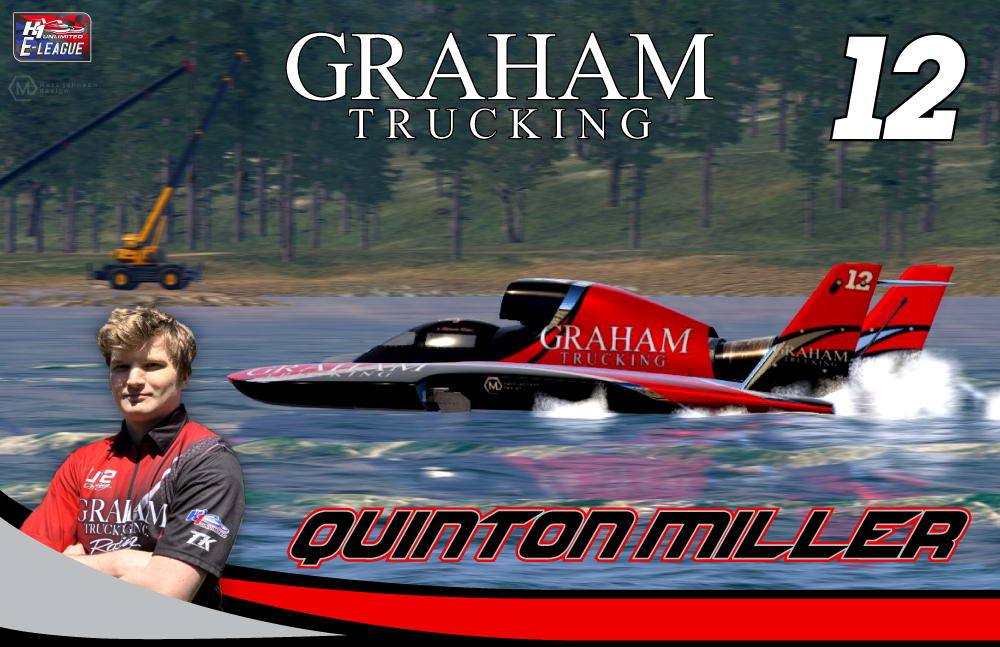 Virtual Racing Driver's Lineup
​
Cei Bowen

17 years old
Plymouth, Indiana
UHL Experience: 2 years
SNHL Stats: 1 Final Heat wins (2018 Gold Cup)
10 Preliminary Heat wins

Been to Madison every year for 17 years

Kelsey Best

33 yrs old
Lives in Mesa, AZ
Born in Redmond, WA
UHL Experience: 2 years reached the final in 6
SNHL Stats: 0 Final Heat wins
11 Preliminary Heat wins 

-Honored to represent the Miss Madison Racing Team and looks forward to piloting the U-6 Miss Homestreet in this inaugural E-League season.
-Good friends with Jimmy Shane and hopes to see Jimmy and other H1 drivers racing on HydroSim soon!
-Drove in the 1 liter modified APBA inboard class for Bononcini Racing during 2014 and 2015 before moving to Arizona.
-APBA West Coast Rookie of the Year in 2014
-2014: 6th place national high points
-2015: 5th place national high points
-3rd place overall at 2014 Tri-Cities Columbia Cup

Nicholas (DJ) Miller

22 yrs old
Mercer Island, WA
UHL Experience: 2 years
SNHL Stats: 3 Final Heat wins|
21 Preliminary Heat wins
SNHL Season 2 National Champion

Scott Przybylski

34 yrs old
San Diego, CA
Creator of HydroSim and HydroMod
SNHL Stats: 0 Final Heat wins
5 Preliminary Heat wins

Family: Wife Lauren and 21 month old daughter Alice (who also likes sitting on my lap and driving the boats)
Work: Robotics software engineer working for DoD.
Hobbies: Creating HydroSim, playing ice hockey and soccer.

Peyton Hopp

22 yrs old
Monroe, Washington
SNHL Stats Season 1: 6th place
Season 2: Won World Championship in San Diego
0 Final Heat wins
9 Preliminary Heat wins

-Son of Greg Hopp
-Race 4 cylinder hornet cars at Evergreen Speedway
-2 top 10 finishes in A-mains in rookie year.

Replacement Driver: Craig Montgomery

Age: 55
Home: Seattle
Family: Wife Eve, kids Ian (11) and Ivy (8)
Occupation:  Live Concert Audio Engineer, retired
Hobbies: Guitar, Tennis, Skiing, Hydros

-Son of famous hydro announcer Steve Montgomery, Craig was a 2-time UHL -Hydromod champion in 2008 and 2010.
-Craig is also the designer of paint schemes for Miss HomeStreet Bank and Miss Goodman Real Estate.
-Past designs include U-96 Spirit of Qatar in 2010, U-1 Spirit of Qatar in 2012, and U-7 Air National Guard in 2010.

Travis Johnson

Madison, Indiana
36 yrs old
Body Shop/Painter 

HydroSim Information: First joined back when it was still RfactorMod. Got back into it late in the second season where I picked up a couple heat wins.  Did really well in the most recent exhibition races and hoping to carry that momentum into the H1 E-League.

General Information:
-Lifelong hydroplane fan.
-17 Year Crew Member
-2014 Gold Cup Crew Member
-Joined the U-11 team in 2016

Quinton Miller

25 yrs old
Mercer Island, WA
UHL Experience:
SNHL Stats: 1 Final Heat win (TC)
4 Preliminary Heat wins

-Professional Bowler
-Runs Social Media for Graham Trucking team
-ROTT Potted Palm recipient 

Mickey Washburn

41 yrs old
Pasco WA

SNHL Stats Season 1: 6th place
Season 2: 4th place
1 Final Heat win (Seafair)
5th overall in Career SNHL Points

Tim Johnson

23 yrs old
Richland, Washington

SNHL Stats Season 1: 7th place
Season 2: 4th place
0 Final Heat wins
15 Preliminary Heat wins
Highest Finish: 2nd in Seattle and Detroit

-Mechanical Engineer for Bechtel
-Favorite course: Tri-Cities
-Planned on driving APBA School Boat at the during the Richland Regatta
-"I'm honored to represent the Miss Madison team and drive the Miss Goodman Real Estate boat. I can't thank the team enough for giving me this opportunity!"

Matt Johnson

29 yrs old
Renton, WA

SNHL Stats Season 1: 4th place
Season 2: 2nd place
1 Final Heat win (Seattle, from trailer boat position)
15 Preliminary Heat wins
Currently 3rd overall all-time career points

-Created paint schemes for both the Go Fast Turn Left team (2016, '17, '19) and Graham Trucking team (2019)
-Helped the Hydroplane and Raceboat Museum restore the '67 Budweiser and the Blue Blaster.
-Attended every Tri-Cities race and about 5 or 6 Seattle races since 1996.

Eddie Kanfoush

 

17 yrs old
Grand Island, NY
(Father is Dan Kanfoush)

UHL Experience: 2 years
SNHL Stats: 3 Final Heat wins
27 Preliminary Heat Wins
SNHL Season 1 National Champion

Beau Rarig

 

27 yrs old
Monroe, WA 

UHL Experience: 5 years
SNHL Stats: 1 Final Heat win (GUN)
12 Preliminary Heat wins

-Crew and Drive for E-226 Fully Loaded Racing
-Racing RC hydroplanes for 8+ years.
-2017 APBA Inboard Driving School graduate