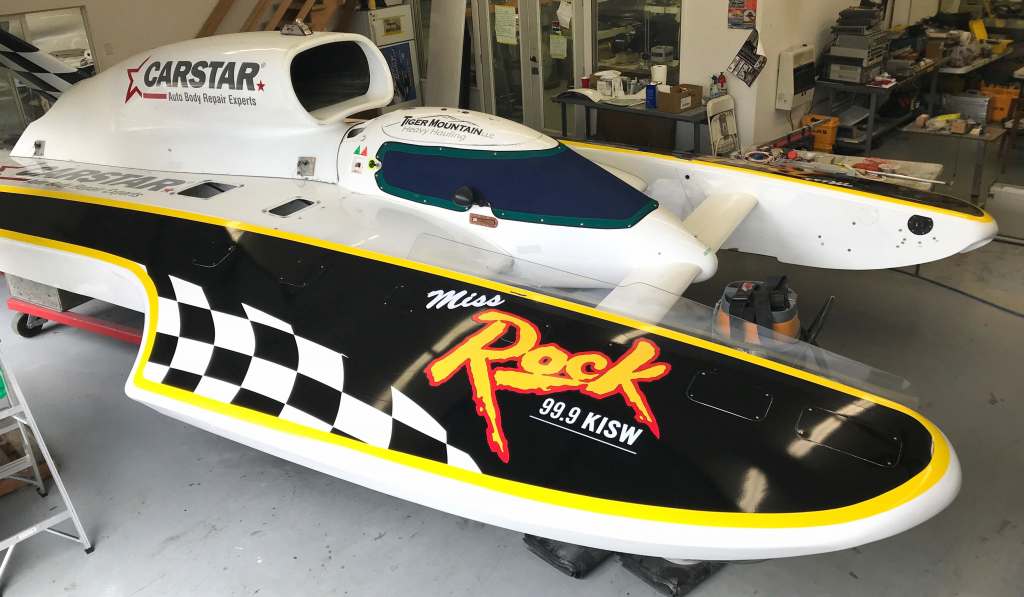 Seattle, WA – CARSTAR Auto Body Repair Experts, KISW 99.9-FM "The Rock", and Go Fast Turn Left Racing today announced a partnership for the 2019 Seafair unlimited hydroplane race. Go Fast Turn Left's brand new race boat will be known as Carstar Powered Miss Rock for the August 2-4 event on Lake Washington.
Announcing the new sponsorship Go Fast Turn Left owner Greg O'Farrell said "We're thrilled to be representing Carstar and KISW with our new state-of-the-art hull and plan to bring a new level of competition to the long-running fan driven Miss Rock campaign!"
CARSTAR representative Kevin Parsons added "This is Carstar's third year partnering with KISW to bring back the legendary Miss Rock Hydro! 2019 will be very exciting with Go Fast Turn Left partnership and the new and improved Carstar Powered Miss Rock! Gone are the days of fires and engine failures. This boat will compete for the front of the pack and a Trophy!"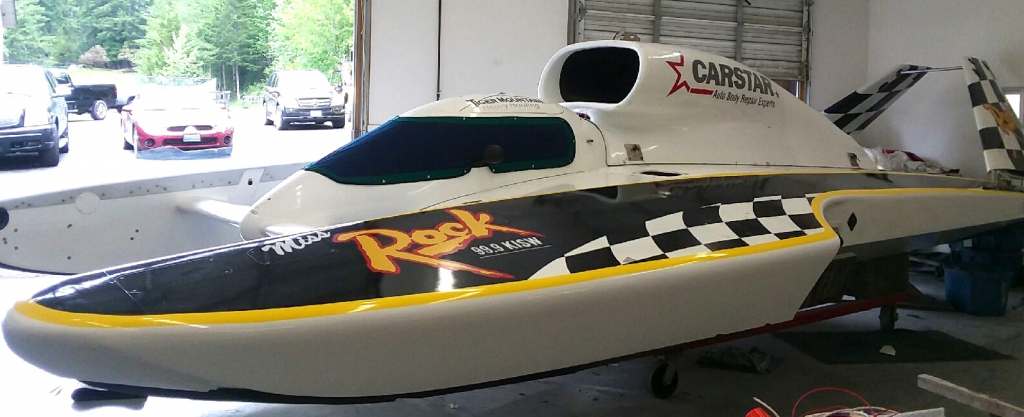 Demetri Skokos, Senior Account Executive with KISW said "Our entire team is beyond excited that the legacy of The Miss Rock will continue into Seafair 2019. CARSTAR's dedication to building their brand and finding meaningful ways to connect with their current and future customers is what makes it all possible. We feel fortunate that Go Fast Turn Left Racing has inspired a new design in addition to many impressive performance enhancements."
Miss Rock will be on display July 20 during the CARSTAR KISW Seafair Kick Off Party, at Drunky Two Shoes BBQ, 9655 16TH Ave SW, Seattle and the July 25 CARSTAR Golf Tournament in Newcastle.
About CARSTAR
CARSTAR is North America's largest Multi-Shop Operator Network of independently owned collision repair facilities, offering auto body repair, paintless dent repair, storm damage repair with 24/7 accident assistance. CARSTAR delivers national scale, consistently high-quality vehicle repairs, repeatable outcomes and the industry's highest customer satisfaction ratings. All repairs are backed by a national warranty and service guarantee.
About KISW
KISW 99.9 "The Rock" is an FM radio station owned by Entercom Communications. KISW is Seattle's heritage rock station and is known for its entertaining talk shows and personalities including "BJ and Migs," Ryan Castle and "The Mens Room."
About Go Fast Turn Left
Go Fast Turn Left Racing LLC is owned by father and son Greg and Brian O'Farrell and has raced several boats in the H1 Unlimited series with driver Brian Perkins since 2007. The Go Fast Turn Left shop is in Maple Valley, WA.