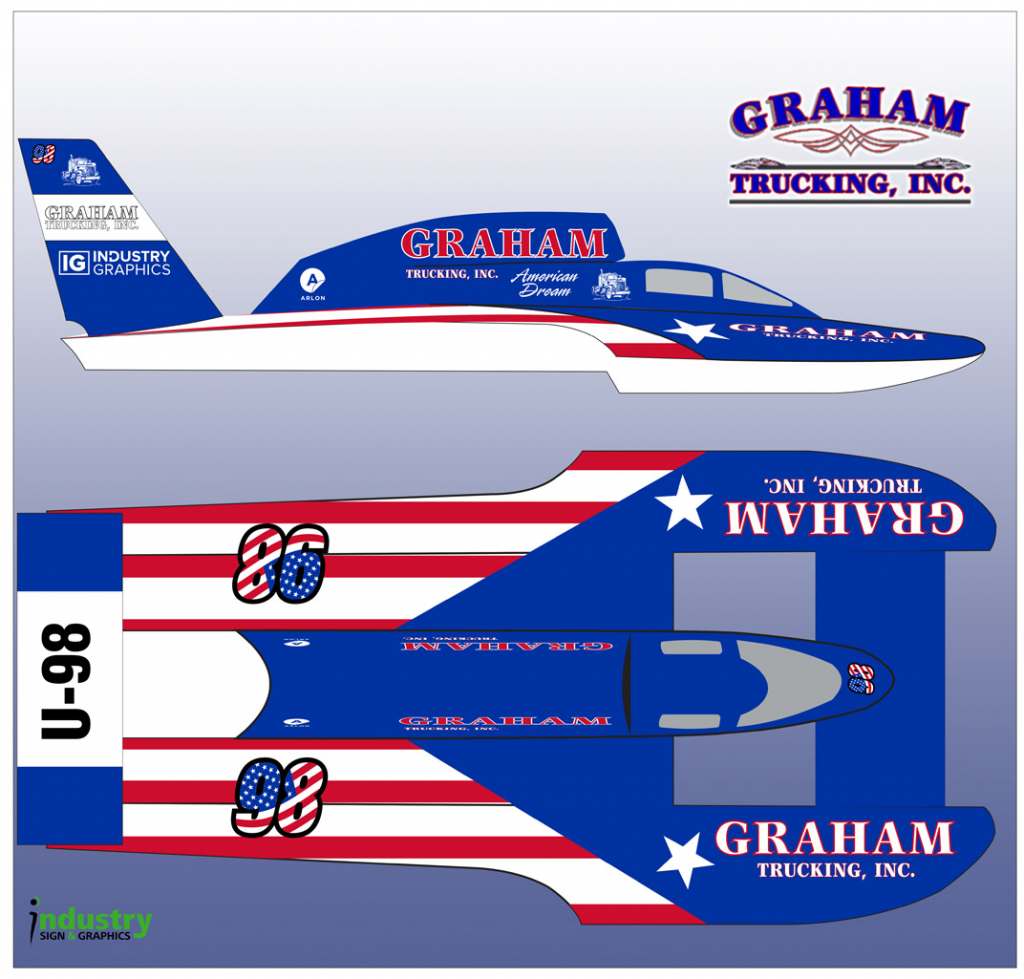 SEATTLE (May 21, 2019)—If one H1 Unlimited Hydroplane Racing Series race boat is a handful to get prepared for the start of the season, then the hands of Rob Graham, owner of the U-12 Graham Trucking hydroplane, must have gotten larger in the offseason. On Tuesday, Graham surprised hydroplane fans by announcing he will bring a second unlimited hydroplane to this year's pre-season test session, which will be held on Friday, May 31, beginning at 9:00 am PDT on the Columbia River in the Tri-Cities, Wash.
Well known in the hydroplane racing community as a generous sponsor turned boat owner, Graham purchased the U-99.9 CARSTARS powers Miss ROCK from the estate of Stacey Briseno, who died unexpectedly last year just days before the last race of the season. "I was concerned that losing another boat could be a problem, especially for race sites and fans," Graham explained. "I also believe we have the resources to make it a competitive team."
Renumbered and renamed the U-98 Graham Trucking American Dream, the aging hull has sentimental ties to Graham. Built by Fred Leland, it was the second hydroplane Graham Trucking sponsored. It is the successor to Graham Trucking's first hydroplane they sponsored with Bill Wurster's race team in 1996.
As a tribute, Graham's team have duplicated the spirit of the early sponsorships and duplicated the livery on the H1 Unlimited hydroplane. Graham's team has made extensive repairs and upgrades since purchasing it seven months ago.
According to Graham, the equipment was in very poor condition and had some structural issues. "I don't believe there was anything we could use without rebuilding or replacing," he said. "We went through everything. This was a monumental project and, though we have made significant improvements, there will be much more to do after the race season."
Graham said the driver of the boat will be 40-year-old rookie, Corey Peabody. In 2016, after spending three years on the Graham Trucking crew, Peabody became a qualified H1 Unlimited driver and competed in that year's 100th running of the American Power Boat Association's Gold Cup. It was his first and only race.
An elementary school classmate of J. Michael Kelly, the driver of the U-12 Graham Trucking, Peabody has been racing outboard hydroplanes alongside Kelly since 1998. "I have been gone from the team for two years and I missed being involved in the sport," he said. "To get the call to come back to my team was great news."
He said many of his old team mates have returned and there is great atmosphere in the boat shop. "We have about 10 crew members working at the shop and we are all feeding off each other's energy. It just feels great. Rob Graham has given us all a great opportunity," Peabody said.
Peabody lives in Kent, Wash., with his wife, Stacey, and three children, Ryley, Leighton and Rayce.
Graham said, "Corey is truly a wonderful human and has an amazing family, I feel we are fortunate to have him working with us."
Long-time hydroplane crewman, Brooke Tyler IV, will be the crew chief for the Graham Trucking's second entry. There will be two separate crews for each race boat, but several of the team's specialists will work with both teams.
During the 17 seasons the boat has competed, it has been called 36 different names, first as the U-99 Miss Bell Forklift, and later as the PICO American Dream, Miss Znetix among the more famous names. The boat's best finish came in 2011 when Greg Hopp drove it to a third-place finish at the Oryx Cup UIM World Championship in Doha, Qatar.
Graham said the boat has some more life in it. With the help of Peabody and his team, fans can add another competitive boat to the 2019 H1 Unlimited Hydroplane Racing Series field of race boats.
Graham said he is pleased to welcome back another local, family-owned Pacific Northwest company, Budd's Broiler back as an associate sponsor. Part of the Anthony's Restaurants, Budd's Broiler is a premier, waterfront steakhouse located in Richland, Washington that showcasing the best beef, fresh seafood and local seasonal produce on their menu.
The five other H1 Unlimited hydroplane teams that have previously announced their participation in the May 31 pre-season test session include: U-1 Delta/RealTrac—Jones Racing, driven by Andrew Tate of Walled Lake, Mich.; the U-6 Miss HomeStreet, driven by Jimmy Shane of Maple Valley, Wash.; the U-11 J&D's presented by Reliable Diamond Tool, driven by Tom Thompson of Cambridge, Md.; the U-12 Graham Trucking, driven by J. Michael Kelly of Bonney Lake, Wash.; and the U-440 Bucket List Racing, driven by Dustin Echols of Monroe, Wash.
The event will be streamed live on the Internet beginning at 8:30 a.m. by local TV affiliate SWX Right Now (KNDU-TV) with Matt Funk, Mark Allen, and Kay Brewer describing the day's action. Catch the live-streaming on swxrightnow.com or a link at nbcrightnow.com.
2019 H1 UNLIMITED HYDROPLANE RACING SERIES SCHEDULE
May 31, 2019 • Pre-Season Testing • Columbia River • Kennewick, Washington
June 28-30, 2019 • 2nd Annual Southern Cup • Lake Guntersville, Alabama
July 5-7, 2019 • 69th Madison Regatta Gold Cup • Ohio River • Madison, Indiana
July 26-28, 2019 • 54th Annual HAPO Columbia Cup • Kennewick, Washington
August 2-4, 2019 • 69th Annual Seafair Trophy Race • Lake Washington • Seattle
September 13-15, 2019 • 50th San Diego Bayfair • San Diego
H1 UNLIMITED HYDROPLANE RACING SERIES – H1 Unlimited hydroplanes are the fastest racing boats in the world and the American Power Boat Association, doing business as H1 Unlimited, sanctions races throughout the U.S. With deep history, the 116-year-old sport 's majority of hydroplanes are powered by turbine engines that produce 3,000 horsepower, allowing the powerboats to reach speeds of nearly 200 mph, producing a massive 60-foot tall, 300-foot long wall of water behind them called a roostertail. With very few restrictions, these majestic hydroplanes race in front of shorelines, riverfronts and beaches packed with fans on bodies of water throughout the United States. For additional information on the 2019 H1 Unlimited Hydroplane Racing Series, visit the series website at www.H1Unlimited.com or visit on social media at Facebook's 'H1Unlimited', Twitter '@H1Unlimited' and Instagram '@h1_unlimited_hydroplanes'.
GRAHAM TRUCKING-Robert Graham purchased the company's first semi-tractor in 1983, shortly after forming the company. He purchased a second truck, then a third, until the company had grown to about a dozen trucks. Based at the time at the Port of Seattle's Terminal 115 South, Robert Graham's main business was barge lines doing business between Washington and Alaska. Now based in SeaTac, just south of the Seattle-Tacoma International Airport, Graham Trucking owns and operates one of the largest transportation & logistics companies of goods and ocean containers in Washington, Oregon, Idaho and Montana. The company also has one of the state of Washington's largest super chassis fleets and heavy haul trucks. Graham Trucking continues to service the Alaska barge trade and have expanded their service to include international freight, construction trade, retail supply, distribution and others. Find more on Graham Trucking's services at www.GrahamTrucking.com