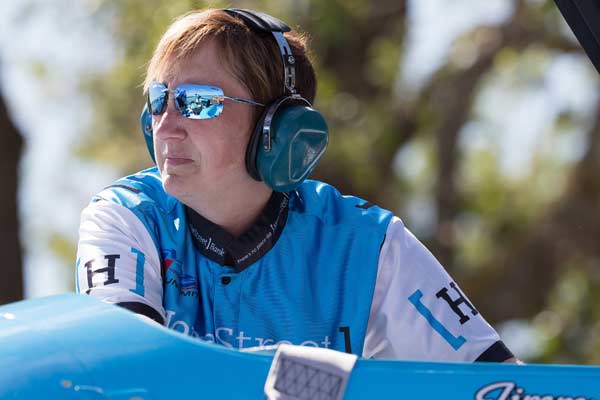 Today, the Miss HomeStreet hydroplane team announced Cindy Shirley as the new Crew Chief, becoming the first woman to ever hold the leadership position on a championship-level team in the turbine-era (or modern era) of professional hydroplane racing. Shirley, who has been with the Miss HomeStreet team for 15 years, most recently served as the Boat Chief.
"I'm proud to be part of the Miss HomeStreet family and thankful for the opportunity to lead a team of talented professionals," Shirley said. "Ever since watching my first hydroplane race as a little girl, I've been in love with the sport. It's a dream come true to be part of this championship team."
As Crew Chief, Shirley will manage a team of 12, leading Miss HomeStreet through several races across the country during the summer months. Last year, Miss HomeStreet and driver Jimmy Shane won the H1 Unlimited Hydroplane National Championship. It was Shane's fifth national championship in his six-year Unlimited racing career.
"In the past couple of years, Cindy has helped build a strong team that really values camaraderie," Shane said. "I know she will do an outstanding job and lead us to another championship."
An Everett, Wash., resident and native of Louisville, Ky., Shirley has been in charge of driver safety systems, general cockpit maintenance and also communicates with the driver during races. When not racing, she is the director of the Office of Research at the University of Washington Bothell.
"On behalf of the HomeStreet family, we want to congratulate Cindy on this amazing accomplishment," said Mark Mason, president and CEO of HomeStreet Bank. "We're proud of her, and we are proud to be part of a team that is making history."
Shirley will step into the role for former crew chief Dan Hoover, who passed away earlier this year.
"Dan was an amazing mentor and leader. We all learned so much working side by side with him," Shirley said. "Our goal is to take home another championship this year in honor and memory of him."
This year, Miss HomeStreet will kick off the H1 Unlimited season at Guntersville Lake Hydrofest on June 22 in Alabama. You can follow Miss HomeStreet's racing schedule on HomeStreet Bank's Facebook, Instagram and Twitter, and via the H1 Unlimited website.

About HomeStreet Bank: Now in its 98th year, HomeStreet, Inc. (Nasdaq:HMST) is a diversified financial services company headquartered in Seattle, Washington and is the holding company for HomeStreet Bank, a state-chartered, FDIC-insured commercial bank. HomeStreet offers consumer, commercial and private banking services and investment and insurance products, and originates residential and commercial mortgages and construction loans for borrowers located in the Western United States and Hawaii. Additional information on HomeStreet Bank can be found at www.homestreet.com.