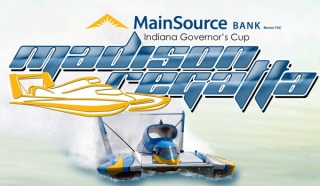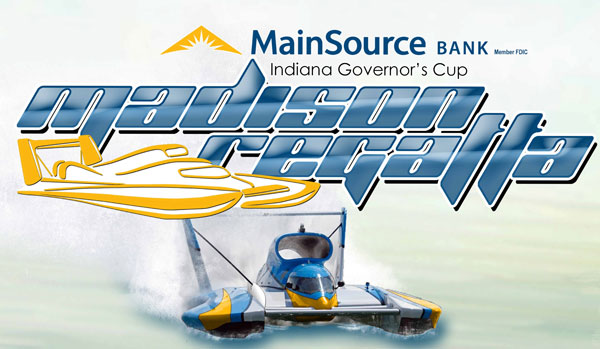 MADISON, Ind. — When the H1 Unlimited Hydroplanes take to the Ohio River for the MainSource Madison Regatta this weekend (June 30 – July 2), it will be the 67th year the race has been held. And even though it is one of the oldest sporting events in the state of Indiana, changes had to be made to bring the Unlimited Hydroplanes back. This year four H1 teams will be paired up in a series of dual heats leading to a four-boat winner-take-all final heat.
The four boats running in Madison are the hometown favorite and reigning three-time H1 World Champion U-1 Miss HomeStreet Bank/Miss Madison, 2016 H1 Rookie of the Year Andrew Tate driving the U-9 Auxier Marketing presents Delta/Realtrac, the U-27 Wiggins Racing entry with Cal Phipps and Tom Thompson in the U-11 J&B Hydraulics and Repair boat.
Both the U-27 and U-11 hydroplane teams spent much of the off season repairing their boats.
Phipps last H1 Unlimited race was one year ago in Madison.  As he tried to chase down the 2016 Madison champion Shane in the Miss Homestreet Bank, Phipps suffered a frightening blow over accident on the backstretch late in the final heat. Phipps was unhurt but the damage to U-27 kept the boat off the circuit for the remainder of the 2016 season.
The changes in the race format are due to a series of races that have been plagued by bad weather and water conditions. With Madison in rough financial shape, Regatta President Dan Cole and H1 Chairman
Doug Bernstein agreed upon the four-boat plan to bring Unlimited Hydroplanes back for the 67th year.
"Madison has had its share of challenges with weather and water conditions in the past few years," said Bernstein. "Race teams and race sites in all motorsports are facing challenges these days and H1 is going to do everything we can to support both our teams and the race sites."
Besides the H1 Unlimited boats, Grand Prix West will put on a full race.  GPW expects at least 10 boats to compete.
The action will start Friday, June 30 and run through Sunday, July 2.
For updated schedule and ticket information go to https://madisonregatta.com/
OHIO RIVER WATER LEVELS
Due to heavy rains, the Ohio River is expected to be at 33-feet on Monday. The good news is the river should return to a 20-foot level or lower by Friday. The Ohio River optimal water level for racing is 18-feet and that could be the level for the race weekend! Anything over 26-feet is problematic. To follow the Ohio River water levels for the MainSource Madison Regatta go to https://water.weather.gov/ahps2/hydrograph.php?gage=MKLK2&wfo=iln