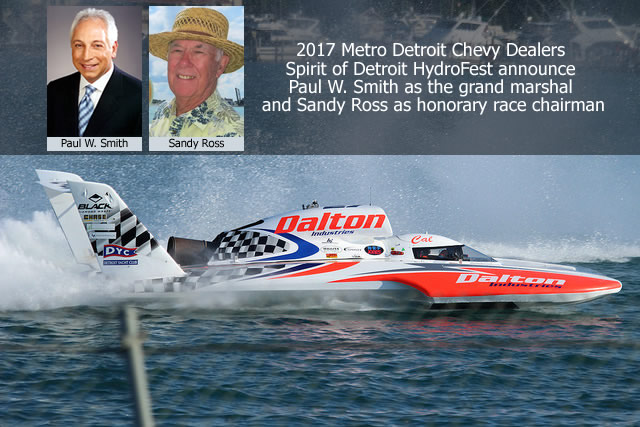 DETROIT – June 8, 2017 – The board of directors and planning committee for the 2017 Metro Detroit Chevy Dealers HydroFest (August 25-27) are pleased to announce Paul W. Smith as the grand marshal and Sandy Ross as honorary race chairman of this year's race. The announcement was made by Detroit Riverfront Events Inc. President, Mark Weber.
As one of the most recognized voices in radio, Smith's career spans 45 years with 20 of those as the morning host for WJR AM 760. He was named best morning show broadcast personality by the Michigan Association of Broadcasters and inducted into the National Radio Hall of Fame. The Wall Street Journal dubbed Smith as "the king of talk radio in Detroit."
Retired hydroplane racer, Ross, 88, was drawn to the water at an early age having grown up on Detroit's lower eastside and involved in powerboat racing in a variety of capacities for most of his life. He got his start in 1948 building and driving limited in-board hydroplanes and went on to serve as a crewman for the Mariner II and Miss Lapeer among others. A highlight of his illustrious hydroplane racing career was winning the APBA Gold Cup and National Championship in 1972 with the Atlas Van Lines team. In 2003, he and another hydroplane legend, 'Fearless' Fred Alter acquired a kit boat and spent the next five years rebuilding Miss Vernors Unlimited replica exhibiting and running it in vintage hydroplane races.