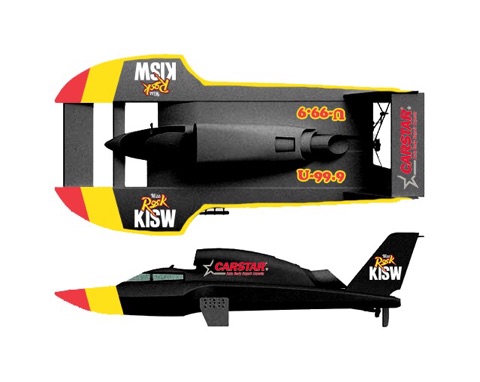 Fans of Leland Unlimited and the historic Miss Rock will like the changes Kevin Eacret and his crew are making to Stacy Briseno's team for the 2016 season.
CARSTAR will return as the team's primary sponsor in 2015 and the boat will have a new paint scheme which will take fans back to the 80's and the days of associate sponsor KISW FM's legendary Miss Rock.
The familiar black, red and yellow colors won't be the only change on the boat. The U-100 number which the team has used for many seasons will change to U-99.9, the number of the original Miss Rock.
Steve Montgomery, the originator of the original Miss Rock in the 1980's commented, "It will be a lot of fun to see those colors on the water again. It will bring back a lot of great memories of our years racing with Fred Leland and his team. Good luck to Stacy and Kevin and the CARSTAR/Miss ROCK in 2016."
The Leland team plans to open the season at Madison and make the entire circuit, with Kevin's brother Phillip and uncle Paul Eacrett joining him on the CARSTAR/Miss ROCK  team along with Kevin's girl friend TJ.