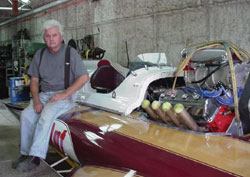 By Fred Farley – H1 Unlimited Historian
Mid-West hydroplane racing icon Bill Cousins passed away on September 10, 2015. He was 76.
Cousins started with B-Outboards in the 1950s and built three of them by the time he was 15. During the 1960s, he built engines for Marion Cooper, who was the original driver of the MISS MADISON Unlimited hydroplane and also the owner of the 7-Litre Class LOUISVILLE KID.
Bill credited Cooper for much of the success that he had enjoyed in racing. "Marion was a real gentleman and always ran a first-class operation. I had a wife and family to support. He enabled me to go a lot farther in the sport than I would have otherwise, if I had been on my own."
One of his proudest moments as a driver for the Cooper team occurred in 1966 when he captured the fabled Calvert Trophy on the Ohio River at the Louisville Marine Derby Regatta with LOUISVILLE KID. This was a trophy that Marion had won in 1938 as driver of the 725 Cubic Inch Class HERMES III.
Bill raced head-to-head with some of the top Inboard drivers of that era. These included the likes of Buddy Byers, Bill Sterett, George Babcock, and Dean Chenoweth.
In the late 1960s, Cousins was actively courted by a number of prominent Unlimited teams. Bill declined, however, on account of family and job-related responsibilities. (For 40 years, he worked as a crane operator in special construction for LG&E.)
In 1971, Cousins completed construction of the boat for which he is best known–the RIVER RAT, a 7-Litre hydroplane.
RIVER RAT's design was definitely ahead of its time. The boat had a surprisingly low profile and a very deep pickle-fork bow. These characteristics did not gain wide acceptance for years to come.
Cousins designed and built RIVER RAT himself and also did his own engine work on the Chrysler-powered craft. He even fashioned his own propellers!
Bill placed second in his very first race with RIVER RAT at the 1972 7-Litre World Championship in Dayton, Ohio. Many more top performances were to follow in the years ahead.
Cousins had a wreck with RIVER RAT at a race in Louisville, Kentucky, in 1974 and didn't return to competition until 1976. He retired the boat and himself from racing in 1984 to focus on his family and to build a new log house on a hill near Bedford, Kentucky.
But racing remained in his blood. Bill never strayed far from the sport that he loved.
Thanks to the nationwide rebirth of interest in vintage and historic race boats in recent years, Cousins was encouraged to recall the RIVER RAT from mothballs.
Spectators at the 2002 Madison Regatta in Madison, Indiana, were accorded a rare privilege, one that hydroplane fans dream about.
Two icons of Mid-West Limited racing were back in action for an exhibition run on the Ohio River after many years in dry dock: the RIVER RAT (H-69) piloted by Bill Cousins and the CHRYSLER QUEEN (H-1) handled by George "Buddy" Byers.
It was thrilling indeed to observe these legendary 7-Litre Class hulls, restored to their original glory, running side-by-side at competitive speeds again…and with the original drivers!
With Cousins back behind the RIVER RAT's wheel and the Chrysler engine churning out horsepower at full song, it was as if he had never been away.