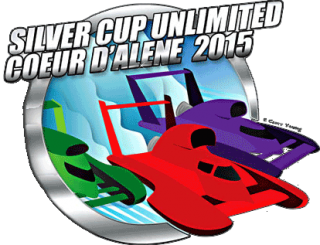 The organizers of the 2015 Coeur d Alene Silver Cup Unlimited Hydroplane Race have made a decision to postpone the event scheduled for July 2015 and begin planning the 2016 event instead. The 2015 event was planned for July 17, 18, and 19, 2015.
Keith Allen, Vice President and Race Director said the main reason for cancelling the 2015 event is due to the time crunch the organization was facing in gaining sponsorship funds to pay for the event.
"We began the permitting process in late December 2014 and by mid-January 2015 had contacted all the required permitting agencies. Many of those permits have already been approved and issued. Nonetheless, it has been challenging to work with many agencies given their experiences from the past events and working through those issues, which has occurred successfully, has taken more time than originally planned and the only right thing to do to ensure a successful event in 2016 and beyond was to take our time and do this right.
Coeur d Alene SilverCup, Inc. has had discussion with each permitting agency and has started the process of changing the permit applications to reflect the event being held in 2016 and expect to be able to complete that process shortly. "Once all permits are secured and in place in the near future, Coeur d Alene SilverCup, Inc can then begin marketing the 2016 event to potential sponsors with the all of the necessary assurances and guarantees they would expect of us of being fully permitted to have the race".
Allen also stated " We have a talented and dedicated group of volunteers who have been working hard to pull together all the moving parts and pieces to make this a successful event and we feel we are going to be in a very strong position to ensure a successful and safe event as well as one that is financially whole once it's over".
For additional information contact:
Keith Allen, VP, Race Director
Coeur d Alene SilverCup, Inc.
Steve David: "We have been talking to the organizers in Coeur d'Alene and we all agree the postponement of the race is in the best interest of this site and our sport,Now we can work together to get everything in order and return the H1 Unlimited hydroplanes to Coeur d'Alene in 2016."