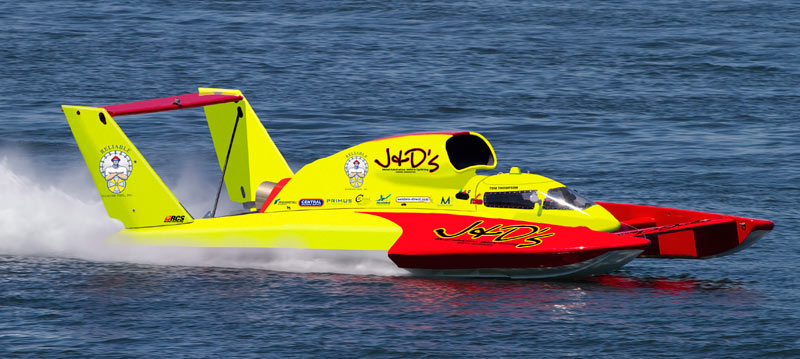 Unlimited Racing Group LLC, is proud to announce Reliable Diamond Tool from Phoenix, Arizona as their presenting sponsor for the San Diego Bayfair race, September 15-17th.  The U-11 team will be called Reliable Diamond Tool presents J&D's for the event in San Diego. Team owner Shannon Raney says "while new to sponsorship of H1 Hydroplanes, the group at Reliable Diamond Tool are very familiar with our exciting sport and have attended numerous races in the past few years."  She continued, "We are very thankful for the support from all of our sponsors.  Without them none of this can happen.  We are pleased to showcase Reliable Diamond Tool along with our season long title sponsor J&D's, a metal fabrication and vehicle upfitting company based in Auburn, Washington."
The U-11 Reliable Diamond Tool presents J&D's is a member of the H1 Unlimited Hydroplane Racing circuit that races throughout the United States. At the previous race in Detroit, Michigan, while racing in the first heat of the weekend, the U-11 team received some serious damage after a season high third place qualifying effort for the Presidents Cup.  Since that time, the U-11 team has worked around the clock repairing the damage to the boat.  The repairs are nearly complete and the team will be ready to compete for the win in San Diego.
About Reliable Diamond Tool:
Reliable Diamond Tool, Inc. produces the most advanced designs and formulations for improved performance and greater labor productivity.
Concrete floor preparation tools, Coatings removal tools, Concrete Polishing tools, Diamond Blades, Core Bits, Polishing Pads (wet/dry) Cup wheels, Grinding Plates and Grinding Discs.
We are committed to outperforming the competition when it comes to tooling for grinding and polishing.
"Patented" AWARD WINNING "B.E.D." and "Speed Shift" systems for grinding and polishing flat work.
Corporate Office/Showroom
20650 N 29th Place
Suite 102
Phoenix, AZ 85050
For more information on Reliable Diamond Tool please visit their website: www.rdtusa.com