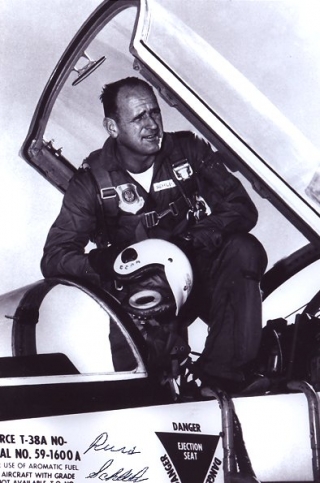 By Fred Farley  –  APBA Unlimited Historian
One of the most distinguished men ever to pilot an Unlimited hydroplane was "The Flying Colonel" Russ Schleeh, who raced boats between 1955 and 1963. He is the only Unlimited driver to appear on the cover of SPORTS ILLUSTRATED (in 1957).
As a Colonel in the U.S. Air Force, Russell B. Schleeh test-flew the Boeing XB-47 jet bomber and was involved in many other important projects for the military establishment.
In 20 years with the Air Force, he tested virtually every bomber up through the B-52 Stratofortress and also fighter planes up though the Lockheed 104 Starfighter.
Through his ties with the Boeing Company, Schleeh became acquainted with members of the hydroplane racing community in the Pacific Northwest. One of these–Ted Jones, the leading designer of Unlimiteds–was especially impressed with Russ and invited him to drive REBEL SUH (U-11), a new Allison-powered hydroplane that Jones co-owned with Kirn Armistead.
With no previous experience in racing, Schleeh qualified and made a start in the 1955 APBA Gold Cup on Seattle's Lake Washington. REBEL SUH unfortunately sank after only running a few laps. But that was enough for Russ to be bitten by the hydro bug. His DNF (Did Not Finish) result in the Gold Cup not withstanding, he would be back. Ted Jones would see to that.
In 1956, Jones was putting together a new team for Texas oil millionaire W.T. ("Bill") Waggoner. He recommended Colonel Schleeh as driver of SHANTY I (U-29), a state of the art marvel, which Jones had designed and Les Staudacher had built.
Schleeh and SHANTY I went on to win the 1956 National High Point Championship and won their first three races in a row. These were the Lake Tahoe Mapes Trophy, the Seattle Seafair Regatta, and the Harmsworth International Trophy. Powered by a supercharged Allison engine, SHANTY I established a world record for a 3.75-mile competition lap at 115.979 miles per hour on Lake Washington.
SHANTY I's victories at Lake Tahoe and in the Harmsworth at Detroit were admittedly won against mediocre opposition. But her Seattle Seafair triumph was one for the ages. Driver Schleeh raised the lap record by 9 miles per hour and the heat and race records by 6 miles per hour. SHANTY I also brought the long-dominant SLO-MO-SHUN IV down to earth at Seattle by decisively beating her in the Final Heat.
An amusing sidebar of the Seafair triumph was the good luck token with which Schleeh would be forever identified: a plumber's friend.
It all grew out of a misunderstanding. There was a group of rookie drivers participating in the Seafair Regatta with little or no experience at the Unlimited level. A Seattle newspaperman misquoted a veteran driver as saying to the effect that the rookies "drove like a bunch of plumbers." The veteran had, in fact, said nothing of the sort. But the misstatement became a part of hydroplane lore.
Instead of taking offense, Russ laughed off the whole ridiculous thing. He began carrying a plumber's friend with him in the SHANTY I cockpit and would triumphantly wave it when returning to the pits after a heat of racing.
Schleeh and SHANTY I had a clear lead in the Final Heat of the season-concluding Sahara Cup on Lake Mead and probably would have won that race as well if a supercharger hadn't failed and caused the boat to go dead in the water.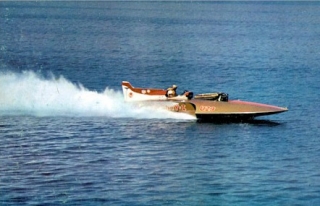 Subsequent to the 1956 racing season, SHANTY I and the "Flying Colonel" made an attempt on Lake Washington's East Channel to break the world mile straightaway record of 178.497, set by SLO-MO-SHUN IV in 1952, but came up short with a clocking of 173.910.
Schleeh credited SHANTY I's success to the superior hull design by Ted Jones and also to the prowess of Allison engine builder Howard Gidovlenko.
Russ identified Gidovlenko as the man who successfully adapted the aux-stage Allison, which had been tried in airplanes, for use in race boats. Thanks to Howard's pioneering concept, it was possible for an Allison to nearly equal the power output of a Rolls-Royce Merlin.  When Gidovlenko passed away in 1998, Schleeh eulogized him as "a great friend, a talented engine builder, and a good man. I will miss him."
SHANTY I had difficulty handling rough water in 1956–especially at the President's Cup in Washington, D.C., where she failed to make the cut for the Final Heat. In order to correct this problem, she was extensively rebuilt for the 1957 season. Component parts were re-located. This proved to be SHANTY I's undoing. The balance was wrong. From then on, the boat was a shell of its former self.
SHANTY I was no match for the likes of Jack Regas in HAWAII KAI III, Bill Muncey in MISS THRIFTWAY, or Mira Slovak in MISS WAHOO, which happened to be a hull duplicate of SHANTY I.
At the 1957 Seattle Gold Cup, Schleeh reported he had power that he couldn't use because the boat was so erratic. SHANTY I nevertheless managed to take second-place to MISS THRIFTWAY in a 15-boat field.
A month later, SHANTY I crashed during a test run on the Potomac River at Washington, D.C., and Russ Schleeh almost drowned. (Earlier in the season, the Colonel had been pitched out of the boat at the Lake Chelan Apple Cup.)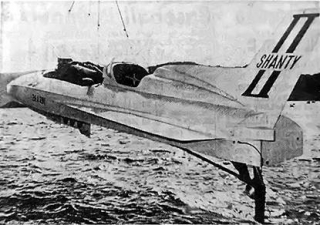 Following the destruction of SHANTY I, Waggoner announced plans for a replacement SHANTY II.  This time, however, he decided to experiment with a radical hull configuration–a boat without sponsons with a ski or "step" on the underside.
SHANTY II was never brought to a race. Waggoner reportedly invested a quarter of a million dollars in the project. The designer, Ernest Stout, an aeronautical engineer, had never even seen an Unlimited run.
According to Schleeh, SHANTY II rode very erratically in tests and could only do about 90 miles per hour on the straightaway with an Allison engine.
Following his crash in Washington, D.C., Russ didn't drive in competition for three years. At the 1960 Seafair Regatta, he took the wheel of the cabover THRIFTWAY TOO. Designed to carry twin Allisons, THRIFTWAY TOO never used more than one. As such, it was under-powered and only sporadically competitive.
The day ended badly for Schleeh. He ended up going to the hospital to be treated for burns after THRIFTWAY TOO's engine caught fire during the Final Heat.
Later in the season, Russ briefly handled Sam DuPont's NITROGEN TOO at the wind-shortened Gold Cup on Lake Mead.
Over the next two years, Schleeh drove the former MAVERICK, which had been National Champion in 1959 with Bill Stead driving. While undeniably fast, the boat was always a handful to drive with an alarming tendency to "hook" in the turns. Russ drove it in six races–two as MISS RENO in 1961 and four as TAHOE MISS in 1962.
He finished third in the 1961 World's Championship Seafair Regatta but flipped the boat at the 1961 Reno Gold Cup. In 1962, he placed second in the Diamond Cup, didn't finish the Seattle Gold Cup, was third in the Spirit of Detroit Regatta, and fourth in the Indiana Governor's Cup.
For his final appearance as an Unlimited competitor, Schleeh filled in as interim driver of MISS EXIDE (the former MISS WAHOO) at the 1963 Seafair Regatta where he finished third overall.
Seafair Heat 1-A was a classic and one of the fastest in history up until that time. Muncey finished first with MISS THRIFTWAY at 112.500 miles per hour for the 15 miles. Then came Ron Musson in MISS BARDAHL and Schleeh in MISS EXIDE in a drag race to the finish line with Musson taking it, 110.474 to 110.429.
After retiring from the Air Force, Russ traded his life jacket and helmet for a seat behind the desk of industry.
When asked to describe his most exciting moment in hydroplane racing, Schleeh replied, "Probably the greatest thrill of my Unlimited hydroplane experience was my first ride in one of these thundering, spectacular, and beautiful boats. I thoroughly enjoy speed in any form and can honestly say that the thrill of speed is herein realized in its rarest form."
Russ passed away on May 6, 2012. He was 93 years old.