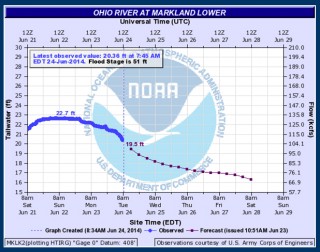 After high water in the Ohio river washed away last year's Madison Regatta, fans in Southern Indiana and Northern Kentucky are keeping a wary eye on the river in advance of the 2014 event.
What they are seeing is good news so far.  The river measured 22.7 feet at the Lower Markland Dam on June 22 and has dropped to 19.5 feet since then.  NOAA is predicting a level of 16 to 17 feet on race weekend.
Officials of the Regatta and H1 Unlimited say the race course and pit area are usable up to 29 feet, meaning the outlook for the 2014 Madison Regatta is very good at this time.
The Markland Lower guage can be monitored at –