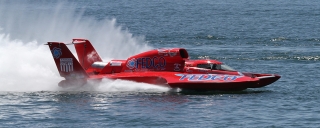 In a stunning development – Evans Brothers Racing has received word the FEDCO sponsorship will not be continuing.
The team released a statement saying –
Throughout the 2013 season N. Mark Evans and the 57 FEDCO demonstrated what Evans Brothers Racing is all about: teamwork. 
With a title sponsor whose passion for fluid energy brought the new technical expertise to the sport, the 57 FEDCO grew consistently faster as the season progressed. 
While the 57 team did not win a race this season, they were victorious on every other level.  With unparalleled camaraderie and positivity the 57 team propelled their storied hull and driver to new heights. 
Unfortunately, a season ending propeller failure brought their momentum to an instant halt as catastrophic damage was sustained to the 57 hull, turbine and gearbox. 
In turn, the 57 program has been thrust into a rebuilding stage which has an uncertain future, as FEDCO, in the midst of a major capital expansion and international joint venture, will be unable to continue with their sponsorship. 
FEDCO President, Eli Oklejas said that "the entire 57 team was exciting to work with and showed class from start to end, " but that his company's future endeavors will be more market based. 
As another page turns in N. Mark Evans' career fans and friends might ask what comes next? For anyone who knows N. Mark, you can bet he will be "Mashin' the Gas" sometime soon!