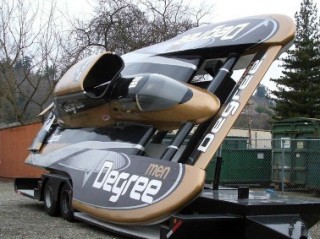 After two seasons of display boat duty, the newest hull in the Leland Unlimited fleet is back at the team's Kirkland, Washington shop and is being prepared for duty as the team's primary race boat for the 2013 season.
The last hull built by Fred Leland, this boat last saw the water as a backup for the 37 Peters and May in 2010.  The Leland team raced it under Znetix,  Mirage Boats and other names, but parked it in favor of the black and maroon hull favored by former driver Greg Hopp. 
Built in 2000, it is the only hull in the Leland Navy to have the full front canard or wing.  It also has a conventional cowling, built for display purposes, which means the unique low profile look the team has had for several seasons may be retired.
Driver and team spokesman Ryan Mallow says, "It appears to be in pretty good shape and pretty complete, but there is a lot of work to do."
Mallow said the team is also looking for a new crew chief.
Photo by Lon Erickson – Unlimited News Journal