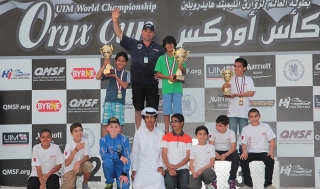 Thanks to the efforts of Sheikh Hassan bin Jabor Al-Thani, David Holley of Peters & May, and former outboard World Champion JW Myers, the Middle East now has an exciting entry level boat racing program for youngsters 9-12 years old.
15 young drivers from Qatar, Jordan, Egypt, Palastine, Canada and other countries had  their first hydroplane experience in small 15 hp  outboard 3-point hydros which were shipped to Doha from the US and will stay in Qatar to form the foundation for J Hydro racing in Doha.
The learning curve was steep and the drivers learned quickly.  By the final day, all were taking on the rough water of Doha Bay fearlessly with Sheik Nawaf bin Hassan Al-Thani (12 years old) posting the best time in a  drag race format to take the big trophy.
Organizers who were expecting 4 or 5 youngsters to take advantage of the opportunity had to cut off entries at 15.  There was tremendous interest from the big National Sports Day crowd – especially the youngsters – and it quickly became apparent that JW Myers' race driving classes are going to be packed for some time to come.
Interested
families should contact the Qatar Marine Sports Federation.