New Size and Shape For Madison Course
The Ohio River H1 Unlimited hydroplane race course at Madison will officially be scaled back to 2 miles for the Lucas Oil Indiana Governor's Cup in July. Construction of a new Madison-Milton Bridge forced Regatta officials to look at alternate options with the layout of the "Wild" Bill Cantrell Memorial race course. Traditionally, the course has been 2.5 miles in length with boats crossing underneath the U.S. 421 bridge en route to turn two. The new layout will shift the course downstream just slightly. Turn two will now enter and exit on a line with St. Michael's Avenue, roughly 200 yards downstream from the old layout.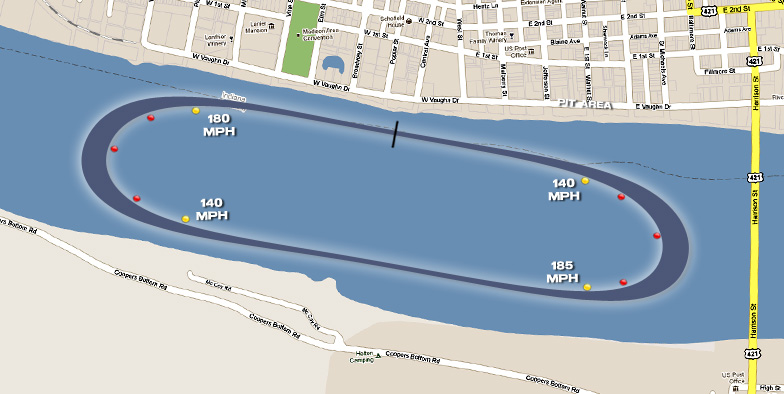 The 2011 Lucas Oil Madison Regatta will be held July 1-3.
2011 INDIANA GOVERNOR'S CUP
60th MADISON REGATTA RACE SCHEDULE
All times are Eastern Daylight Time (EDT)
*Times subject to change
FRIDAY, JULY 1st
8:00am   River Closes / Race Course Setup / Finalize Pit And Course Setup
9:30am   Drivers / Safety Meeting
10:30am – 10:40am Opening Ceremonies
10:40am – 4:00pm  Comfort Inn Pit Tours
11:00am – 12:00pm Unlimited Hydroplane Testing Only, No Qualifications
12:00pm – 1:00pm  River Opens
1:00pm   River Closes
1:00pm – 2:30pm  Unlimited Hydroplane Testing
2:30pm – 5:00pm  "Pole Position" Unlimited Qualifications
5:00pm   River Opens
5:15pm   Frisch's Big Boy Fastest Qualifier Award Ceremony
6:00pm   Madison Regatta Parade on Main Street
SATURDAY, JULY 2nd
8:00am   River Closes / Race Course Setup / Finalize Course Setup
8:30am   Drivers Physical Exam
8:45am – 10:00am Vectren Corporation Grand National / National Modifieds Limited Class Qualifications
9:00am – 1:00pm  Comfort Inn Pit Tours
10:00am   Unlimited Drivers Meeting
10:30am – 10:45am Opening Ceremonies
10:45am – 11:00am Grote Industries Air Show
11:00am – 12:00pm Unlimited Hydroplane Testing
12:00pm – 1:00pm  River Opens
12:15pm – 12:45pm VFW Post 1969 and the Men's & Ladies Auxiliaries Unlimited
Driver's Autograph Session #1
1:00pm   River Closes
1:15pm – 1:45pm  Clifty Engineering & Tool Company Unlimited Heat 1A
1:45pm – 2:15pm  Morgan Foods Unlimited Heat 1B
2:15pm – 2:45pm  Bill Parker Memorial Unlimited Heat 1C
2:45pm – 3:45pm Vectren Corporation Grand National / National Modifieds Limited Class Heats
3:00pm – 4:00pm  Comfort Inn Pit Tours
4:00pm – 5:00pm  Unlimited Hydroplane Testing Only
5:00pm    River Opens
9:00pm   River Closes for Air Show & Fireworks
9:30pm   Grote Industries Twilight Air Show
Approx 10:00pm  American Legion Post #9 Fireworks Spectacular
SUNDAY, JULY 3rd
8:00am   River Closes / Race Course Setup / Finalize Setup
8:00am   Drivers Physicals
8:00am – 9:00am Vectren Corporation Grand National / National Modifieds Limited Class Heats
9:00am – 9:30am  Chapel Services
9:30am – 10:00am  Opening Ceremonies
10:00am – 10:20am Grote Industries Air Show
10:30am – 11:30am Unlimited Hydroplane Testing
11:30am – 12:30pm River Opens
11:45am – 12:15pm VFW Post 1969 and the Men's & Ladies Auxiliaries Unlimited
Driver's Autograph Session #2
12:30pm   River Closes
1:00pm   Time Warner Cable Unlimited Heat 2A
1:20pm   American Legion Post #9 Unlimited Heat 2B
1:40pm   Active Military & Veterans Memorial Unlimited Heat 2C
2:40pm   Midwest Tube Mills Unlimited Heat 3A
3:00pm   Budweiser Unlimited Heat 3B
3:20pm   Unlimited Heat 3C
3:30pm – 3:50pm Vectren Corporation Grand National / National Modifieds Limited Class Final Heat
3:50pm – 4:10pm  Grote Industries Air Show
4:20pm   The Lucas Oil Indiana Governor's Cup Unlimited Hydroplane Race
5:00pm   River Opens
5:15pm   Awards Presentation At The Judge's Stand