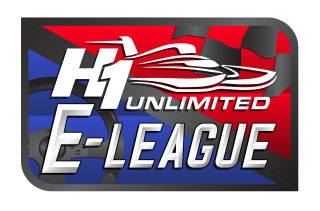 Twelve HydroSim drivers have been selected by H1 Unlimited teams to represent their virtual racing teams. Drivers race virtual replicas of H1 Unlimited Hydroplanes on digital replicas of H1 Unlimited's greatest courses. Each E-League race will follow the traditional H1 Unlimited racing format and drivers will accumulate points throughout the season in pursuit of the H1 Unlimited E-League Championship. Each season will be conducted during the H1 Unlimited offseason with dates to be announced.
The E-League races will be conducted on the HydroSim racing software developed by Scott Przybylski from San Diego, California.
To learn more about HydroSim software, click here.
To learn more about the Unlimited Hydroplane League, click here.
Virtual Racing Driver's Lineup
U-1 Bucket List Racing I
Eddie Kanfoush

 

18 yrs old

Grand Island, NY 

Son of APBA Hall of Champions Inductee Dan Kanfoush

Hopes to drive inboard soon

E-League Experience: 2 years

2020 E-League National Champion

2020 E-League Tri-Cities Winner

2x SNHL National Champion

4 SNHL Wins

2021 SNHL All-Star Race Winner

U-3 Grigg's pres. ACE Hardware


TJ Czerwinski

(Sir-win-ski)

50 yrs old

Tonawanda, NY

E-League Experience: Rookie

2020 Summer Jabroni Exhibition League (don't remember what place, I got stat-boy on the job)

2020-21 SNHL Division 2 (5th place)

2021 E-League driver of the U-3 Go3 Racing

Former crew of the F-73 Sorceress (1983 North American Champions in the 5 liter class)

Current crew member of Paul Reid's "Sky High" Race Team

-Proud single dad of 2 awesome kids, 12 year old Autumn (future Division 2 driver next season) and 11 year old Willow, massive fan of the former GP-12 Long Shot driven by Eric Langevin)

-Member of the Niagara Frontier Boat Racing Association (NFBRA) that puts on the HRL race in North Tonawanda, NY's Gratwick Park, hopefully a future home of H1 #H1inTonawanda.

-Involved in hydroplane racing in one way or another since I was 7 years old, some 44 years of experience in the best sport bar none on the planet. 

U-6 Miss HomeStreet


Kelsey Best

33 yrs old 

Lives in Mesa, AZ 

Born in Redmond, WA 

E-League Experience: 2 years

5th place in 2020 E-League High Points

2020 E-League Madison Gold Cup Winner

-Kelsey is very honored to represent the Miss Madison Racing Team and looks forward to piloting the U-6 Miss Homestreet in this E-League season. 

-Kelsey is good friends with Jimmy Shane and hopes to see Jimmy and other H1 drivers racing on HydroSim soon! 

-Kelsey drove in the 1 liter modified APBA inboard class for Bononcini Racing during 2014 and 2015 before moving to Arizona. 

-APBA West Coast Rookie of the Year in 2014 

-2014 – 6th place national high points 

-2015 – 5th place national high points 

-3rd place overall at 2014 Tri-Cities Columbia Cup

U-7 Boitano Homes/Spirit of Detroit


Scott Przybylski

35 yrs old

San Diego, CA

Creator of HydroSim and HydroMod

E-League Experience: 2 years

7th place in 2020 E-League High Points

2020 E-League San Diego Winner

Family: Wife Lauren and 21 month old daughter Alice (who also likes sitting on my lap and driving the boats)

Work: Robotics software engineer working for DoD.

Hobbies: Creating HydroSim, playing ice hockey and soccer.

U-8 Strong Racing


Carson Kelly

11 yrs old

Bonney Lake, WA

E-League Experience: Rookie

2020 SNHL Division 2 Champion

Son of U-8 Strong Racing Unlimited driver J. Michael Kelly

U-9 Strong Racing II


Nick Kish

32 yrs old

Rochester Hills, MI

E-League Experience: Rookie

Started racing HydroSim in January of 2019 at the San Diego Bayfair in SNHL Season 1. Finished 12th in highpoints in seasons 2 & 3.  

Only driver to earn points in every heat entered in season 3.  Having a love for Excel, Nick works as a data analyst in the banking industry in the Detroit area. 

-In his off time, Nick plays bass and keyboards in local family classic rock cover band, Off The Cuff and is the Captain of the Easton Eagles roller hockey team.

U-11 Miss J&D's


Ben Dowell

33 yrs old

Nashville, TN (orig. from Tacoma, WA)

E-League Experience: Rookie

U-12 Graham Trucking


Quinton Miller

26 yrs old

Mercer Island, WA 

E-League Experience: 2 years

2nd place in 2020 E-League High Points

2020 E-League Guntersville Winner

Professional Bowler 

Runs Social Media for Graham Trucking team

ROTT Potted Palm recipient 

U-48 Lakeridge Paving


Mickey Washburn

42 yrs old

Pasco, WA

E-League Experience: 2 years

8th place in 2020 E-League High Points

5th overall in Career SNHL Points

U-91 Miss Goodman Real Estate


Tim Johnson

24 yrs old

Pasco, Washington

E-League Experience: 2 years

9th place in 2020 E-League High Points

-Mechanical Engineer for Bechtel

-Favorite course: Tri-Cities 

-Plans on driving APBA School Boat at the during the Richland Regatta

-"I'm honored to represent the Miss Madison team and drive the Miss Goodman Real Estate boat. I can't thank the team enough for giving me this opportunity!"

U-98 GT American Dream


Matt Johnson

30 yrs old 

Port Angeles, WA

E-League Experience: 2 years

3rd place in 2020 E-League High Points

Currently 3rd overall all-time career points

-Created paint schemes for both the Go Fast Turn Left team (2016, '17, '19) and Graham Trucking team (2019, 2020) 

-Helped the Hydroplane and Raceboat Museum restore the '67 Budweiser and the Blue Blaster. -Attended every Tri-Cities race and about 5 or 6 Seattle races since 1996.

U-440 Bucket List Racing II


Beau Rarig

 

28 yrs old 

Monroe, WA 

E-League Experience: 2 years

10th place in 2020 E-League High Points

2021 E-League Guntersville Winner

Crew and Drive for E-226 Fully Loaded Racing

Racing RC hydroplanes for 8+ years. 

2017 APBA Inboard Driving School graduate

2019 SNHL Guntersville Winner