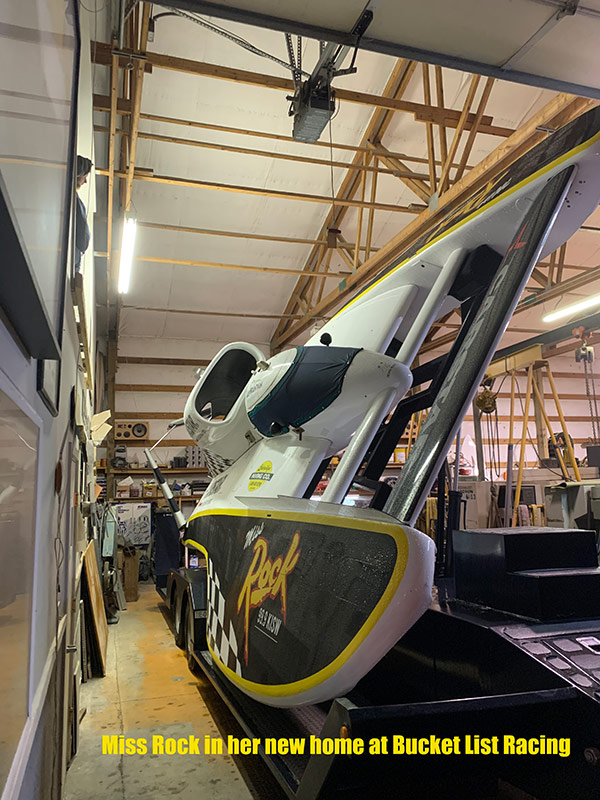 Seattle, February 18 – Puget Sound Carstar Business Group and KISW the Rock have announced a sponsorship deal with Bucket List Racing for the 2020 H1 Unlimited season.  Bucket List recently acquired a race hull from Go Fast Turn Left Racing and the team is busy in their Snohomish, WA shop prepping the boat for competition.
Bucket List owners Sharon and Kelly Stocklin shared their excitement when asked about the new partnership.  "This is a first for us, we are amped and ready to team up with Carstar and KISW this summer "said Kelly.  Sharon added "we've put together an amazing team, and we are looking forward to seeing what we can accomplish with our new boat!"
Speaking on behalf of Puget Sound CARSTAR Business Group, Marketing Chair Kevin Parsons said, "Puget Sound CARSTAR Business group is very excited to continue our partnership with KISW and the CARSTAR Powered Miss Rock!  After spending some time with Kelly Stocklin you can feel his competitiveness and his vision for leading the pack in 2020!
KISW SVP Programming Dave Richards expressed the station's renewed commitment to the Miss Rock campaign that has become a near cultish hydro fan favorite since 1980.  "The CARSTAR Powered Miss Rock, with its 40 years of tradition is now in the best racing hands it's ever been in. We're proud to partner with CARSTAR and Bucket List in 2020!
Go Fast Turn Left Racing's Greg O'Farrell said "we're very happy to see the boat go to a team with such a competitive spirit and we wish Kelly, Sharon and all the Bucket List Racing group the best for 2020!"
Bucket List Racing will be keeping fans updated on improvements being made to the Miss Rock for the 2020 season through their social media platforms.  #bucketlistracing
About CARSTAR
CARSTAR is North America's largest Multi-Shop Operator Network of independently owned collision repair facilities, offering auto body repair, paintless dent repair, storm damage repair with 24/7 accident assistance. CARSTAR delivers national scale, consistently high-quality vehicle repairs, repeatable outcomes and the industry's highest customer satisfaction ratings. All repairs are backed by a national warranty and service guarantee.
About KISW
KISW (99.9 MHz) is an FM radio station in Seattle, Washington. The station is owned by Entercom Communications and airs a Mainstream Rock radio format, with the slogan, "The Rock of Seattle."  KISW was inducted into the Rock Radio Hall of Fame in the "Heritage Rock Radio Stations-Still Rocking" in 2014.
About Bucket List Racing
Kelly and Sharon Stocklin formed Bucket List Racing in 2012 with the purchase of their first hydroplane, the U440, a former G-Class boat which they modified to race in the Unlimited Class.  The improvements made over the past several years enabled the boat to qualify in 2019 at an amazing lap speed of 150.082, and the boat will be raced again this season.  The Stocklins have purchased the CARSTAR Powered Miss Rock and are proud to partner with CARSTAR and KISW this summer racing the U-99.9.