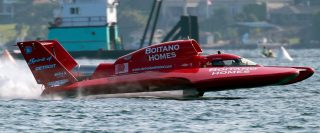 Bert Henderson got his first chance at driving an H1 Unlimited hydroplane in 2016, when he took the U-57 Spirit of Detroit out for a few exploratory laps during the Detroit event. He showed enough skill as a driver that owner Dave Bartush hired "Hot Foot" Henderson last year to drive his newly purchased hull, the U-7, also named the Spirit of Detroit. In 2017, he qualified as an H1 Unlimited driver and received his license at the Metro Detroit Chevy Dealers Hydrofest on the Detroit River.
Although Henderson ran just two races in the 2017 H1 Unlimited Hydroplane Racing Series, he was still considered a rookie in 2018.
"Hot Foot" Henderson says he likes H1 Unlimited hydroplanes because they are "very BIG, very FAST, very STABLE (mostly), and BAD ASS."
A naturally humble and first-class competitor, Henderson insists that he shakes the hand of his opponents before each race. For him, the handshake is an important way to consider his competitors and the sport at fair value.
Henderson also attaches great importance to his preparation before each heat of racing. He isolates himself from fans and crew and thinks of the strategies he will use while visualizing the race in his head several times from start-to-finish.
His goal throughout the season is to be a contender in every heat and make forward progress.
With a degree in business marketing from Sir Sanford Fleming College, the 47-year-old Henderson operates a successful race boat building and repair company, Henderson Hydroplanes. During the off-season, his company repaired the U-7 boat, making several upgrades in the process. His company also upgraded a second H1 Unlimited hydroplane, the U-2, which is also owned by the Spirit of Detroit race team.
When Henderson isn't building and repairing boats he continues to compete in the 2.5 litre and Grand Prix hydroplane classes of racing, adding to his 22-years of racing experiences. Those experiences include two Canadian Boating Federation's 2.5 Litre Hydroplane National Championships (1998, 2000), a one-mile world record of 112.786 mph average in a Grand Prix hydroplane, and is the reigning Hydroplane Racing League Grand Prix champion and owns two more HRL national championships (2012 & 2015).
A resident of Brockville, Ontario, Canada, a city south of Ottawa that borders upstate New York, Henderson and his wife, Jennifer, have two children: daughter, Kaitlyn, and son Owen.
Career Highlights:
1996 Rookie of the Year
1998 CBF National Champion 2.5L stock
2000 CBF National Champion 2.5L stock
2001 CBF National Champion 5L
HRL National Champion in Grand Prix class: 2012, 2015, 2017
Grand Prix 1 mile world record: 112.786 mph 5 laps
5L Canadian Record holder 2010
2010 Triple Crown winner in 5L and Grand Prix
Winner of 5 of 8 Grand Prix races in HRL series 2017
5 time Valleyfield Winner in the Grand Prix class: 2010,2012,2014,2016,2017
Prior to moving up to the Unlimiteds in 2005, Dave Bartush raced since 1997 in the very competitive 5 liter class. Along with a partner, raced the only 3 boat team on the APBA inboard circuit, and was co-owner of the 5 liter 1999 APBA National high points champion.
Became the first and only team in APBA history to win all 3 top spots in a National event, pulling off this feat at the 1999 North American Championship in front of a hometown crowd on the Detroit River.
Bartush Served 4 years in the US Air Force and Graduated from Loyola University, New Orleans with a BA with a Major in Accounting.
He is an avid history buff and long time collector of vintage race cars. He also maintains a large collection of unlimited hydroplanes for future Detroit development.
More information on the team can be found at www.detroitunlimited.com
CREW CHIEF: Bill Guckian
CREW:
Jamie Auld, Ontario, Canada
Len Bartush , Michigan
Dean Boike , Colorado
Bob Catipovic, New York
Teddy Dudley, Michigan
Tom Kelly, Michigan
Doug Peterson, Ontario, Canada
Samuel Stechishen, Ontario, Canada
Chip Van Antwerp, Michigan
Andrew Werling, Indiana
The distinguishing factor in the creation of great homes is attention to the details of every aspect of the process. Actively engaged professionals, who do ample research and planning initially, ensure that the end result of the building process will be received with a sense of pride by all involved.
Jay Boitano, owner and manager of Boitano Custom Homes, LLC, knows this well. He has been building quality custom homes on the Eastside for over 30 years; painstakingly crafted homes that clients have said exceeded their expectations.
Home Port: Detroit, Michigan
Boat Colors: Red
Year Built: 1996
Length: 29′ 8″
Width: 14′ 5″
Weight: 6,800 lbs.
Engine: Lycoming T-55/L-7 Turbine
2019 Boat Points: 5124
2019 Driver Points: 5124
2019 Season Finish: 3rd