57
EVANS RACING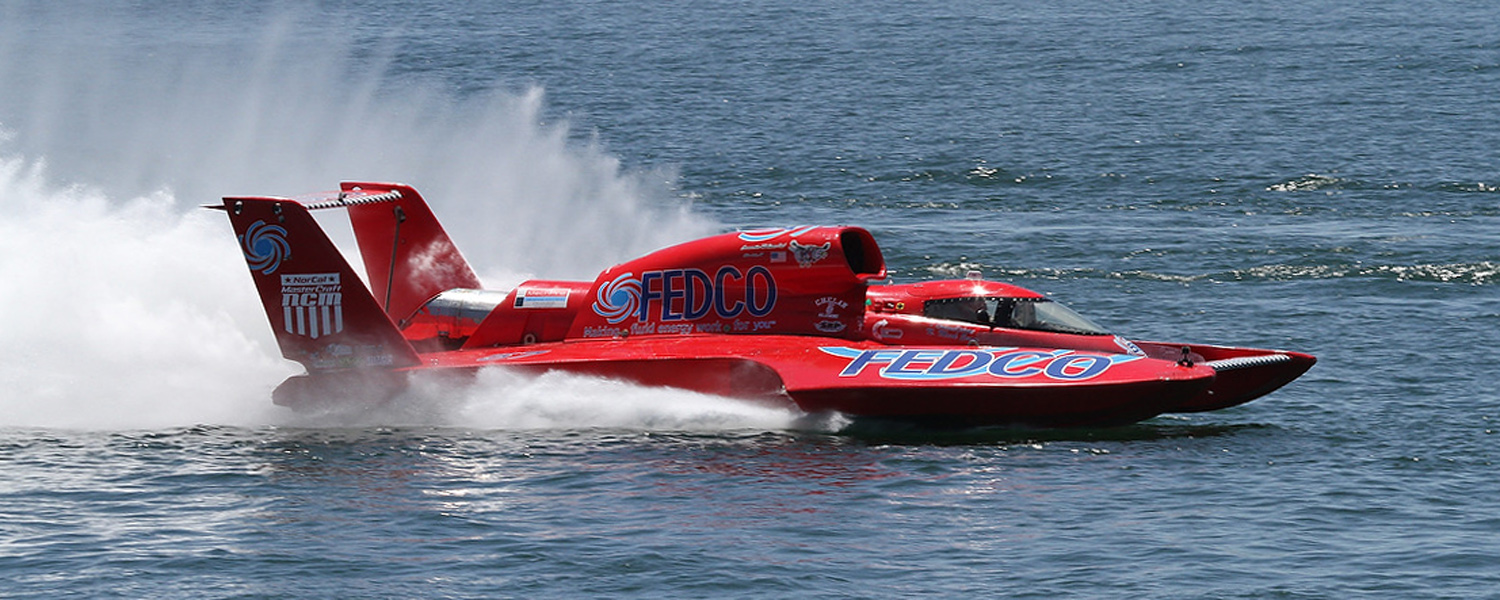 Driver Profile:

N. Mark Evans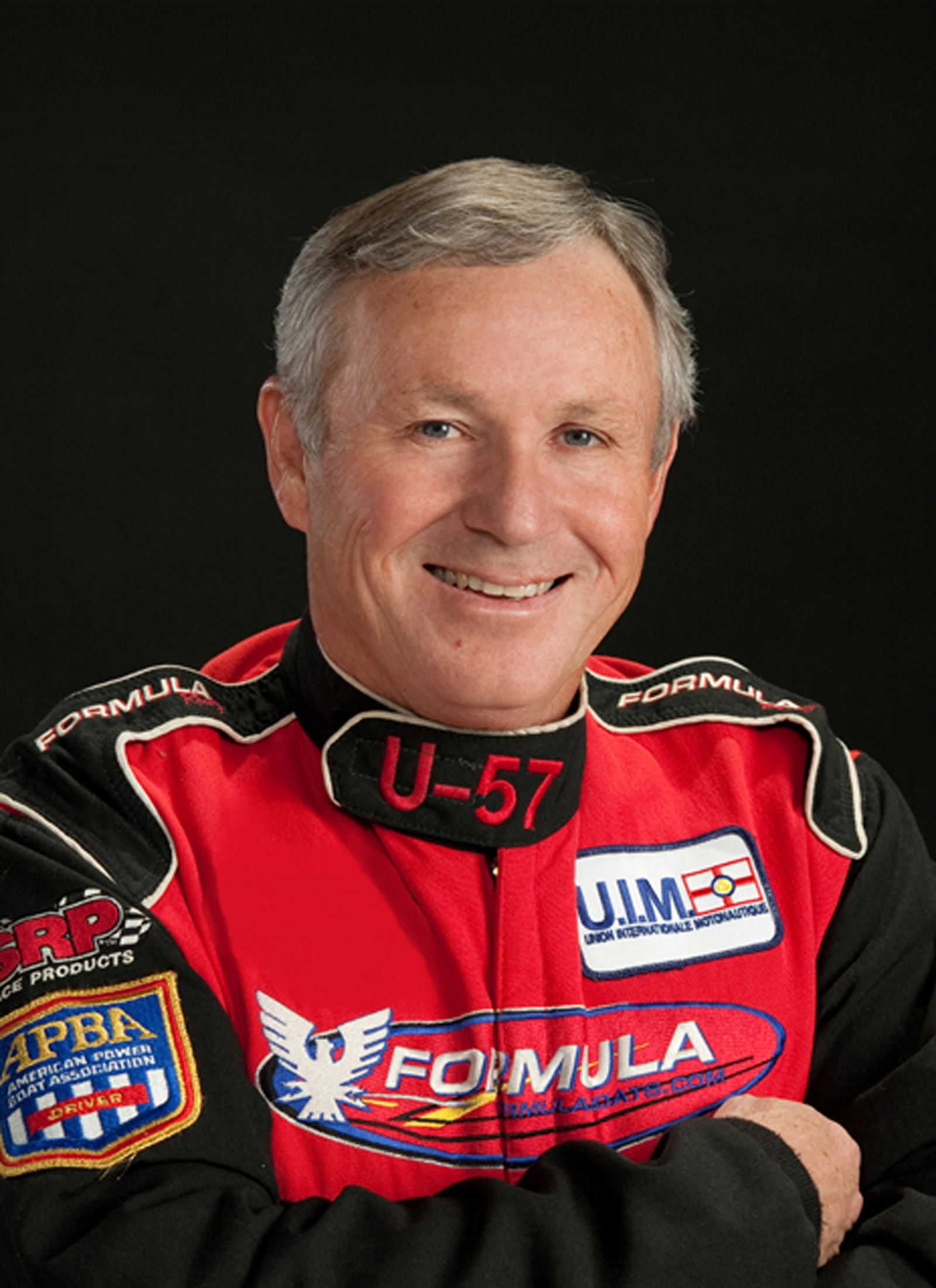 56 year old Mark Evans has a long and impressive resume as an Unlimited hydroplane pilot. His 10 victories rank among the most by active drivers and have included wins for five different owners including Ron Jones, Jr, Fred Leland, Bernie Little, Erick Ellstrom and Bill Wurster.
Mark comes from a racing family and pretty much grew up on the water.  His father, legendary driver Norm Evans, owned a marina on picturesque Lake Chelan in Central Washington. Mark and brother Mitch raced everything from outboard boats to snowmobiles growing up.
Mark joined his dad and brother as qualified Unlimited drivers driving Norm's conventional piston powered Unlimited Evergreen Roofing in the Tri-cities in 1979.  Norm had purchased the boat, motor and trailer for $3000 and was never able to keep the "Green Bomb" running long enough to qualify for a race. But the boat gave the Evans Brothers their first "hands on" experience with an Unlimited Hydroplane.
After qualifying as an Unlimited driver, Mark was very active in racing driving several classes of inboard hydros including the 145, 280, 225 and GP Classes.
His first Unlimited victory came in Ron Jones, Jr.'s U-50 American Spirit at the 1991 Madison Regatta. Twelve years and nine victories later, including multiple wins in Fred Leland's Pico American Dream and Bernie Little's Miss Budweiser, Mark was badly injured in a spectacular blow-over accident at the 2003 Detroit APBA Gold Cup in Bill Wurster's U-8 Llumar Window Film.
The accident appeared to have ended Evans' driving career.  But, in 2010, he accepted an offer to return to the driver's seat after a seven year absence and drive Ted Porter's third entry, the U-57 Formulaboats.com.
Before the 2012 season, Mark and brother Mitch formed Evans Brothers Racing and bought the 57 from Porter's Precision Performance team.  They made the entire 2012 circuit and scored a Top 10 finish in season high points, earning a trip to the Oryx Cup UIM World Championship in Doha, Qatar.
Always one of the most popular drivers in all of boat racing, Evans was voted the sport's "Fan Favorite" in 2011. He has also spent time in the broadcast booth as expert commentator on Unlimited race coverage on ESPN and the Speed Channel.
Mark is also a published author, having written a book called "Dancing with Disaster" about growing up as a racer in a small town and dealing with troubled times like the murder of his father and all the crazy fun antics of a guy with excess energy.  He has many more stories to tell and the first book is such a hit with fans that another book is in the works.
Mark and his wife Cathy were married during the Madison Regatta in 2012 and live above Lake Chelan where Mark has a spectacular view of his boyhood environment. He takes fans out in an Unlimited Hydroplane powered by two big outboard motors. More information at www.u4hydro.com
Team Profile:

Evans Brothers Racing

2012 marked the debut season for newly formed Evans Brothers Racing.

Purchasing the storied U-57 after taking it to its first UIM World Championship appearance in 2011, N. Mark Evans aimed to capture the emotion and heritage that embodies the sport he has lived for over 40 years.

Capitalizing on an experienced crew and the most storied driver in the sport, the U-57 team defines the fun and excitement for which unlimited racing is so well known!

In their first season on the H1 circuit, the U-57 Team scored a top 10 finish in season high points and a coveted trip to the Oryx Cup UIM World Championship in Doha, Qatar, while gaining a new sponsor in Fluid Equipment Development Company (FEDCO).

The U-57 starts the 2013 season with a 5th place finish in the season opener in Doha, Qatar and a coveted title sponsor in FEDCO.
Behind
The Roostertail
Team Website:

http://www.lakechelanhydroplanes.com

Owner:

Evans Brothers Racing

Founded:

2012

Home Port:

Chelan, Washington

Driver:

N. Mark Evans

Boat Colors:

Red/White

Crew:

To be announced.

2013 Boat Points:

4858

2013 Driver Points:

2 Drivers

2013 Season Finish:

7