gbr-11 Peters & May

Driver Profile:

Tom Thompson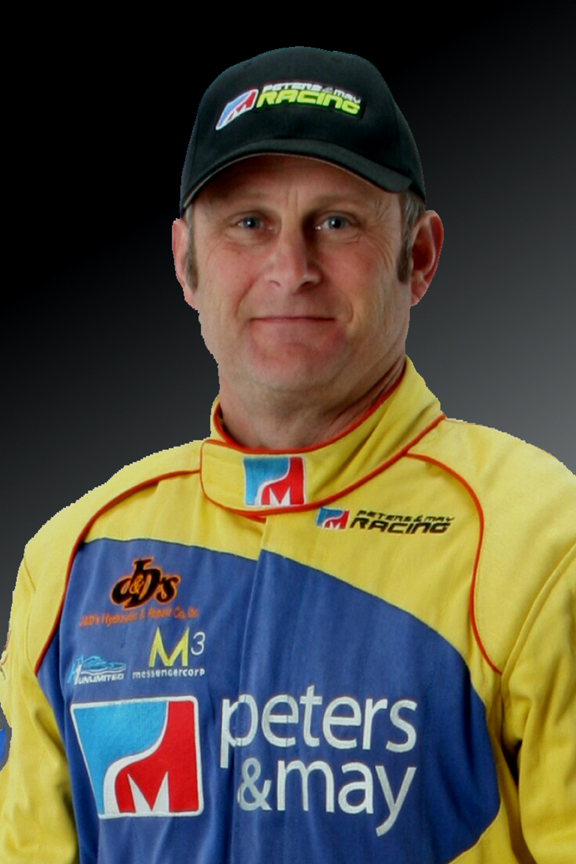 It only took Tom Thompson –  one of the winningest drivers in APBA Inboard classes in the last three decades – 27 years to make his way to the cockpit of an Unlimited Hydroplane. 
With the sport having a definite lean to the West and most of the new drivers coming from the Pacific Northwest, the accomplishments of the veteran driver from Cambridge, Maryland were somewhat overlooked until mid-way through the 2012 season when Scott and Shannon Raney, owners of the Unlimited Racing Group, brought the three-time inductee into the APBA Hall of Champions out West to sub for JW Myers who had been injured in a blow-over accident at the 2013 Detroit APBA Gold Cup in the 11 Peters and May.
Thompson is known as one of the most versatile drivers in the Inboard Categories, successfully driving boats of every hull design; hydroplane, flat-bottom and Jersey Speed Skiff.  As a part of the Thompson and Thompson team he joined his late father Tommy Thompson in winning seven consecutive National Championships with their Jersey Speed Skiff, The Gambler.
In 2009, Thompson dominated the 2.5 Litre modified hydroplane class, setting two World Records and winning the Eastern and Western Divisional, Summer National and the National High Point Championships.
Tom's long career and experience served him well and translated quickly to the turbine powered Unlimited class. Things went smoothly until Heat 2A of the Oryx Cup UIM World Championship in February in Doha, Qatar.
In a tightly bunched first turn, Miss Peters and May contacted Brian Perkins in the 21 Snoqualmie Casino.  Thompson's boat became airborne and went over Perkins, landing sideways with a devastating impact in the salt water of Doha Bay.  The boat was badly damaged and Thompson was hospitalized with an injured left arm.
Despite a tough start to the 2013 season, Tom bounced back strong with a 3rd place finish at the APBA Gold Cup in Detroit and 2nd place finish in San Diego.
Tom's wife Chrissy and daughter Savana travel the circuit with him.  They live in Cambridge, Maryland.
Team Profile:

Unlimited Racing Group

Scott Raney, twenty-three year veteran of Unlimited Hydroplane Racing,  formed his own H1 Unlimited Race team in 2011 along with wife Shannon .

After breaking into hydroplane racing sweeping floors and doing odd jobs for Bill Wurster's U-8 team, then moving up to crew member and finally Crew Chief, Scott Raney has notched multiple victories in the Unlimited ranks, most recently for Billy & Jane Schumacher on the U-37 team.

The U-11 will again carry Peters & May sponsorship for 2014 and having the backing of the premier international boat transport company will contribute to what the team feels will be a great fourth season.

Dave Holley, CEO of Peters & May, has seen a real opportunity to become part of something special. "We were fortunate to work with the majority of the crew in our first active season in the sport and we were impressed with their dedication and skill. The plans that URG has for this team are on a level that the series has never seen. They are going to offer their fans and sponsors an experience that is unparalleled in the sport and we simply could not miss out on such an opportunity. We are confident that their business plan will lead them to become a winning team with strong finances and a large fan base. They are here for the long haul and so are we!"

 
Behind The Roostertail
Boat Name:

Miss Peters & May

Team Website:

http://www.u11racing.com

Owner:

Unlimited Racing Group

Founded:

2011

Home Port:

Edmonds, WA

Driver:

Tom Thompson

Driver Rookie Year:

2012

Boat Colors:

Chartreuse/Blue

Primary Sponsor:

Peters & May

Associate Sponsors:

J&D Hydraulics -Central Welding - West Coast Collision Center - King Marine Canvas - Renton Coil Spring - Easy Click - Spencership - Messenger Corp - Natuicpromo

Builder:

Hydroplanes, Inc.-Dale Van Wierengen-Unlimited Racing Group

Designer:

Hydroplanes, Inc.-Dale Van Wierengen

Engine Builder:

Unlimited Racing Group

Crew Chief:

Scott Raney

Crew:

Sam Houghtaling
Bruce Haskin
Randy Roe
PK Kiser
Todd Tamayao
Ken Knudsen
Mike Parker
Aaron Salmon
Marc Sandoval
Lee Langley
Dave Hawley
Kenny Knudsen JR
Ashley Raney
Savana Thompson
Peter Allen
Keith Morris
Wilson

Team Manager:

Shannon Raney

Public Relations:

Shannon Raney

Engine:

Lycoming T-55/L-7 Turbine

2014 Boat Points:

3962

2014 Driver Points:

3962

2014 Season Finish:

7th