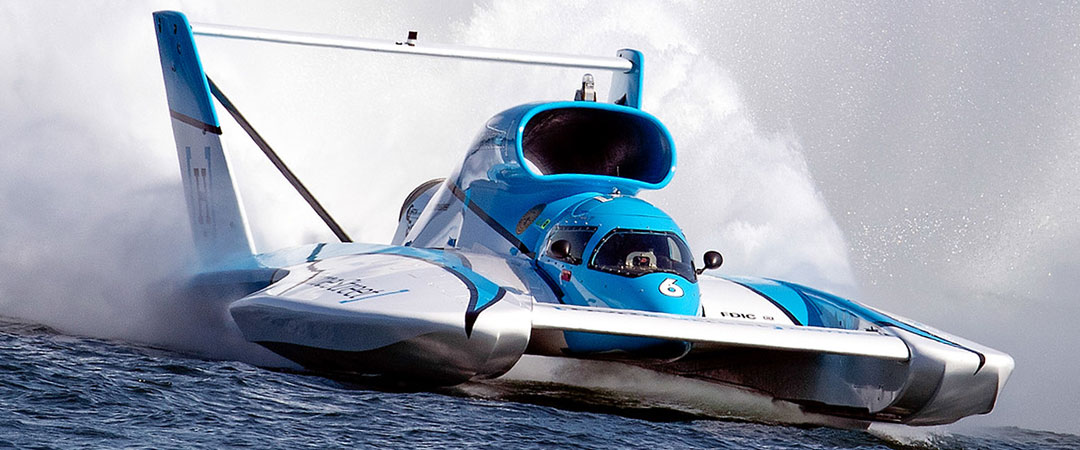 Jimmy Shane has already earned a notable place in the 115-year history of the sport. Though relatively young at 33 years old and with 11 years of driving in the H1 Unlimited Hydroplane Racing Series, he has already become only the second driver in history to win five consecutive national driving championships. With 18 race victories to his credit, he also stands as one of the most successful active drivers in the series.
Born in Havre de Grace, Maryland, and now a resident of Texas, Shane is another competitor who grew up in a boat racing family. His parents, Stuart and Robin, as well as his sister Kelly, have all been national champions in various American Power Boat Association's inboard hydroplane divisions. With strong influences from his family and boat builder Bill Roberts, Shane started driving boats at 10 years old and steadily moved up through outboard and inboard classes.
His first ride in an H1 Unlimited hydroplane came when he was 21 years old and was given the opportunity to test a boat in 2006. His debut on a racecourse came the following year when he became the backup driver for Ted Porter's Precision Performance Race Team, where he saw action in the U-1/U-7 Formula Boats for two seasons. He didn't see any unlimited action for a year but rejoined Porter's team in 2010, and in 2012 became an instant front-runner in the U-7 Graham Trucking. Just three races into that season, he scored an impressive win in the Lamb-Weston Columbia Cup in Tri-Cities.
After strong finishes at the Albert Lee Cup in Seattle and the Bill Muncey Cup on San Diego's Mission Bay, Shane then won a closely contested final heat to become the champion of the 2012 Oryx Cup U.I.M. World Championship in Doha, Qatar. That win secured an impressive second place in the 2012 driver and team series high-point standings.
Just one month later, Shane again found himself holding the Oryx Cup and U.I.M. World Championship trophies, this time after returning to Doha and winning the 2013 season opener. He then went on to finish the season strong with wins in Seattle, Coeur d'Alene, and San Diego, and edged Steve David and his U-1 Oberto for the driver and team national high points titles.
He joined the Miss Madison Race Team in 2014, where he became the latest in a long line of drivers for the only community-owned boat in the sport. He won just two races that season, but earned enough points along the way to win the national championship for his team and claim his second straight driving title. Among those two victories was the APBA Gold Cup in Detroit, which was only the second Gold Cup win in the 53-year history of his new race team.
Shane says his favorite thing is the spectacle of a 7,000-pound boat turning a sharp corner at 200 mph, and he has certainly seen a great deal of that during the last several years. He won another prestigious Gold Cup and another national championship in 2015, the final year that the team raced with the Oberto partnership. He then added three more race victories to the tally and another national championship in 2016 with the boat racing under the banner of Miss HomeStreet, then won a third Gold Cup as well as a victory in Seattle last year to capture his fifth consecutive national title.
When he is not driving hydroplanes, Shane is employed as an integration engineer with Blue Origin, the company that builds rockets and spaceships for Amazon founder Jeff Bezos. His favorite activities are playing golf and being with his children, Colton and Hudson.
Charlie Grooms:
Charlie has been with the team for more than four decades, starting by washing parts when his uncle, Jon Peddie was named the team's driver in 1977. Over the years he graduated through the ranks to become crew chief. When Mike Hanson retired from driving, Grooms became Team Manager allowing Hanson to move into the Crew Chief position.
Grooms oversees all aspects of the team including sponsorships, logistics, budgeting, personnel and other administrative duties. When not racing, Grooms runs Ladder 51, a company that produces flame grilled chicken wings. Grooms, a resident of Madison, Ind. is married to wife Nancy and they have three children, Codi, Cati, and Cortni.
Miss Madison Team:
The Miss Madison Racing Team was established in 1961 when industrialist Sam DuPont donated his unlimited hydroplane known as Nitrogen to the people of Madison, Indiana. The U-6 Miss Madison has been campaigning on the unlimited circuit ever since – the longest running continuous team in the sport.
When the original Miss Madison hydroplane was destroyed in a racing accident in 1962, DuPont sold his second boat, Nitrogen II, to the city for $5,000. The world's only community owned hydroplane is administered by a board of directors appointed by the city's mayor. Charlie Grooms serves as President of the Miss Madison, Inc. Board and Team Manager.
The team has amassed 34 race victories, 6 A.P.B.A. Gold Cup victories (1971, 2014, '15, '17, '19, '21) and 10 National High Points Championships (2008, '09, '10, '12, '14, '15, '16, '17, '19, '21). Throughout the years the team has raced in partnership with sponsors including American Speedy Printing, Jasper Engines & Transmissions, Valvoline, DeWalt Power Tools, Kellogg's and Oberto Beef Jerky. In 2016, Seattle based HomeStreet Bank became the sponsor of Miss Madison. Some of the biggest names in the sport of hydroplane racing have raced with the Miss Madison Team.
Miss Madison's most iconic win came in 1971 when Jim McCormick captured the A.P.B.A. Gold Cup in front of the hometown fans on the Ohio River. The story of the victory became the movie, Madison released in 2005. Jimmy Shane drove the Miss Madison to an A.P.B.A. Gold Cup victory in 2014 on the Detroit River, the team's first since 1971 and has added Gold Cup wins in 2015, 2017, 2019 and 2021.
The U-1 Miss HomeStreet hydroplane was built by the Miss Madison team and entered competition in 2018
Mike Hanson:
Mike Hanson, widely known in racing as "The Boat Doctor" and as the architect of much of Miss Madison's success is returning to the team as Crew Chief for 2021. Working out of the HomeStreet Racing shop in Tukwila, WA, Hanson, his brother Larry and the Miss HomeStreet Crew Members have prepared the built-in-2018 "U-6" for competition. They are also readying the team's 2007 hull for competition as the U-91 Miss Goodman Real Estate as well.
Hanson, driver of the Miss Madison from 1988 to 1998 and Crew Chief from 2004 through 2014 was largely responsible for the team's mechanical success in those years.
Mike has done it all in boat racing, from building race winning hulls to being a race winning driver. He has captured 4 trophies including the 2001 A.P.B.A. Gold Cup and a legendary drive from the trailing boat position in San Diego in 1993.
Nick Bononcini, Kirkland, Wash.
Richard Dunn, Madison, Ind.
Pat "Snake" Furnish, Madison, Ind.
Jimmy Gilbert, Houston, Texas
Charlie Grooms, Madison, Ind.
Mike Hanson, Seattle ,Wash.
Larry Hanson, Auburn, Wash.
Trey Holt, Madison, Ind.
Julie Hooton, Rochester Hills, Mich.
Mark Hooton, Rochester Hills, Mich.
Drew Moore, Bedford, Ky.
Rhett Rice, Houston, Texas
James Snell, Milton, Ky.
Matt Sontag, Madison, Ind.
Gary Spanner, Pasco, Wash.
HomeStreet Bank:
Based in Seattle, HomeStreet Bank is one of the largest community banks headquartered in Washington. HomeStreet began in 1921 as Continental Mortgage and Loan Company, initially offering financing for commercial real estate and home mortgages. HomeStreet evolved into a full service bank in 1986, further expanding its products and services in 2000 to include business banking and lending. HomeStreet Bank is consistently recognized by the federal government as "Outstanding" under the Community Reinvestment Act.
Community involvement has always been a high priority for HomeStreet. HomeStreet's primary area of community focus is housing. HomeStreet supports community organizations by creating active partnerships through providing leadership, hands-on service, expertise and financial support. HomeStreet also participates in innovative home loan programs that make subsidies and incentives available to low- and moderate-income homebuyers.
Team Website: www.missmadisonhydro.com
Founded: 1961
Home Port: Madison, IN
Boat Colors: Black/Gold
Primary Sponsor: Goodman Real Estate
Builder: Madison
Public Relations: Mark Hooton
Hull Built: 2007
Engine: Lycoming T-55/L-7 Turbine
2021 Boat Points: 6454
2021 Boat Season Finish: 1st
2021 Driver Points (Jimmy Shane): 5425
2021 Driver Points (Jeff Bernard): 1029
2021 Driver Season Finish: 2nd/7th