National Championship Drivers: 1946-2011
1946-Guy Lombardo/TEMPO VI (1)
1947-Danny Foster/MISS PEPS V (3)
1948-Dan Arena/SUCH CRUST (2)
1949-Bill Cantrell/MY SWEETIE (4)
1950-Danny Foster/SUCH CRUST & DELPHINE X (2)
1951-Chuck Thompson/MISS PEPSI (4)
1952-Chuck Thompson/MISS PEPSI (3)
1953-Lee Schoenith/GALE II (1)
1954-Lee Schoenith/GALE V (4)
1955-Lee Schoenith/GALE V (1)
1956-Russ Schleeh/SHANTY I (3)
1957-Jack Regas/HAWAII KAI III (5)
1958-Mira Slovak/MISS BARDAHL & MISS BURIEN (3)
1959-Bill Stead/MAVERICK (5)
1960-Bill Muncey/MISS THRIFTWAY (4)
1961-Bill Muncey/MISS CENTURY 21(4)
1962-Bill Muncey/MISS CENTURY 21 (5)
1963-Bill Cantrell/GALE V (0)
1964-Ron Musson/MISS BARDAHL (4)
1965-Ron Musson/MISS BARDAHL (4)
1966-Mira Slovak/TAHOE MISS (4)
1967-Billy Schumacher/MISS BARDAHL (6)
1968-Billy Schumacher/MISS BARDAHL (4)
1969-Bill Sterett, Sr./MISS BUDWEISER (4)
1970-Dean Chenoweth/MISS BUDWEISER (4)
1971-Dean Chenoweth/MISS BUDWEISER (2)
1972-Bill Muncey/ATLAS VAN LINES (6)
1973-Mickey Remund/PAY 'n PAK (4)
1974-George Henley/PAY 'n PAK (7)
1975-Billy Schumacher/WEISFIELD'S (2)
1976-Bill Muncey/ATLAS VAN LINES (5)
1977-Mickey Remund/MISS BUDWEISER (3)
1978-Bill Muncey/ATLAS VAN LINES (6)
1979-Bill Muncey/ATLAS VAN LINES (7)
1980-Dean Chenoweth/MISS BUDWEISER (5)
1981-Dean Chenoweth/MISS BUDWEISER (6)
1982-Chip Hanauer/ATLAS VAN LINES (5)
1983-Chip Hanauer/ATLAS VAN LINES (3)
1984-Jim Kropfeld/MISS BUDWEISER (6)
1985-Chip Hanauer/MILLER AMERICAN (5)
1986-Jim Kropfeld/MISS BUDWEISER (3)
1987-Jim Kropfeld/MISS BUDWEISER (5)
1988-Tom D'Eath/MISS BUDWEISER (4)
1989-Chip Hanauer/MISS CIRCUS CIRCUS (3)
1990-Chip Hanauer/MISS CIRCUS CIRCUS (6)
1991-Mark Tate/WINSTON EAGLE & OH BOY! OBERTO (3)
1992-Chip Hanauer/MISS BUDWEISER (7)
1993-Chip Hanauer/MISS BUDWEISER (7)
1994-Mark Tate/SMOKIN' JOE'S (2)
1995-Mark Tate/SMOKIN' JOE'S (4)
1996-Dave Villwock/PICO AMERICAN DREAM (6)
1997-Mark Tate/CLOSE CALL (1)
1998-Dave Villwock/MISS BUDWEISER (8)
1999-Dave Villwock/MISS BUDWEISER (8)
2000-Dave Villwock/MISS BUDWEISER (6)
2001-Dave Villwock/MISS BUDWEISER (1)
2002-Dave Villwock/MISS BUDWEISER (3)
2003-Dave Villwock/MISS BUDWEISER (2)
2004-Dave Villwock/MISS BUDWEISER (5)
2005-Steve David/OH BOY! OBERTO-MISS MADISON (1)
2006-Steve David/OH BOY! OBERTO-MISS MADISON (0)
2007-Dave Villwock/ELLSTROM ELAM PLUS (4)
2008-Steve David/OH BOY! OBERTO-MISS MADISON (1)
2009-Steve David/OH BOY! OBERTO-MISS MADISON (1)
2010-Steve David/OH BOY! OBERTO-MISS MADISON (3)
---
The race wins, indicated in parentheses, are for major races.
A "major race" is defined as one scheduled for a minimum of two heats with at least four Unlimiteds making a legal start. This excludes from consideration the numerous one-heat free-for-alls of the 1940s and '50s and those multi-class events with less than the required four Unlimited entries making a legal start.
Between 1946 and 1957, boats from the Limited classes were sometimes allowed to "step up" to the Unlimited level for the purpose of filling out the field.
Except in unusual instances, secondary races run in conjunction with the main event at a particular regatta are not included. The only exceptions to the four-boat starting field requirement are the Harmsworth International races of 1956, 1959, and 1961, which featured an unorthodox method of selecting eligible entries.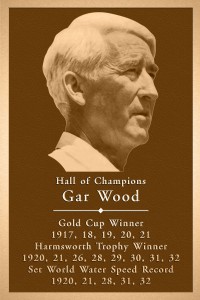 By Fred Farley – H1 Unlimited Historian
Garfield Arthur Wood – the immortal "Grey Fox of Grayhaven (Michigan)" – was Unlimited hydroplane racing's first superstar. In the years prior to World War II, "King Gar" personified power boat competition in the eyes of the world.
He won the APBA Gold Cup four times as an owner and five times as a driver, and captured the Harmsworth International Trophy eight times as a driver and nine times as an owner. Gar was the first to average over 70 miles per hour in a heat of Gold Cup competition (in 1920). He was also the first to average over 100 miles per hour on a straightaway mile (in 1931).
In his five Gold Cup wins, between 1917 and 1921, Wood started 15 heats, finished first 12 times and second three times.
In his nine Harmsworth Trophy wins, between 1920 and 1933, Gar was the winning driver every year with the exception of 1931. His brother George Wood, driver of MISS AMERICA VIII, was declared the winner that time.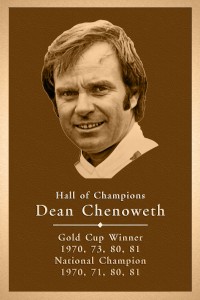 By Fred Farley – H1 Unlimited Historian
Dean Chenoweth drove Unlimited hydroplanes from 1968 until his death in 1982. Like few drivers before or since, Dean could guarantee results. And in so doing, he raised boat driving to the level of an art form.
Known primarily for his championship exploits with Bernie Little's MISS BUDWEISER team, Chenoweth won 25 Unlimited races. He captured the Crown Jewel of APBA competition, the Gold Cup, four times in 1970, 1973, 1980, and 1981. Dean also won four National High Point Championships and, in 1980, set a world lap speed record of 138.249 miles per hour on the Columbia River at the Tri-Cities, Washington.
The Xenia, Ohio, native began his racing career in outboards in 1951 and was a three-time National Champion in the "clamp-on" category with more than 70 race victories. Moving up to the Limited ranks, Chenoweth won the 145 Cubic Inch Class Inboard Nationals in 1965 with CHUCK'S JOY and was 7-Litre Class High Point Champion in 1968 with SAYONARA II.
Dean's first Unlimited Class ride was with Joe and Lee Schoenith's "bat-wing" SMIRNOFF. Designed by Dick Brantsner and "Wild Bill" Cantrell, SMIRNOFF was built at a time when "heavier was better" in terms of safety philosophy. An earlier SMIRNOFF hydroplane had crashed in 1966 and the driver (Chuck Thompson) was fatally injured. The 1968 hull weighed 8000 pounds, at a time when most Unlimiteds weighed around 6000 pounds.