J&D HYDRAULICS ANNOUNCED AS TITLE SPONSOR OF THE U-11 HYDROPLANE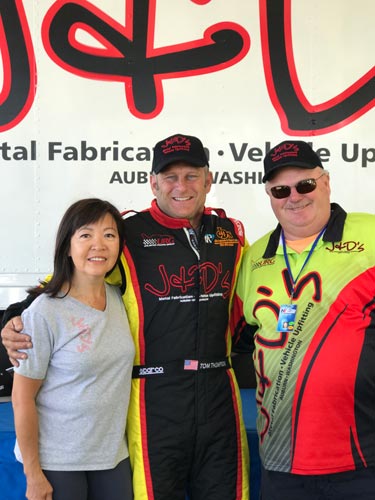 EDMONDS, WA (January 12, 2018) J&D's, a full service automotive fabrication and machine shop located in Auburn, WA, will be the title sponsor of the U-11 H1 Unlimited Hydroplane driven by Tom Thompson for the entire 2018 season.
"J&D Hydraulics has been a valued legacy partner since we formed the U-11 Unlimited Racing Group in 2011" says team Owner Shannon Raney.  "This family-owned business has been developing, fabricating and installing very high-quality parts for years and we are ecstatic to represent them in this great sport."
"We at J&D's Hydraulic love racing. The Raney's and all the U-11 are now like family. They do things like we do them, fair and respectful of others. Our driver Tom Thompson is one caring person. Kids love him and that is the future of this sport", states Wes Ward CEO of J&D's.
Over the last several years J&D Hydraulics has supported the team by providing expert fabrication services and have been instrumental in the design and fabrication of many parts used in the complete rebuilds of the two U-11 race boats and over the road equipment.
Driver Tom Thompson stated "We are very proud to have a technical partner and sponsor of this caliber.  They helped our racing program improve in 2017 and with J&D's help we are aiming even higher for the 2018 season."
The chartreuse & red colored U-11 Reliable Diamond Tool presents J&D's will kick of the H1 Unlimited racing season in Guntersville, Alabama from June 22nd -24th.
Guntersville, AL.        June 22-24
Madison, IN.               July 4-6
Tri Cities, WA.           July 27-29
Seattle, WA.               August 3-5
Detroit, MI.                 August 24-26
San Diego CA.            September 14-16