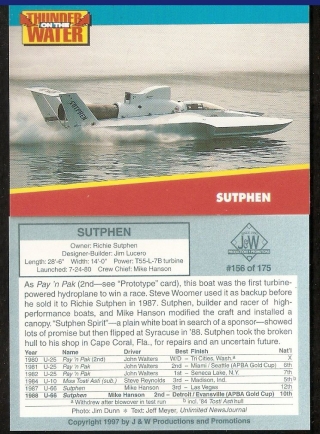 Former Unlimited Hydroplane owner & Founder of Sutphen Powerboats Remembered
Written by Jason Johnson/Speed on the Water
Editor's note: A memorial service has been scheduled for Richie Sutphen for Saturday, Jan. 13 at 11 a.m. at Fuller Metz Cremation & Funeral Services (3740 Del Prado Blvd. S, Cape Coral, FL).
The powerboat industry lost another icon on Wednesday when Richard "Richie" Sutphen Sr., who founded Sutphen World Champion Powerboats 40 years ago, died following a battle with liver disease. The 76-year-old world champion racer and boat builder from Cape Coral, Fla., is survived by his wife, Christine, daughter, Meri Sutphen (her husband, Steven Pooley, Jr.), son, Richard Sutphen, Jr. (his wife, Tricia), four grandchildren, Danielle, Sierra, Paige and Sam, and three great grandchildren, Jada, Jenna and Roman.
Sutphen started Sutphen Marine in Lake Hopatcong, N.J., in 1964 and moved it to Cape Coral 10 years later. With many national and world racing titles under his belt, Sutphen was instrumental in bringing offshore racing to Cape Coral in 1981 with the Sutphen International Offshore Power Boat Regatta.
"I plan to continue to run the business with my mom from here on out," Meri Sutphen, Richie's daughter said.
"Some people can enter a room and be noticed some might not—Richie Sutphen Sr. was the one you noticed and wanted to be near," the statement read. "He was humble while being firm in his accomplishments. He would take a moment or many to talk with everyone. He would go out of his way to help and guide. He made many friends and also made some people mad on the racecourse. In the end, he fought as if he was going into the first turn and no one would get there before he did. We at Sutphen World Champion Powerboats will continue the plan he had set into motion to build the fastest yet safest v-bottoms in the world. Please continue to share your stories and photos. We will update in the coming days the memorial service day and time."
Several of Richie's friends from his early days of building boats and racing in New Jersey to his last 30-plus years building custom offshore boats in Florida commented about his passing on Facebook.
"Very sad news to end a very sad year," said veteran boat racer Rich Luhrs. "Richie was a truly great boat builder, a man's man and one of the most talented inboard hydro drivers in history. His 7-liter Lauterbach "Miss Gangway" rocketing along at maniacal speeds, with him behind the wheel and his hair on fire, will live in my heart forever. God Bless Christine Sutphen, who stood so proudly by his side, and the rest of his family."
Well-respected offshore racer Bobby Moore also passed his condolences along to the family: "I have many great memories of racing with Richie at Red Bank or Lake Hopatcong—may he rest in peace."