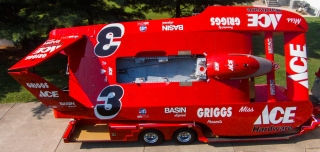 Due to unspecified damage suffered in the HAPO Columbia Cup, Ed Cooper has announced they will not be able to make the field for the 2017 Albert Lee Cup in  Seattle.
From the team's Facebook page:
After a successful and fun weekend of racing at the Columbia Cup at the Tri Cities, we have some not so good news to pass on to our fans.
On Monday we informed both H1 Unlimited and Seafair that the Go3 Racing Team would not be able to participate in the race this weekend in Seattle, due to damage incurred at the Columbia Cup.
We're sorry we won't be able to race in front of our many fans in Seattle.
Good luck to the rest of the fleet at Seafair.