The Miss HomeStreet with Jimmy Shane driving was the fastest among the five unlimited hydroplanes that qualified for the Albert Lee Appliance Cup in Seattle this weekend. The world's fastest boats in will compete in a pair of preliminary heats tomorrow and will have the winner-take-all final heat on Sunday.
Shane took the three-time defending national champion around the Lake Washington course at an average speed of 148.975 mph.
The U-9 Les Schwab Tires, the winner of last year's race in Seattle, was the second fastest qualifier with an average speed of 148.355 mph. The boat was piloted by Andrew Tate, last year's Rookie of the Year.
The third fastest qualifier was the winner of last weekend's race in the Tri-Cities, Washington. J. Michael Kelly took the U-12 Graham Trucking around the racecourse at an average speed of 146.100 mph.
In its first appearance of the H1 Unlimited season, the U-16 OH BOY! Oberto made a qualifying run of 134.208 mph with J.W. Myers at the controls. An earlier run of over 143 mph was disqualified due to a technical violation. The boat is campaigned by the Ellstrom family of Seattle, who have raced hydroplanes since 1994 and have won two national titles.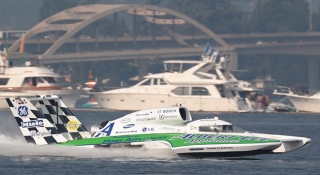 The U-21 Albert Lee Appliance made it into the field with a qualifying run of 132.396 mph after undergoing extensive repairs that were necessary because of damage that occurred during last weekend's race in the Tri-Cities. In that incident, the boat's prop strut and rudder were torn from the boat. The repairs were completed today and the boat arrived in the pits in mid-afternoon, just a couple of hours before its qualification run.
Dustin Echols took the bright orange 440 Bucket List Racing onto the course for a qualifying run, but the boat lost a propeller coming out of the first turn of the first lap and had to be towed back to the pit area.
The U-11 Miss DuJulio's presents J&D's did not make a qualifying attempt today because the crew chief was offsite testing an engine. The team will have the boat on the water tomorrow.
The U-99.9 KISW Miss Rock powered by CARSTAR made an attempt to get on the course for testing earlier in the day, but was not able to get on a plane. It did not attempt to qualify.