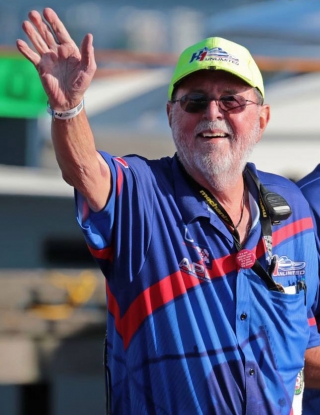 H1 Unlimited joins friends and family in saying goodbye to longtime official Peter Thomson – Seattle Times obituary published May 22, 2016:
Peter Michael Thomson
Sadly, there will be no more speeding for Peter Michael Thomson who loved going fast. Hydros, cars, even motorhomes, were meant to race, and he did! His life skidded to a halt on May 13, 2016.
A post WW II baby, Peter was born in Bremerton WA, to Hans and Gladys Thomson. The family moved frequently, and he attended schools in Long Beach CA, Reno NV, and Stockton CA, to name a few. Eventually, as a young adult, he returned to Seattle to work at his father's trade in the shipbuilding industry. Along the way he developed a love for Hydro racing and closely followed the boats. He married, had two sons, Mike (who preceded him in death in 2015) and Scott. As they reached young adulthood, his marriage dissolved.
It was during this period Peter had a limited Hydroplane boat (Copycat-76) built for him, and he raced for a time. His association with Hydro owners and drivers allowed him to find a niche: a position in the pits for decades, at unlimited hydroplane races around the country and even the world. Well liked, he was known as "The Sheriff" in the pits as an H1 Inspector until recently when his health started failing. He acquired many friends and associates along the way.
Twenty-three years ago, he married a New Orleans Belle, Sam (Sylvia), and they made the world their oyster. When he wasn't in the pits at some race, he and Sam cruised and traveled, and they developed a taste for the grape, making France a favorite destination. Hawaii was a close second. He loved life, good wine and food, and an occasional glimpse of a pretty ankle, a trait passed on to him by his father.
A real car lover, a collection was an early dream. An older Corvette was replaced by a Studebaker Avanti, which he babied for several years, showing it off where and whenever possible.
Among many other hobbies, he collected pocket watches, establishing a network of trading like items. Prize items ended up in a display in his home office. He enjoyed shopping and ended up collecting and trading/selling a large variety of treasures. He managed to attain items from various sources, but the hunt was always more fun than the actual ownership, so EBAY became very user friendly.
Halfway through his life, he discovered that he had inherited the genetic lung disease (Alpha-1) that took his father's life at age 56. The struggle to survive ensued for the remainder of Peter's life. He enjoyed life to the fullest even under increasingly unfavorable conditions. Medications and oxygen became his close allies during the latter part of his life. He succumbed to it all in Bellevue at age 73.
He will be forever missed by wife Sam, his stepdaughters Kristine, Karen and Jennifer and their husbands, grandson Brodie and granddaughter Bella, his brother Jim and wife Bev, his niece Patrizia in California, and many friends and relatives whose lives he touched.
In lieu of flowers the family suggests a small donation to Alpha-1 Foundation. Donation and info on the disease online at www.alpha1.org
A Reception to honor his life will be held May 26, 4-7 pm, in the Marina Room at the Woodmark Hotel,
Carillion Point in Kirkland. Family, friends, neighbors and close hydro associates are welcome.
Sign Peter's on line Guest Book at www.Legacy.com
See more at: http://www.legacy.com/obituaries/seattletimes/obituary.aspx?n=peter-michael-thomson&pid=180074046&#sthash.xIM5MX2Q.dpuf