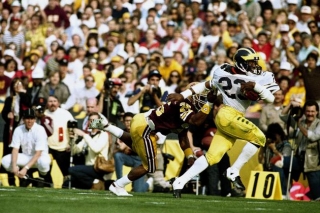 Detroit Riverfront Events, Inc. (DREI), organizers of the 2016 UAW-GM Spirit of Detroit Hydrofest featuring the APBA Gold Cup, announces the addition of former University of Michigan football tailback Jamie Morris to its evolving team as Corporate Sponsor and Hospitality Sales Manager for this year's event.
"As our organization continues to grow, we felt it was important to bring someone, like Jamie, with a sales and hospitality background on board to help us bring additional awareness and corporate involvement to the event," said Mark Weber, President of the DREI. "This being the 100th year of boat racing in the City of Detroit, bringing Jamie on board will only help us grow this Motor City tradition."
Jamie brings a great deal of experience in sports marketing and sales to this event. He spent eight years with U-M Athletics in marketing, sales and development, and then began his own consulting business several years ago, named "Catch 23," that specializes in these areas.
"I am excited to help support the UAW-GM Spirit of Detroit Hydrofest Gold Cup race and work with those who not only support the boat races but support the City of Detroit," said Morris. "This event is part of the fabric of the city and I hope to provide the DREI with the help they need to achieve its goals."
Morris set numerous U-M career and season records for rushing and offensive production including career most yards rushing playing for legendary college coach Bo Schembechler. He was named First-team All-Big Ten running back and Fiesta Bowl Co-MVP in 1987 and named the Hall of Fame Most Valuable Player in 1988. After leaving the Wolverines, Morris went on to play three years for the Washington Redskins in the National Football League, where he still holds the record for single-game rushes.
This year's UAW-GM Spirit of Detroit Hydrofest featuring the APBA Gold Cup will run August 26 thru 28. For ticket and event information, call 313-329-8047 or go to www.detroitboatraces.com.