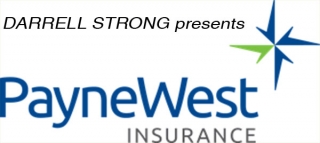 Go Fast Turn Left Racing today announced a partnership with Darrell Strong and Payne West Insurance as title sponsors for the 2016 MainSource Bank Indiana Governor's Cup and HAPO Columbia Cup.   Making the announcement at the Go Fast Turn Left shop in Maple Valley, Washington, owner Greg O'Farrell said "We're delighted to have Darrell and Payne West Insurance join the U-21 team for the first two races of the 2016 H1 Unlimited season and looking forward to a great partnership!"
Strong, a long-time race team sponsor in previous Columbia Cup events, said "I'm excited with the opportunity to have our organization represented by a first-rate team and can't wait for the season opener in Madison!"
Go Fast Turn Left Racing was formed in 2005 by father and son Greg and Brian O'Farrell.  They started as sponsors of a Fred Leland hull and subsequently purchased and campaigned 3 different unlimiteds as owners.  Their U-21 hull has consistently improved since debuting in 2009 and begins its 8th season at the 2016 Indiana Governor's Cup.
PayneWest Insurance formed in the fall of 2012 with the merging of the Northwest's two premier insurance advisory firms—Payne Financial Group and Western States Insurance. These two industry leaders operated independently for more than 40 years, providing business and personal insurance, benefits and surety. As stand-alone firms, both were consistently among the top 100 insurance agencies in the country.
Darrell Strong has been a Consulting Broker specializing in employee benefits since 1985 and is among the top licensed agents in the Northwest – in the top 5% in Washington and #1 with PayneWest Insurance. As the leader of Select Benefit Systems and a leader within the industry, he has developed trusts in two niche markets and serves on the Broker Advisory Board for Premera. Darrell consults with clients to help design and develop innovative benefit plans.