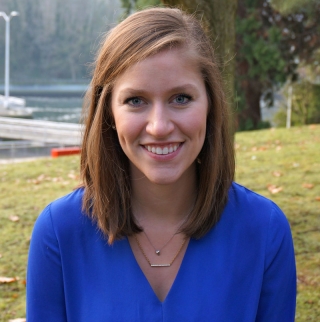 Seattle, Washington  – Christen Heye, daughter of Ellstrom Racing crew member Dan Heye, has been nominated for the Leukemia & Lymphoma Society Woman of the Year. But the road to the nomination has not been an easy one.
In Janary of 2013, doctors found a tumor in Christen's chest and she was diagnosed with Non-Hodgkin Lymphoma. Non-Hodgkin lymphoma (also called non-Hodgkin's lymphoma or NHL) is cancer that develops in the lymphatic system from cells called lymphocytes, which are a type of white blood cell that helps the body fight infections.
In the three years since her diagnosis, Christen has fought a valiant battle against the cancer, including many sessions of chemotherapy,  and is now cancer free. She is now a nurse practitioner at the Seattle Cancer Care Alliance, working with patients undergoing treatment for leukemia and lymphoma.
The LLS Woman of the Year program is part of a fund raising effort working to find cures for the cancer which affects thousands of children and adults in the country every year.
H1 Unlimited and Ellstrom Racing are asking fans to support Christen in her effort by donating to the Leukemia & Lymphoma Society in her name.
Christen explained, "From now to May 21, 2016, our team goal is to raise $25,000, which will go directly to LLS in support of its longstanding mission to find cures and ensure patients access to the treatments they need. This is an organization that is doing the right things with the dollars it raises, and I'm proud to be associated with LLS."
H1 Unlimited Chairman Steve David commented, "H1 is proud to support this great cause and the wonderful young lady who grew up as part of our racing family. Christen, we're very proud of you and hope H1 can make a positive impact on your efforts!"
Ellstrom Racing owner Erick Ellstrom added, "All of us who have known Christen her whole life are very happy to see her doing so well and very proud of the work she is doing. I hope everyone will join us in supporting this terrific young lady and a great cause."
This is a link to Christen's Fundraising Page –
http://www.mwoy.org/pages/wa/wa16/cheyeb
Christen's journey through treatment is the subject of this video: