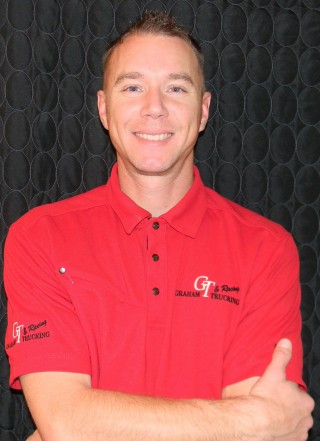 A UIM World Champion will return to the U-5 Racing Team's cockpit in 2014, as Team Owner Ted Porter announced today that J. Michael Kelly has been hired as the team's new driver.
Kelly won the first of Team Porter's four Oryx Cup World Championships in November 2009, claiming the inaugural Doha, Qatar race with the 7 Graham Trucking.
"We are really excited to have J. Michael returning to our team," Porter said. "With J. Michael becoming available, he was the obvious choice for the recently vacated U-1 seat. He is a significant part of this racing team's history."
Kelly drove for Team Porter as the pilot of the 7 Graham Trucking in 2009-10, when he finished on the podium eight times in 12 races – one first, five seconds, and two thirds. His first career win in the unlimiteds was the 2009 Oryx Cup UIM World Championship victory, starting Porter's dominance at the Oryx Cup. Kelly has been a fixture among the top drivers in the sport since breaking in to the unlimited ranks.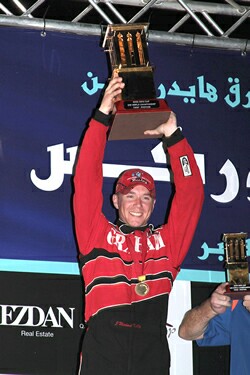 "Coming back to this team really means a lot to me," Kelly said. "The Porter family, and the entire team are absolutely committed to excellence and to winning. My family and I are really looking forward to racing with this team again. And it's very exciting that our challenge will be to defend the U-1."
For the last three seasons, Kelly has been at the helm of Schumacher Racing's entry.
"I appreciate my time with Schumacher Racing Team, and I learned a lot and was able to improve many of my skills," Kelly said. "I'm sure they will be one of our top competitors going forward."
The 2014 season will be Kelly's 27th season of boat racing. During his career, he has set 23 world records in various classes, six of which are still current, and is a three-time American Power Boat Association Hall of Champions inductee (2003, 2004, and 2010). Kelly also has a total of eight national championships, 15 high points championships, and 25 APBA divisional titles. In 2009, Kelly won the New Zealand Des Geddes Memorial Grand Prix Hydro event. He also became the first person in APBA history to win four championships in a single Nationals, at the 2010 event.
The 2004 unlimited class Rookie of the Year, Kelly was also winner of the Babcock Award in 2003 and 2004. Kelly and his wife Angela have two sons, Brennan and Carson and live in Bonney Lake, Wash.