2013 Detroit Gold Cup Gala Set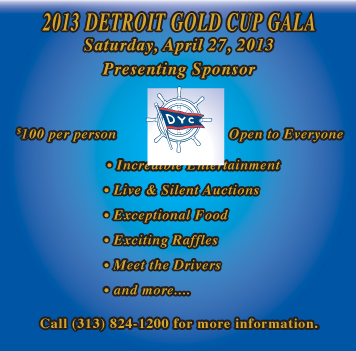 The Annual Detroit Gold Cup Gala Fund Raiser is set for Saturday, April 27 at the Detroit Yacht Club.  Make  plans to enjoy a great event and support the 2013 Detroit APBA Gold Cup.
For more info CLICK HERE.
Today marks the one year date that we lost Fred Leland, Fred did a lot for the sport of unlimited hydroplane racing. As we continue to run Leland Unlimited we would like to thank all ...

we got Greg into his 2nd fitting into the cockpit tonight. After a slight modification with the seat, Greg will be more than comfofrtable in his new home.

Our hearts and prayers go out to the victims and the families in Oklahoma.

The Rocket Man is coming

Quoting Erick Ellstrom - Dave Villwock has retired from our team. We had a great run together and celebrated many victories together. We are not aware of his future plans, but we wish him nothing ...