100
Leland Unlimited

Driver Profile:

Ryan Mallow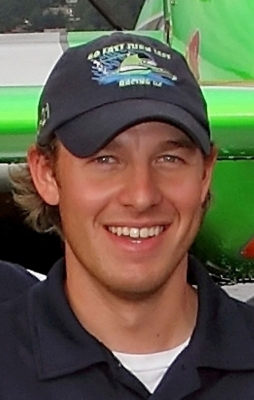 Late in the 2012 season, Leland Unlimited announced the promotion of 32 year old Ryan Mallow to the driver's seat of the 100.
Mallow has been racing boats for 11 years.  Before moving up to the Grand Prix class in 2009, Ryan was active in the 1 litre and 5 litre classes as well as the Unlimited Lights where he holds several records.  Mallow still races the 1 litre class in the Pacific Northwest.
An experienced unlimited crew member, Mallow was a full-time member of Bill Wurster's Llumar Window Film team and the crew of Schumacher Racing's Miss Beacon Plumbing.
Ryan qualified as an unlimited driver in the 100 in 2010 and drove the team's second entry at Tri-Cities and Seattle in 2012.
Team Profile:

Leland Unlimited

U-100 team founder Fred Leland, who passed away on May 21, 2012 made arrangements for his racing team to continue in 2012 and not die with him. Throughout his long career, Leland made his presence felt as an owner, a driver, a designer, and a builder. As an owner, he won 17 Unlimited races.

As a designer, Leland experimented with a number of interesting concepts. These included a hull powered by a massive 2,500-cubic-inch Packard PT Boat engine. In 1992, Fred upgraded his program with a new hull, powered by a Lycoming turbine engine. With Nate Brown as driver, the craft was instantly competitive. Some of the Unlimited sport's most respected chauffeurs have taken a turn behind the wheel of a Fred Leland race boat at one time or another. In addition to Brown, these include Chip Hanauer, Dave Villwock, Mark Evans, Mike Hanson, Scott Pierce, Terry Troxell, and Greg Hopp.

Leland recorded his first Unlimited victory at the 1994 Texaco Cup on Seattle's Lake Washington with Villwock as driver. Fred's most successful season as an owner is 1996 when his PICO AMERICAN DREAM swept the competition, claimed six victories, and won the National High Point Championship, also with Villwock. The 1997 season was another triumph. With Mark Evans at the wheel, PICO AMERICAN DREAM won four races in a row at the Tri-Cities, Kelowna (British Columbia), Seattle, and San Diego. In 1999, Fred caught the racing world by surprise when he lured Lee "Chip" Hanauer – the winningest living Unlimited driver at the time – out of self-imposed exile to work his particular magic for the Leland Unlimited team. Chip hadn't driven a U-boat in three years. Hanauer, nevertheless, got back into the spirit of things rather quickly. He piloted MISS PICO into the winner's circle at his debut race in Lake Havasu City (Arizona), and went on to win at Madison (Indiana), and Detroit (Michigan). 

Fred built no fewer than eight turbine-powered Unlimited hulls between 1992 and 2000. But he never gave up on internal combustion engines for Unlimiteds–including automotive engines. After several years of development, Leland hoped to water test just such a craft in 2012.

The last appearance in competition of a Fred Leland-owned hydroplane occurred at the 2011 Oryx Cup/UIM World Championship in Doha, Qatar, on the Persian Gulf. The team placed third overall with Greg Hopp as driver.
Behind
The Roostertail
Boat Name:

Leland Unlimited

Owner:

Leland Unlimited

Founded:

1982

Home Port:

Kirkland, WA

Boat Colors:

Black/Yellow

Primary Sponsor:

Fox Plumbing

Builder:

Fred Leland

Designer:

Fred Leland

Engine Builder:

Leland Unlimited, Inc.

Crew Chief:

TBA

Crew:

Blake Johnson
Steve Peterson
David Lemon
Joshua Culver
Colby Courser
Chris Kilstrom
Barney Tavener
Jay Sedrowski
Chad Eagon

Length:

29' 9"

Width:

14' 10"

Weight:

6800 lbs.

Engine:

Lycoming T-55/L-7 Turbine

2012 Boat Points:

3970

2012 Driver Points:

2 drivers

2012 Season Finish:

8th

Victories:

(1) 1994 – Seattle, WA (Texaco Cup); driver-Dave Villwock (U-100)
(2) 1994 – San Diego, CA (Bayfair '94); driver-Dave Villwock (U-100)
(3) 1996 – Phoenix, AZ (Gila River Casino Cup); driver-Dave Villwock (U-100)
(4) 1996 – Detroit, MI (APBA Gold Cup); driver-Dave Villwock (U-100)
(5) 1996 – Evansville, IN (Thunder On The Ohio); driver-Dave Villwock (U-100)
(6) 1996 – Tri-Cities, WA (Columbia Cup); driver-Dave Villwock (U-100)
(7) 1996 – Seattle, WA (Texaco Cup); driver-Dave Villwock (U-100)
(8) 1996 – Kelowna, BC (Molson Thunderfest); driver-Dave Villwock (U-100)
(9) 1997 – Tri-Cities, WA (Columbia Cup); driver-Mark Evans (U-100)
(10) 1997 – Kelowna, BC (Moilson Thunderfest); driver-Mark Evans (U-100)
(11) 1997 – Seattle, WA (Texaco Cup); driver-Mark Evans (U-100)
(12) 1997 – San Diego, CA (Bill Muncey Cup); driver-Mark Evans (U-100)
(13) 1998 – Kelowna, BC (Molson Thunderfest); driver-Mark Evans (U-100)
(14) 1999 – Lake Havasu City, AZ (Mojave Unlimited Hydrofest); driver-Chip Hanauer (U-100)
(15) 1999 – Madison, IN (Indiana Governor's Cup); driver-Chip Hanauer (U-100)
(16) 1999 – Detroit, MI (APBA Gold Cup); driver-Chip Hanauer (U-100)
(17) 2001 – Tri-Cities, WA (Columbia Cup); driver-Terry Troxell (U-99